Headed to Cornell, one of the Ivy League colleges located in Ithaca, NY, next year? Jackie, a senior majoring in Economics shares her admitted student advice and insight on her favorite places around campus - they're gorges!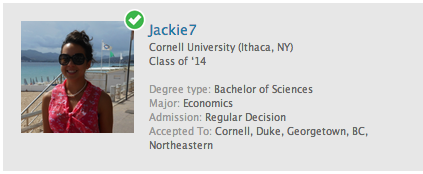 Cornell is a large school and there are many places to hang out, study and meet friends. When it comes to studying there are many libraries where you can find a quiet place to get to down to business before that big exam as well as many areas to work with a team on a group project or presentation. For Applied Economics and Management majors like me, we often go to Mann Library in the College of Agriculture and Life Sciences quad. There are many places for quiet study, as well a slew of group project rooms where you can work with your team. Also, Mann has a professional printing service on the first floor where you can print letter size documents as well as a variety of large poster sizes. Overall, Mann Library is one of the sot popular places to study on campus because it has the perfect balance of social and serious.
"Collegetown" is where most upperclassmen live and where most Cornellians go to hang out with friends, grab dinner or relax with a latte. One of the most popular places is Collegetown Bagels. A café and bagel shop, CTB as it is known, is a great place for a quick lunch, a creative coffee concoction or a tasty sweet. With outdoor seating in the warmer months, it is a great place to enjoy the afternoon. However, be prepared for long lines in the morning and at the lunch hour, as great minds certainly do think alike!
Read more about Jackie here!