Dartmouth College, the smallest of the Ivy League schools, has released the admissions decisions, but only 2,092 will be hearing good news.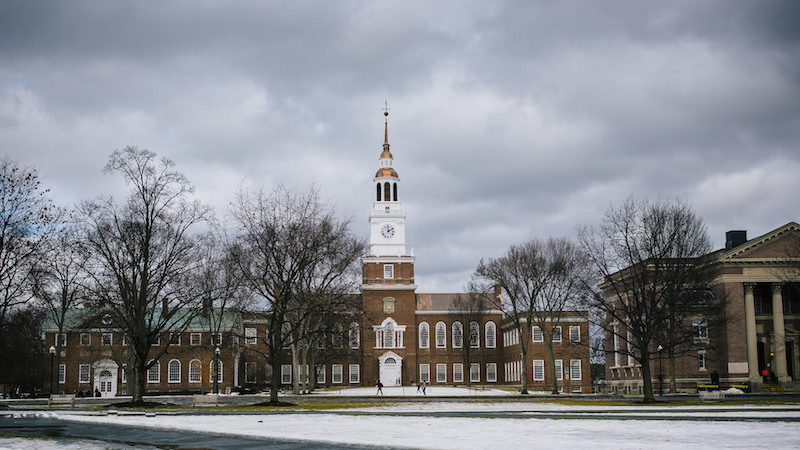 A total of 20,034 students applied to Dartmouth College this year. Unlike other institutions in the Ivy League, Dartmouth actually saw a decrease in the number of applications received this year, which is beginning to look like a downward trend. Yet, the acceptance rate has lowered just slightly to a 10.4%, compared to the 10.5% from last year.
Yesterday, 1,542 regular applicants received the good news from Dartmouth, out of the other 18,035 applicants that applied regular decision. They'll be joining the 550 students that have already committed to Dartmouth through the Early Decision program. In fact, Dartmouth's ED accepted students fills up 47% of the expected Class of 2021.
Of the accepted students in the Class of 2021, 15% are first-generation students, 9% are legacy students, and 10% are recruited student-athletes. Applicants are all evaluated under the need-blind policy, which means students are considered regardless of their ability to pay for college. International students, however, are evaluated under a need-aware basis, since the college ended its need-blind policy for them in 2015. It is reported that 63% applied for need-based financial aid.
Congratulations to the Dartmouth Class of 2021! To those still waiting on results, good luck! Check out our list of major admission decision release dates here.
Don't let your application essays and materials go to waste. Join other Dartmouth Admits and turn your success into insights for future applicants by creating a College Admit profile. Plus, you get to earn some extra money!
Sources: The Dartmouth