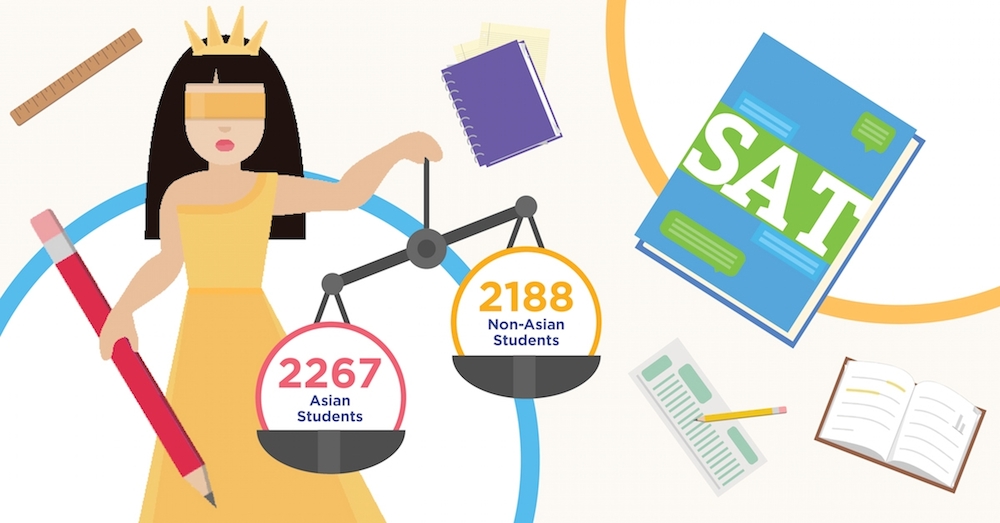 For students entering college in the last few years, overall average SAT scores have dropped – all three sections of the exam suffered dips. The reading section average, now at 495, has not been this low since 1972. With more students taking the ACT and colleges dropping the required standardized scores, critics wonder whether less emphasis has been put on the SAT as part of the evaluation of a candidate's application, resulting in the drop.
While scores are dropping on average, however, the scores for Asian students remain as competitive than ever. Recent data from
AdmitSee
shows that, on average, Asian students have to score 79 points higher on the SAT than Non-Asian students to get accepted to the same schools. Certain schools like
Dartmouth
and
Princeton
, expect a 100+ more points from Asian applicants. Earlier in 2015, a complaint was filed against Harvard, alleging that the university sets a higher standard of admission for Asian students. While all other groups' score averages have been decreasing, Asian students' score averages have actually increased, up 54 points from 2006.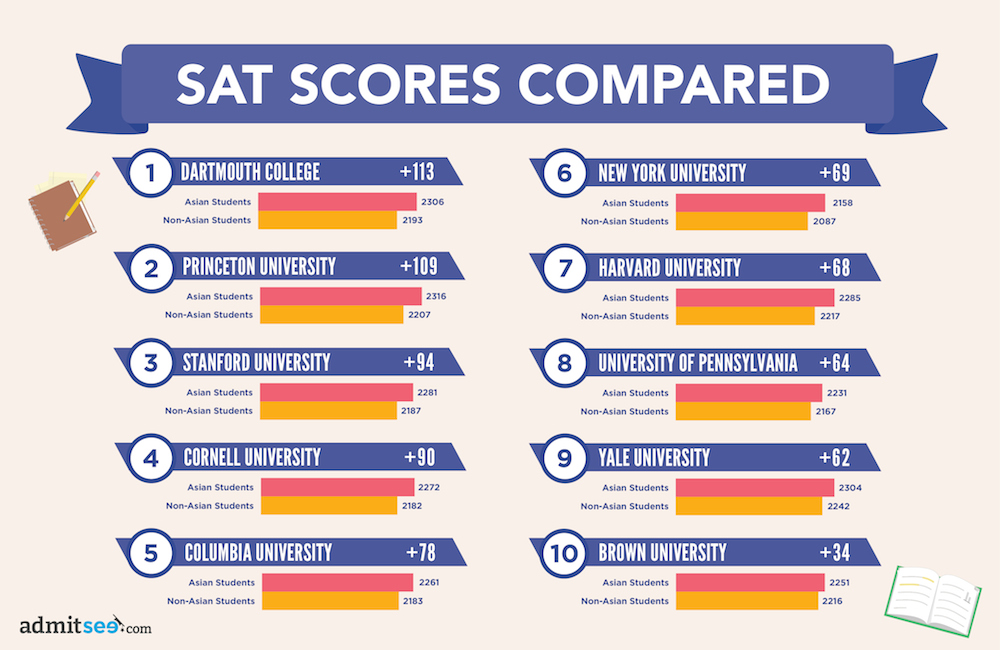 Recently, schools have been dropping the SAT/ACT requirement, fearing that performance on these standardized test scores reflect family income. Asian American families spend more than any other demographic on education. But, according to a recent NYTimes article about test preparation for admittance to competitive schools, the willingness to spend on test prep oftentimes has little relation to a family's income level. Thus, in a landscape in which Asian Americans accept racial bias as likely inevitable (one student interviewed by the LATimes was quoted, "Everyone works hard and struggles. But there's this feeling that it's going to be harder for us."), AdmitSee's recent data, along with other studies, begs the question – should colleges and universities use race-blind applications?
To better understand the difference between Asian and non-Asian applicants, read the application files of students who got accepted. AdmitSee has 45,000+, which members can unlock to better understand what it takes to get accepted. In our preliminary research, we have not noticed any qualitative differences in applications of Asians vs. non-Asians to explain why there is such a higher standard for Asians, but we'd like your thoughts and feedback! Browse our database and let us know what data points we should explore next. Our goal is to bring transparency to college admissions and inspire change.
Sources: WSJ, RT, Inside Higher Ed, NYT, LATimes