Applying to the University of North Carolina - Chapel Hill? You can also apply to their merit-based UNC's Morehead-Cain Scholarship, even if you're an out-of-state and an international student!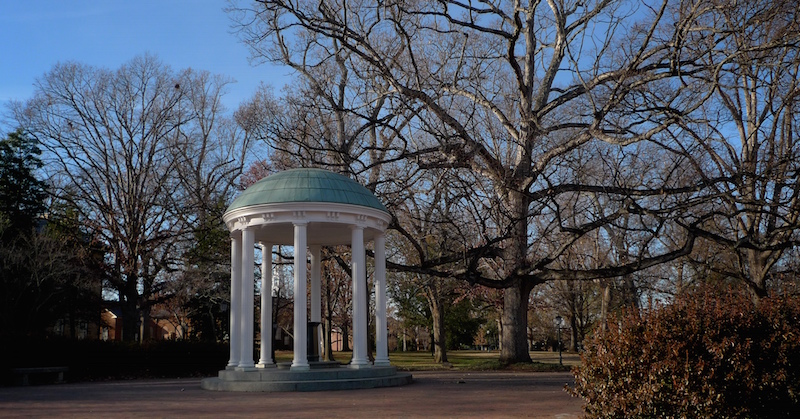 The Morehead-Cain Scholarship Award
The University of North Carolina (UNC) Morehead-Cain Scholarship is a merit-based scholarship that goes to around 60-70 students every year who demonstrate academic excellence and leadership potential. The Morehead-Cain scholarship is a full 4-year ride to study at UNC Chapel Hill and will cover full tuition, boarding, meals, supplies and even further education opportunities.
Summer Enrichment Programs
Morehead-Cain Scholars will also get summer enrichment programs that will help them gain confidence, independence and hands-on experience. Students will get stipends to help them pursue opportunities they otherwise might not be able to for 4 summers, starting from the summer before their freshman year.
The 4 summer experiences the Morehead-Cain Scholars will experience are Outdoor Leadership, Public Service, Inquiry and Exploration and Private Enterprise. Each summer experience is designed to help push students further, test their limits and foster their potential, so they'll be ready for the real world upon graduation. Check out the full list of opportunities here.
Discovery Fund
The Discovery Fund for Morehead-Cain Scholars launched in 2008 to give scholars the chance to say yes to opportunities that can help them accelerate their life experience and increase their self-awareness. Each scholar can apply for grants up to $8,000 through the Discover Fund during their 4 years at UNC. Each grant application is reviewed case-by-base and are available for workshops, conferences, research and more.
Eligibility
Students are eligible for the Morehead-Cain scholarship if they are a competitive applicant for UNC Chapel Hill and are on track to graduate the spring of their senior year. Additionally, there are 4 basic criteria that they look for in a UNC Morehead-Cain scholar:
Leadership

Character

Scholarship

Physical Rigor
Application Process
Once you're nominated, you will then go through an initial assessment based on your application before you are selected to become a semi-finalist. Semi-finalists will be interviewed either in-person or online depending on your location.
From the semi-finalists, 130 finalists will be selected and invited to UNC Chapel Hill's campus for selection weekend. Candidates will meet each other, scholar peers, and be interviewed in small groups.
For information about the full selection timeline, please visit the Morehead-Cain Scholarship selection page.
——
Interested in reading successful essay examples that got students accepted into UNC Chapel Hill? Unlock all of them in one go with our curated package.

Our premium plans offer different level of profile access and data insights that can help you get into your dream school. Unlock any of our packages or search our undergraduate profile database to find specific profiles that can help you make an informed choice about where to apply!