Makena is one of our interns and a freshman at the University of Pennsylvania. In this post, she shares her experience visiting schools, and how she narrowed down her choices to just three schools!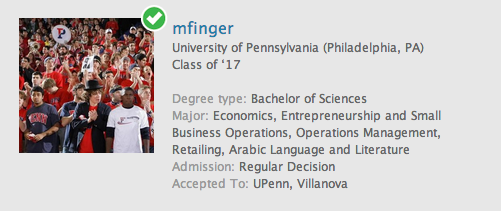 I visited schools throughout the first half of my junior year of high school. I visited 16 schools, all of which are private universities. Most of them were "reach" schools for me, with the other few being backups - I did not visit many "just right" schools.
As I visited, I paid most attention to the feeling of the campus and of the people who I met while visiting. I definitely cared about the resources, opportunities, facilities, and other typical features that students typically look for, but what I really cared about was which school felt most like my future home. I ended up falling in love with three universities: Columbia University, the University of Pennsylvania, and Villanova University.
I loved the old feel of Columbia's campus, combined with the bustle of modern New York City all around me. Academically, I really connected to the core curriculum and the theory behind it. Similarly, I loved the feel of Penn's campus and the people I met there. Again, I really liked the liberal arts curriculum that runs through the undergraduate schools within Penn. Penn also had some of the best business resources available to me, which was important as I had begun to seriously consider a business education.
Villanova was my backup, but I liked it as well. The suburban feel wasn't quite as appealing to me as the bustle that surrounds Columbia and Penn's campuses, but I could see myself living there. Villanova also has a great business school, and an honors program I could take part in.
Ultimately, I applied only to these three schools, as I felt that I shouldn't apply to a university where I didn't feel at home. For that reason, my college visits were arguably one of the most important aspects of my college search, and I have no doubt that my visits to Penn are a large part of why I now attend school here.
Read more about Makena on her Admit Profile!