Get to know the brand new AdmitSee and how we can help you find, apply and get accepted to your dream school.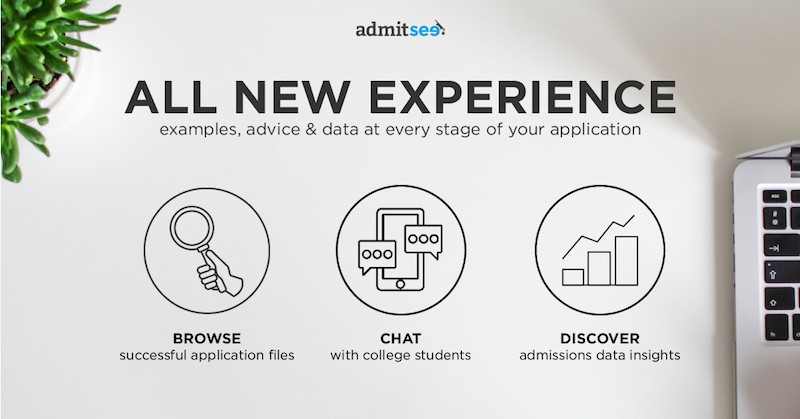 What's new on AdmitSee this year
Every application season, the AdmitSee team works with our users to evaluate how to improve our site offerings to bring you the best applicant experience. This year was no different.
With your voice and input, we launched features geared toward high school seniors applying this year and longer term strategizing tools for high school underclassmen.
AdmitSee's mission has always been to provide affordable and accessible information to students who wish to pursue higher education. We believe recently admitted students have some of the most valuable insights into the application process and, more importantly, are best able to relate to applicants going through the process in the moment.
Our platform now features 70,000+ successful application files crowdsourced from real college students. Each student profile contains both quantitative and qualitative components of a full application to provide a comprehensive view of what it takes to get accepted. With this data, our team has re-designed and launched anew the following features optimized for you this year:
Upgraded Matching Algorithm
WHY: To better help you find and identify the most relevant, best-match profiles for you.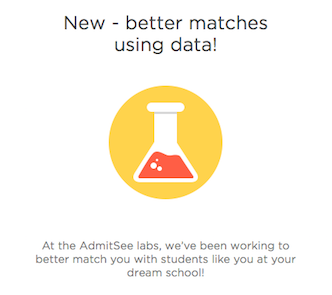 We expanded AdmitSee's matching algorithm to include not just your demographic information—ethnicity, gender, geography—but also your overall high school student profile: your grades and test scores, your target schools, what you're interested in studying, and even your extracurricular activities. By entering this data into your profiles, you can more effectively get matched to college students who share your background and your academic goals. Your recommended matches are much more nuanced and directly applicable to you. Think of them as hand-picked for you by our AI guide.
Premium, Advanced Search Filters
WHY: To make searching for specific profiles a lot more precise for you.
Your search results can now be a lot more targeted. We expanded our original search filters— college name, GPA, SAT, essay topic and sport—which were limited to searching a single field at a time to 10 additional new search fields and the ability to combine fields within a single search to drill down to the exact matches you're looking for. Our advanced search filters include the ability to search a combination of any of these fields:
Academics
University

Major

GPA range

ACT score range

SAT score range
Extracurriculars
Extracurricular activity, including school clubs and national organizations

Varsity sport status or Nationally ranked
Essays
Essay Topic: Personal Statement

Essay Topic Supplemental Essay
Demographic Info
Ethnicity

Gender

Home country

First generation applicant

International student applicant
Other nifty filters
Show only enrolled students (narrower search than students accepted to the school)

Show only students accepted in the most recent application cycle

Keyword (catch-all search for any keyword or phrase not covered by the above filters)
Our belief at AdmitSee is that your decision-making is best guided by students who are similar to you and have been in your shoes. It's hard to have an opinion about a university's class size, urban or suburban setting, or student to faculty ratios if you've never been to college; how much do those factors actually matter? Instead of recommending schools to you, we believe in the power of crowdsourcing the journeys and decisions of real students just like you.
Automated Essay Feedback
WHY: To automate and simplify the essay editing process for you at an affordable price.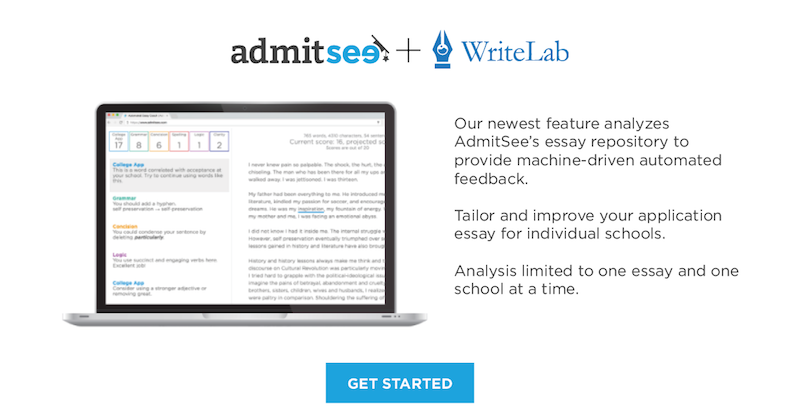 Applicants typically point to college application essays as the biggest source of frustration when applying. With multiple supplemental essays required for each university, it's a large-scale effort to brainstorm, write and proofread all of them. It's not unusual to go through multiple drafts for each of your 20+ essays.
While we've partnered with other essay editing experts in the past, we've never offered the service ourselves until this season. This application cycle, AdmitSee partnered with WriteLab to launch the Automated Essay Coach, which uses natural language processing technology applied to our repository of essays and historical data to analyze an applicant's essay. The AI-driven feature analyzes an initial draft of your essay and gives feedback on that essay's fit for a particular school. Try the tool out for yourself to see how you can replace certain words in your essay to improve your score for a specific school.
Keep Access Plan
WHY: To provide more flexibility and choice around the type of access you need.
AdmitSee's subscription plans are designed to give you the flexibility to decide how much access you need. However, users in the later phases of their application process often asked us if there was a plan for them if they didn't need to unlock new profiles but just wanted to keep accessing their existing ones.
This fall, we introduced the Keep Access subscription option for premium members. The lower tier option grants even more flexibility for our users to access previously unlocked profiles without paying for additional unlocks.
Admit Chat: 1-on-1 Messaging
WHY: To personalize the admissions process for you with college student insight direct from the source. Gain valuable lessons learned from your future peers.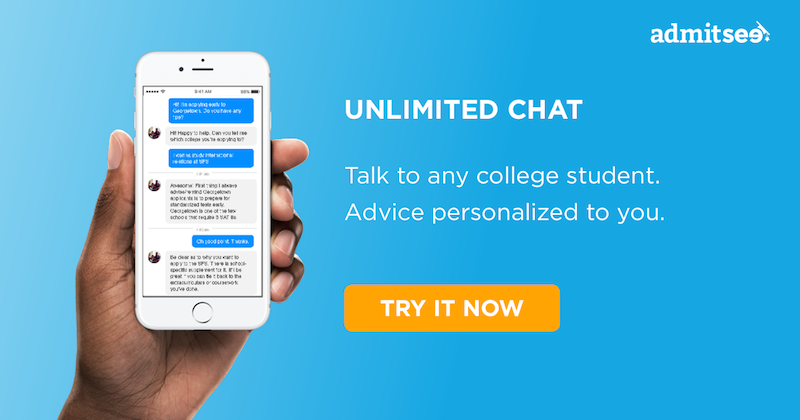 Our older users may remember our previous mentorship platform that paired applicants up with college mentors. We removed the feature in order to redesign the user experience for both high school and college users. In the interim, we paired applicants with college students manually via email and featured college students in Q&A-style webinars. Time and time again, we received requests from users asking for the option to chat directly with college students to ask specific application questions.
This week, we introduce Admit Chat, a more intuitive, more adaptable version of 1-on-1 messaging. High school users are able to launch a conversation with any of our college students no matter what stage of the application you're in. Whether you're still in the early stages of applying or you've submitted your applications but need advice on interviewing or financial aid, you'll be able to connect with real college students for personalized advice. Since you won't be limited to a single mentor, you'll have the flexibility to message anyone who fits the criteria you're looking for, whether they're attending your dream school or they share the same background.
Other Subscription Perks & Add-Ons
WHY: To tailor the application help you need with premium, customized expert guidance.
This admissions cycle, we also provided a few expert resources for premium users, including 15-minute application strategizing video conference sessions with a member of the AdmitSee team as well as a 24-hour turnaround service on essay editing from our experts.
For premium users, the services offered an opportunity to have specific questions answered, brainstorm supplemental essays, and get a boost in confidence or reassurance that they're on the right track. In return, this gave us more 1-on-1 time with our premium users to address the main pain points about the application process and guide them to the most relevant site resources for them to get the most out of their AdmitSee subscription.
———
On behalf of everyone on the AdmitSee team, thank you very much for your help crafting our new and improved site. We'd love to continue to hear from you, so please don't hesitate to reach out with new proposed ideas or feedback on any of these newest features via our contact form. Or, just leave a comment below and we'll get back to you! We're here to help, but we also couldn't do it without you.
To the HS Class of 2018, you're so close to the end of the admissions process! Take advantage of Admit Chat to learn more about the schools you've applied to and gain valuable interview and financial aid tips. If you've already been accepted, chat with current college students before you make your enrollment decision.
To all future college applicants, we're excited for you to join us. Sign up and let's get you started on your college application journey!