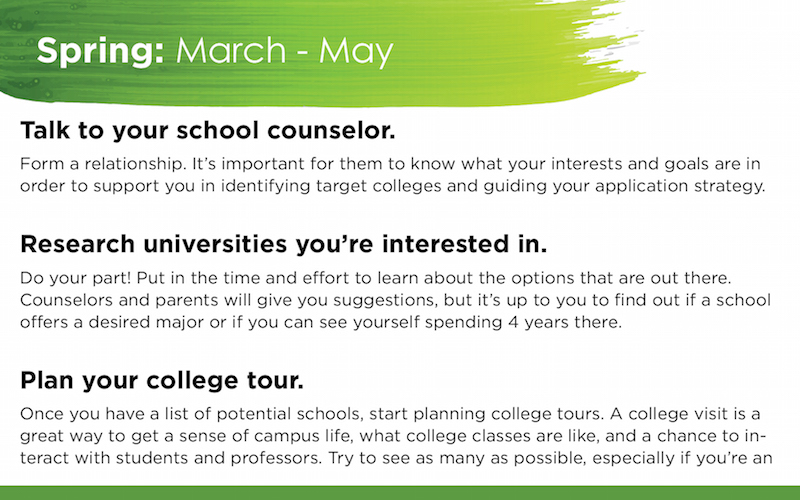 At this time every year, high school students everywhere start to rejoice and celebrate the end of the school year and the beginning of summer. However, there's always a group of students who are starting to feel the stress of the college applications process instead: high school juniors.
If you're a high school junior, here are a couple of things to help you get started with the process:
Talk to your school counselor.
Get to know them: Your school counselor should be your first point of contact when it comes to the college application process. They are going to act as a support and a resource for you in this upcoming year, so it's important you get to know them! And even more important for them to get to know who you are.
Share your interests. Depending on how big your high school is, it's important to match a name to a face. Talk to them about what you are interested in. Don't worry if you are all over the place! It's okay to want to study both history and math, or art and be pre-med.
Talk about test scores. This is also the time to find out where you stand. Ask them about your grades and test scores, and how they compare to your peers. If you already have schools you are interested, find out if you're in range, or need to work harder in senior year.
Research universities you're interested in.
Talk to current college students. Best place to start is to talk to anyone you know who is already in college. This could be your sibling, relative, or a family friend! Ask them about their experience so far, and what schools they had originally applied to. This will open up a range of universities for you that you may not have even heard of. Don't know anyone in college? Try out our AdmitSee mentorship platform!
College blogs. There are so many online resources that give ratings about campus culture, student life, and academic programs. Alongside AdmitSee, there are many sites that provide college information from student perspectives and in-depth insight that you can't find on the university website itself.
Visit the university's website. Even though it can be though, the university website has a lot of materials for prospective students you should definitely look at and read through. It will give you a sense of what the strongest academic programs are at each school, what requirements you need to meet, and financial aid they offer.
Plan your college tour.
Narrow down your list. Once you've done your research, pick a few schools you are really interested in, but are rather different. This will be especially helpful if you're not sure what you're looking for, or what you like. For example, put a city school and a suburban school on your list to see which one you prefer.
Campus tour information. Information sessions and campus tour information is available on the university website, so find out early and plan your route as soon as possible. Remember that spring and summer tours have different times!
Schedule time with professors. If you are particularly interested in a program or in a sport, do some research and email the professor or coach and schedule a time to meet. Not only will this help you get to know the school better, it may prove to be useful in your application if they really like you!
Choosing where to go to college is an incredibly important decision. Make an informed choice by talking to current students on our mentorship platform. Access 60,000+ successful college application files uploaded by college students (they get paid when you view them). AdmitSee is a community of students helping students. Our goal is to bring much-needed transparency to higher education.