What are the key factors college applicants should consider in their college search, and what questions should they be asking?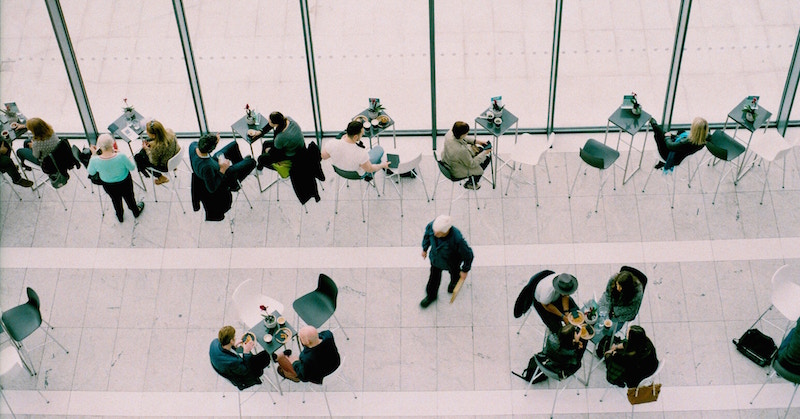 With so much info online, most high school students are turning to their devices to search for answers. It's useful and convenient when you don't have access to college students or representatives, but if and when you do, take absolute advantage of it. Why? Because students and school representatives have the requisite experience and knowledge about the programs, professors, student body and the culture you're interested in. They can provide in-person insight, offer a potentially different perspective, and help you frame the factors to consider. That's what college fairs are for.
Plan to Attend College Fairs
College fairs have always been the more traditional way for students to learn more about colleges and for colleges to recruit applicants. School representatives travel all over the country, and even internationally, to attend city-wide as well as school-specific college fairs. So, plan to attend a college fair event some time during your junior year.
Visit your high school website and check your high school calendar. Missed it? Check free college fairs open to the public in your local region. The National Association for College Admission Counseling (NACAC) holds National College Fairs during Spring or Fall. The calendar is updated regularly and will list new colleges that will be participating.
Academic Questions to Ask
Since you can make searches quickly with the internet, don't waste your time with college representatives on questions that you can Google. Prepare your list of questions ahead of time:
1. Does your school offer a major/minor program? If so, can you tell me how it differentiates from similar programs at other U.S. universities?
Ask about specific major/minor programs, or maybe even ask if they have a combination of programs (e.g. engineering and studio art). More importantly, find out how it's different from other programs.
2. What opportunities would I have if I majored at ____ at your college?
Find out if there are additional perks of being a particular major at their institution. Priority access to special seminars or guest speakers. Networking sessions with companies. Mentorship programs with executives.
3. What is the strongest/most popular major the college is known for?
Let the representative share what the college is most known for. At the end of the day, they are there to encourage students to apply. This will give you some insight into the type of school it is and what the most popular major is, which also tells you which major is most competitive to apply to.
4. How common and what is the internal transfer process like?
Some universities have a pretty extensive internal transfer process and aren't always as easy as it seems. Find how how common it is, which will reveal what the success rate is, and how difficult the process is.
Cost & Financial Aid
For all these sections, if you can do any research beforehand, please do! Again, it's just for you to make the most out of your time with each representative and get the answers you really need.
1. I read on your website that you offer merit-based scholarships. Can you tell me more about these scholar programs and what they offer?
UNC Chapel Hill has the Moorehead-Cain Scholarship. Boston University has the Truman Scholarship. Be proactive about the scholar program you might be interested in applying to and learn about how the scholars network can benefit you more than just financially.
2. Are there multiple financial aid applications and do they have different deadlines?
Different universities have different ways of organizing their financial aid applications. Find out firsthand how they differ, and if submitting your application earlier will benefit your chances of getting a better financial aid package.
3. What is the average financial aid package awarded to students? Does the financial aid package change every year?
While representatives might not be able to tell you on the spot what type of financial aid package you will receive, they can give you a range and an average so you at least have benchmark expectation.
Campus Culture
When it comes to campus culture, it's usually best to ask college students themselves. After all, they make up the student body and are more directly involved. Don't bother asking representatives if there's greek life, how often people stay on/off campus for social activities. For this part, it's actually better to be a little more broad.
1. Which 5 adjectives would you use to describe the student body and why?
Again, take this answer with a grain of salt. But, it does give you some insight into the type of students the college has. Are they more supportive or collaborative? More conservative or liberal? At most universities, there will undoubtedly be a diverse group of students, so it won't be blanket generalization, just what majority of the student body may represent.
2. (As a follow up) How would you describe the campus culture at your college?
This is similar to the previous question, but gives you more in the context of the campus. Do more students meet on campus rather than off campus? Is it a tight-knit community? Or is it pretty widespread?
Post-College & Career Development
Some of this might already be listed on the university website, but young students, or student have not enrolled yet, that information may not be as easy to understand. Get anything you don't understand clarified.
1. I read on your university about [on-campus interview/job fairs]. Can you tell me more about it and how that works?
Get some details on the programs/opportunities you read about on the university website. Mostly because the language on those pages are usually for admitted students who are looking for career counseling, so find out how supportive their career center is and how it differs from other universities.
2. Does each student get a career advisor and do they work with your academic advisor?
At most colleges, you'll most probably have all the resources you need available to you. It's more about how much initiative you take and how much you take advantage of them. Learn how your academics and career goals align, and who can help you with that.
Additional Questions
If there are any specific programs, financial aid awards, or application questions you have, go ahead and ask! There are no dumb questions to ask here, but remember, ask the questions you can't find answers to on the internet.
Some will advise you to ask admission related questions, like what's the ACT/SAT range or GPA range of students who apply and get accepted to your school. While that might help gauge how you compare, it's difficult to really judge by your test score. (Plus, you can get that information online!) What may be more illuminating may be asking questions such as "What type of student are you looking to recruit?" or "What is one element the admissions officers always look for in an application?" These questions are a lot more open-ended and you can get a better understanding of what they are looking for and if that matches who you are.
Our premium plans offer different levels of profile access and data insights that can help you get into your dream school. Unlock any of our packages or search our undergraduate profile database to find specific profiles that can help you make an informed choice about where to apply! We have 60,000+ successful college application files uploaded by college students. See how they got in, and how you can too!