The role of your high school counselor plays in your college application process can vary, but counselors are an incredible resource during what can be a stressful, anxiety-inducing time.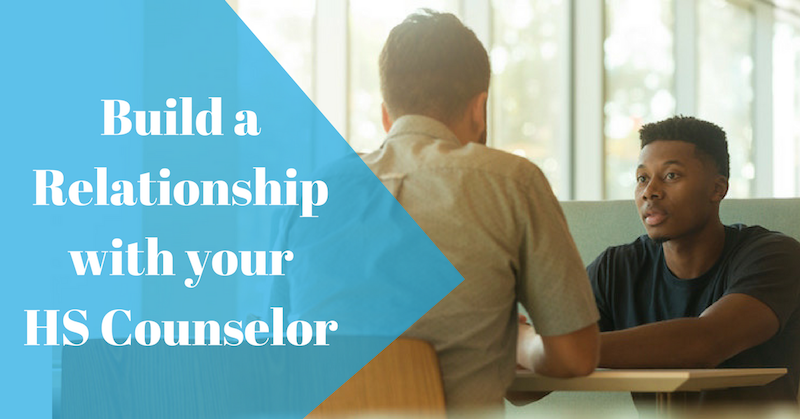 Some students may be really close with their high school counselors, while others may have their first and last 15-minute meeting with them fall senior year. Unfortunately, this comes down to the size of the high school, the counselor-to-student ratio and many other factors that are outside of your control. What you can control is how much initiative you take.
HS counselors can offer a lot of insight to the colleges you should apply to based on your academic curriculum and relationship with your teachers. They can also be a calming, reassuring voice you need to stay grounded through the noisy application process. How? Here's what you can do to get your counselor on your side during the application process:
1. Build a Relationship with Your HS Counselor
HS counselors are an incredible resource for many reasons. They've worked with students from your high school before, they are in constant communication with admissions officers, and most importantly, they are well aware of just how stressed you are.
Don't wait for your HS counselor to reach out to you. Take the initiative to introduce yourself, even if it's brief, to put a face to your name. Your school might schedule meetings for you in advance, so you can get to the nitty gritty stuff then. But it's always nice to just say hi!
At your meetings, be honest with what you want to study and where you want to study. Don't be shy about sharing your fears or ambitions. This will help your counselor understand your strengths, interests and reservations. Answer any questions as honestly as you can. It will save you time and give him/her more material to work with to give you tailored recommendations.
Finally, follow their advice and understand their limitations. You may work with other college consultants, hear stories and share strategies with your peers. If you do, take that into consideration along with what you discuss with your counselor. Counselors are there to support you and help you manage expectations about the application process; they're not there to do the work for you or to guarantee acceptance to your dream school..
2. Narrow Down Your College List
HS counselors have access to your high school academic history, which means they'll be able to get a good sense of the major subjects you might be interested in. Coupled with additional priorities you may have, counselors are a great resource for you to discover new colleges you might be interested in.
If you've already done research on your own, it will also be helpful for you to bring a proposed list of colleges to get feedback from your counselor. Your counselor can help you strike the right balance between your safety, target and reach schools.
At the end of the day, whatever recommendation your counselor makes will need to be supplemented by your own research. Then, make a decision for yourself.
3. Letter of Recommendation
Not all colleges require a counselor letter of recommendation, but some do. So, if you do take an initiative to work with your counselor, you'd already be in a better position for your counselor to write a recommendation that actually reflects your interests and goals.
If a counselor letter of recommendation isn't required, you can still request for them to write one for you if you feel he or she knows you best. In addition, you can also vet the recommenders you might be thinking of reaching out to by discussing them with your counselor. After all, they also know the faculty staff and might be able to provide some insight on who you should ask.
4. Application Checklist
Never rely on your counselor to make sure all of your application materials have been submitted. You are the one applying to college, not them. Having said that, your counselor is the perfect person to go through the checklist with to make sure you've submitted everything, and to make sure your school has submitted all the transcripts and recommendations for you.
5. Get Insight from Your Peers
How involved your HS counselor will be in your application process will heavily depend on your high school. Talk to older peers in your high school and find out how much their counselors helped them before your application season starts. What are questions they suggest you should ask your counselor? If you have limited time with your counselor, what are things you should do on your own and what are things your counselor is uniquely positioned to help with?
If you need additional guidance, there are many resources you can turn to, like AdmitSee, to help you through the application process.
Our premium plans offer different levels of profile access and data insights that can help you get into your dream school. Unlock any of our packages or search our undergraduate profile database to find specific profiles that can help you make an informed choice about where to apply! We have 70,000+ successful college application files uploaded by college students. See how they got in, and how you can too!