While we can't believe it's already the end of the year, we're super excited for what we have in store for you this December!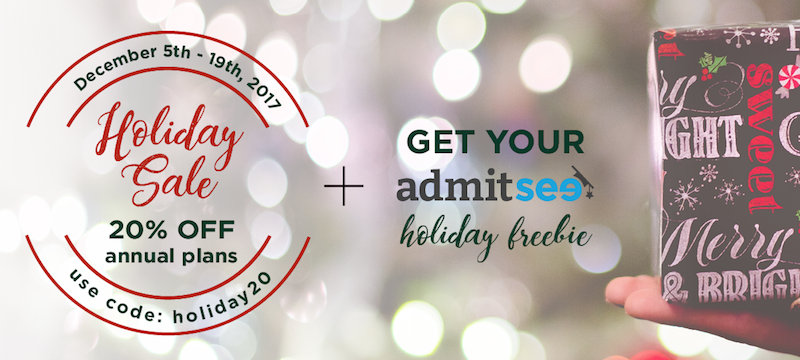 Holiday Sale!
With Thanksgiving behind us, we're officially in the holiday spirit! Decorations are up, and the weather is cooling down. For our high school seniors, this is crunch time to finish up their college applications for regular decision deadline. For our younger high school students, it's time to plan ahead!
Take 20% Off ANY Annual Plan
Apply code HOLIDAY20 at checkout and take 20% any of our annual pans. We have flexible options for students at different stages of the application process. Here's a breakdown of the plans we offer and which one might be the best for you:
Basic Annual Plan

Perfect for applicants with a dream school in mind. Discover what current students at your top choice have to say about the academics and campus culture. Learn more about the application process from near-peers who can give you experiential insight. Unlock 60 profiles through the year to strategize your application.
Plus Annual Plan

Best for applications exploring a range of schools. Browse profiles from students similar to you and discover schools to apply to. Use our exclusive data insights charts to build your college list. Get inspired to write your own personal statement by reading successful examples, and learn from the application advice each student offers. Unlock 180 profiles through the year to prepare you for the admissions process
Pro Annual Plan

Our only unlimited access plan! Designed for power users and underclassmen to get a head start. See how you compare to successful college applicants. Explore new extracurricular, summer and internship opportunities. Learn from the mistakes past applicants have made. Use our data insights and qualitative data to make better informed decisions about applying to college.
And Redeem Your AdmitSee Holiday Freebie!
1-Hour Consultation
Meet with Stephanie, our founder, over Skype to ask any questions you have about the application process. We can help you:
Plan your college application strategy;
Research and recommend best fit colleges for you;
Discover summer programs you can apply to;
Answer any questions you have about the application process.
-OR-
Essay Analysis from our Automated Essay Coach
One (1) essay analysis from our Automated Essay Coach. Analyze your essay for concision and grammatical errors, clarity of message, and ways to improve your chance of getting accepted to specific schools. Learn more about our essay editing feature here.
​Still not sure which plan is the best for you? Schedule a demo session with our team and we'll find the the subscription that best fits your need.