"How important are extracurriculars when it comes to applying for college?" This is one of the most frequently asked questions we get at AdmitSee.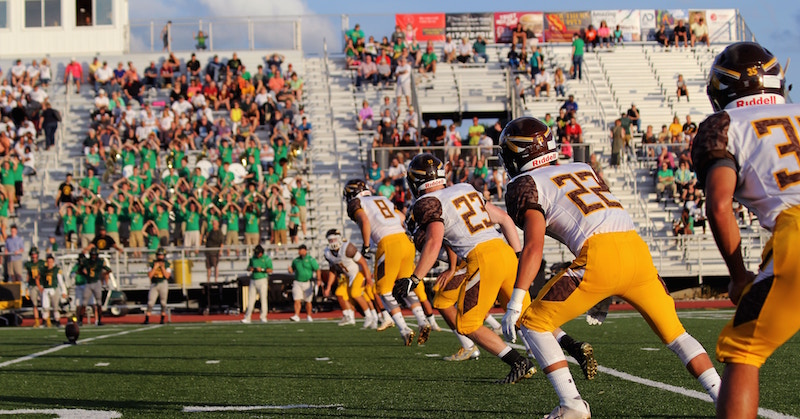 Unfortunately, there's no straightforward answer to this. It would be wrong to say that extracurriculars don't play in a role in your college applications. It would also be wrong to say that it will put you immediately into the accepted pool of applicants.
The best answer I have to this question is this: It shouldn't matter.
NACAC Data on the Importance of Extracurriculars
There is some data behind how colleges make their admission decisions. In the 2015 State of College Admission report, NACAC published its 2015 Admission Trends Survey, which asked colleges to categorize the weight each common application factor, like GPA or recommendation letters, had: considerable importance, moderate importance, limited importance and no importance. The survey showed that extracurricular activities were considered to be moderately important, and carried similar importance to counselor recommendations.
The most important decision factors have been consistent for decades, and continue to be so. Of factors that were attributed to be of "considerable importance", colleges ranked grades in college prep courses (79%), strength of curriculum (60%), admission test scores (56%), and grade in all courses (60%) to be the most important. Only approximately 6% of colleges ranked extracurriculars as important as these four factors. Since 2006, this percentage has never gone higher than 10%, and was lowest at 5%.
What does this mean? While this data is certainly interesting, the only take away is that colleges consider your list of extracurricular activities as part of your college application, and is typically used to evaluate an applicant's personal qualities and student interests.
Deans of Undergraduate Admissions Weigh In
Jeffrey Brenzel, Dean of Undergraduate Admissions at Yale University from 2005 to 2013 was interviewed about how much extracurriculars matter. To which he responded with, "Yes. [...] My usual advice in this area is simply do things that you truly enjoy in high school, rather than trying to outguess an admissions committee."
This opinion is reiterated by others in the admissions office as well. Janet Lavin Rapelye, Dean of Undergraduate Admissions at Princeton since 2003, responded similarly about extracurriculars activities in New York Times Q&A. Rapelye said, "As for extracurricular activities, we recommend that students follow their individual interests in the special talents they want to develop in the visual and performing arts, athletics, leadership activities, and that they engage themselves civically."
The focus on extracurricular activities should always be on how engaged and interested you are in them. Colleges aren't accepting students based solely on the fact they were involved in student government or that they were a member of the green group for 2 years.
College Students Reflection & Advice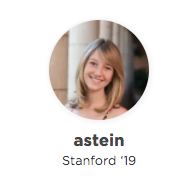 astein
Stanford University '19
Do things that you like. Really. It may seem like a good idea to join a million community service organizations and join all these diverse clubs but if you are just doing it to look good on college apps, colleges can tell. My two interests are STEM and theatre. Every summer I did theatre camps and one summer I did two coding camps. My two community service organizations were theatre outreach and mentoring young girls in science. I did not have nearly as many hours as other stellar students in my school, but my extracurriculars clearly reflected my interests and I was able to speak about them passionately in my applications. Unlock her full Stanford application file.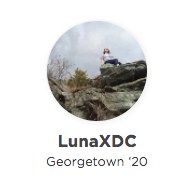 LunaXDC
Georgetown University '20
I don't like this question because you should know that there's not one "golden ticket" activity. What schools want to see is YOUR PASSION. If you care more about basket weaving than feeding the homeless, well, I think you're odd, but you should do basket weaving. You want a resume that reflects who you are and what you care about; THAT'S how you stand out and wind up in the right place. Unlock her full Georgetown application file.
Do What You Love!
Love more than one thing? Pursue it! The only advice we have for that is don't overload. Explore your interests and choose carefully. If you can handle 6 extracurriculars because they have different time commitment schedules, great! If you can only handle one, that's also okay. Don't pick them all of them just because it makes you look well-rounded. It's equally important that you are able to stay engaged through your 4 years of high school, and not burn out at the end right before college.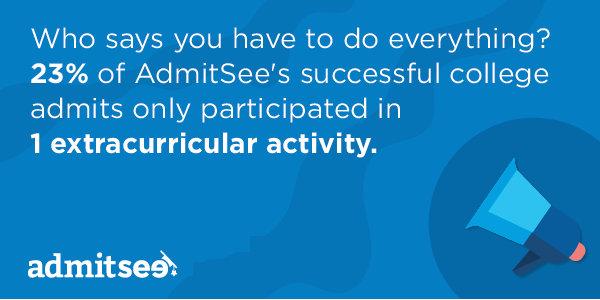 Don't believe us? AdmitSee's database of successful application profiles also shows that 23% of AdmitSe's successful college admits only participated in 1 extracurricular activity. You've already heard from some of our College Admits and what their advice is on choosing which extracurricular activity might be best. You can also use our Advice Search function to gain more student insight, or search our database for more college-specific profiles.
And that's why it doesn't matter how important extracurriculars are to college admissions. The fact is you shouldn't be engaging in an activity because "it looks good" on your college application. As Jeffrey Brenzel mentioned in his interview, you can't outguess the admissions office. Being part of your high school's green group might seem "ordinary", but the people you meet and the experiences you have by participating in it will be unique to you. And that is what's going to matter most to you, and eventually, the university you apply and get accepted to.
Hope this was helpful in answering your questions about extracurricular activities in high school. Have more? Leave a comment below and I'll get back to you!