It's not always easy to keep up in class. Not understanding the material in the first place can create a compounded problem if new lessons build off of previous concepts. If you find yourself behind, online tutoring may be the boost you need.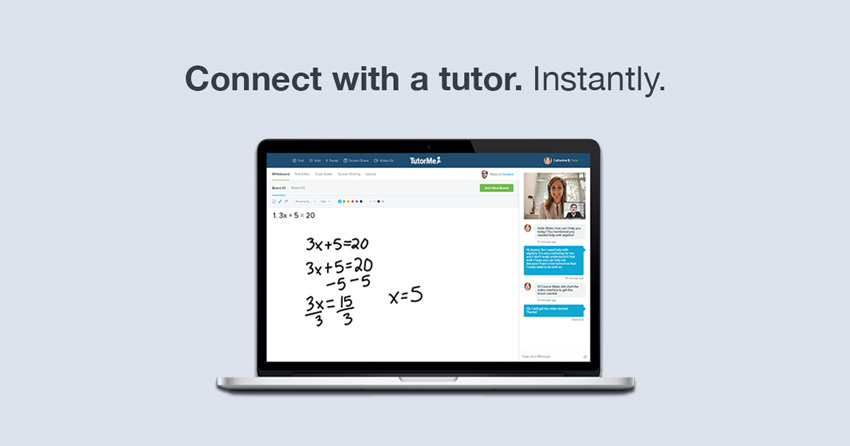 In 2012, the tutoring market was estimated at $11 billion. All over the country, students are investing in their education by striving for mastery of the material. We asked TutorMe, a revolutionary instant online tutoring platform, why they started a tutoring company that grants instant access to tutors.
"The inspiration for TutorMe came from our time as USC students. We were frustrated with the in-person tutoring options available, and realized that there was an opportunity to create a platform that could remove the inefficiencies from in-person tutoring." At the core, TutorMe's philosophy starts with their students. "TutorMe measures success solely on the improvement our students make," says Ari Stiegler, cofounder of TutorMe.
Unlike standard tutoring services, TutorMe uses the most advanced whiteboard technology available, allowing students to visually write and interact with their tutors instantly. This format is especially helpful for students who might not need full in-person tutoring sessions, but who might just have a question about a single homework problem or a quick clarification question. It also works for students who may do better with visual and collaborative learning; many students learn by seeing how something is done before attempting it on their own. Not only is online instant tutoring convenient because it's an on-demand service that students can utilize based on their schedule, but there are no geographic limitations; this means that you can find the best tutor in a subject, not just the best tutor in your area.
TutorMe's tutors are students, professors, and professionals from Harvard, Stanford, MIT, and other top universities around the country. These tutors commit to helping students develop a thorough understanding of the topic at hand. Currently covering over 300 subjects, TutorMe can help students in any topic, from your typical standardized test prep (including top-tier ACT help) to professional vocational subject such as Criminal Justice.
If you need personalized tutoring and think you can benefit from the easy convenience of on-demand tutoring, head to TutorMe's website to see a list of available subjects. If you're gearing up for a standardized test and could use ACT or GRE help, TutorMe can help you brush up on your areas that most need improvement. Use code "ADMITSEE" to get 30 minutes of free tutoring to give you a better idea of just how much TutorMe can help you get ahead!