Planning to apply to a University of California school? You'll have to answer 4 out of these 8 essay prompts. And here's what the UC admissions team wants you to consider when responding to each essay prompt!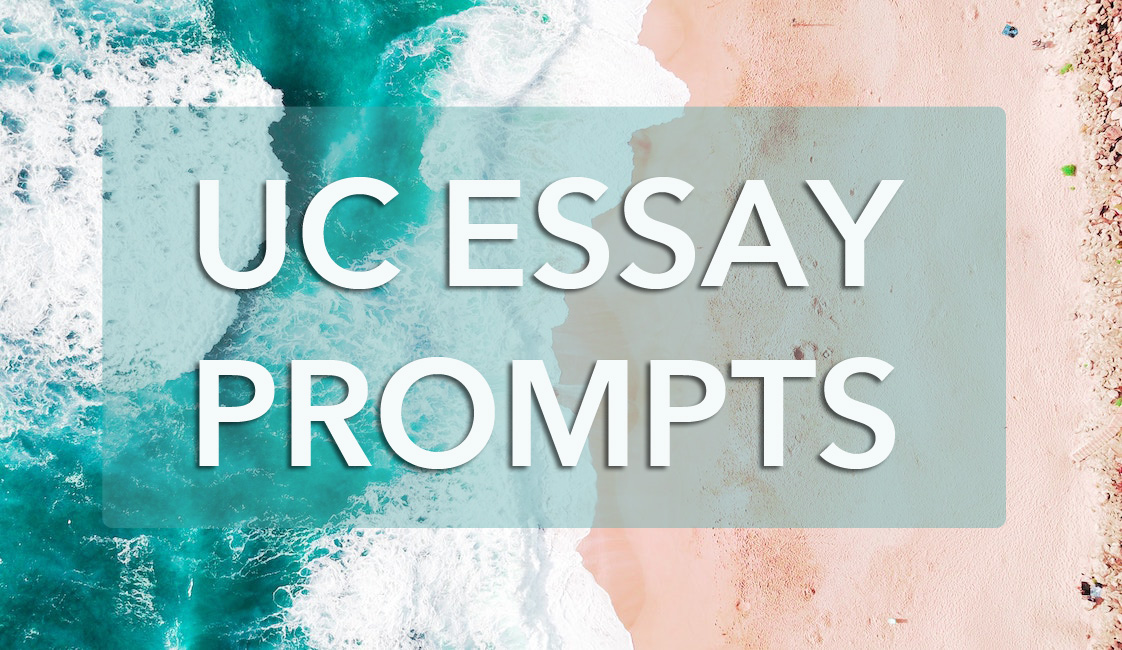 The UC application consists of 8 total essay prompts. Choose 4 out of these 8 and write a 350-word response for each chosen prompt. The prompts haven't changed since last year, but we've included some tips from the UC admissions team about how they'd like applicants to interpret each essay prompt!
Here are the UC Essay Prompts for 2019-2020:
Describe an example of your leadership experience in which you have positively influenced others, helped resolve disputes or contributed to group efforts over time.

HOW TO INTERPRET: The UC admissions team considers a leadership role to be more than just a leadership title. Whether you're working as a mentor, acting on behalf of a group, or even serving as the de facto head of your family, the qualities of a leader don't necessarily have to be recognized in an official setting. Think about your accomplishments in this role and consider what you learned from the experience. What were your responsibilities? How did your experience change your perspective on what it takes to lead others?
Every person has a creative side, and it can be expressed in many ways: problem solving, original and innovative thinking, and artistically, to name a few. Describe how you express your creative side.

HOW TO INTERPRET: This prompt gives you a lot of room to define what you consider to be creativity. Do you have a very obviously creative skill? Or do you have a way of thinking or problem solving that can be considered out-of-the-box or creative? Talk about a situation in which you've applied your creative skill and the resulting solution. It helps to strengthen your application even more if your creativity relates to your major or a future career.
What would you say is your greatest talent or skill? How have you developed and demonstrated that talent over time?

HOW TO INTERPRET: This is a great essay prompt to elaborate on a talent or special skill that you're proud of. Is it a natural talent or something you've worked to develop? Is it an academic talent or something that shows up outside of the classroom? The UC admissions team clarifies that you don't necessarily have to have received awards for your talent (although if you did and you want to discuss those accomplishments, you definitely can).

———

Unlock this package of 5 students admitted to the UC Class of 2023

———

Describe how you have taken advantage of a significant educational opportunity or worked to overcome an educational barrier you have faced.

HOW TO INTERPRET: The UC admissions team wants you to consider an educational opportunity to be anything that has added value to your educational experience and better prepared you for college. This can be an academic honors program, taking advanced courses in an area of interest, or taking classes that are related to an intended major or future career. On the other hand, an educational barrier could be any sort of block that could have prevented or delayed your academic pursuits. If you choose to write about a barrier, discuss how you overcame the barrier and what sources of strength—whether these are personal characteristics or resources that you sought out—you drew from. Don't forget to talk about how overcoming this barrier helped to make you who you are.

Describe the most significant challenge you have faced and the steps you have taken to overcome this challenge. How has this challenge affected your academic achievement?

HOW TO INTERPRET: How you define a challenge is up to you: it can be a personal challenge or a challenge that you face in a larger setting, such as your school, community, or greater society. Explain why the challenge is significant to you and how you've overcome (or tried to overcome) this challenge in a way that highlights the lessons learned. Consider asking yourself: How has the challenge affected me and my perspective on life and who I am as a person?

Think about an academic subject that inspires you. Describe how you have furthered this interest inside and/or outside of the classroom.

HOW TO INTERPRET: Do you have a passion for an academic subject that you can't wait to pursue in college? This is the prompt for you. The UC team expects you to discuss the steps you've taken to further that interest both in and out of the classroom. These experiences can include extracurricular clubs, volunteer work, internships, jobs, or summer programs. It's important to relate this interest with an intended path of study and how you plan to continue to foster that academic interest if admitted to the UC school(s) you're interested in.

———

Unlock this package of students enrolled at a UC school

———
What have you done to make your school or your community a better place?

HOW TO INTERPRET: The UC admissions team suggests that applicant think of community as a term that can encompass a group, team or a place. This can be your school, your hometown, or a chosen group you're involved with, such as a church group or a club. You can even define your community in a narrow sense, such as your family. The important thing is to discuss your role in your chosen community and what you've done to have a positive impact. Was there a problem that you wanted to fix in your community? What inspired you to act, whether alone or with others in the community? How did you achieve the changes you sought to make and what was the impact?

Beyond what has already been shared in your application, what do you believe makes you stand out as a strong candidate for admissions to the University of California?

HOW TO INTERPRET: This prompt essentially asks: What makes you special? This is also a catch-all prompt in that whatever you think is important for the admissions team to know about you that doesn't fit neatly underneath one of the above prompts, you can mention it here. For example, is there a particular aspect of your life, such as a hobby or relationship, that you believe has helped to define and shape who you are? The UC admissions team suggest that, when answering this prompt, you should discuss why you're a great fit for UC and take the opportunity to brag a little about your accomplishments!
​Check out our Packages of students successfully admitted to other UC schools (as well as other top schools) here or search for a specific school on your own using our search page.