Do you know how to evaluate your athletic abilities? If you're a student athlete interested in playing at the college level, there's more research you need to do.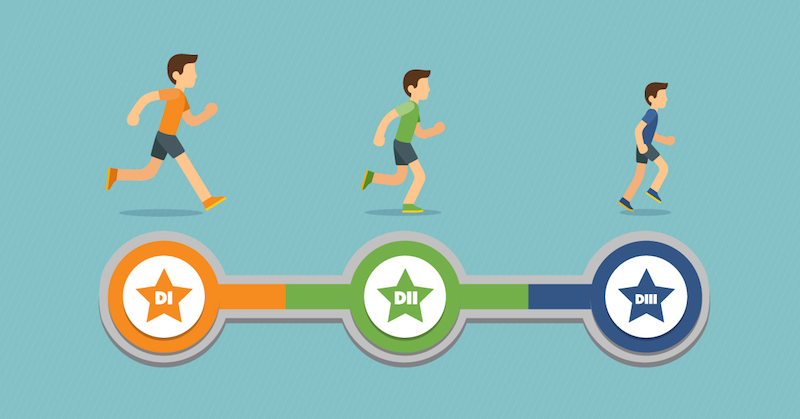 One of the first steps in the recruiting process is to accurately gauge your talent level and get an understanding of the NCAA division levels you might be suited for athletically. But it's tough to predict what level you'll be at in three or even two years. The good news: There are plenty of ways to figure out where you stand athletically. The bad news: It's still going to require that you honestly evaluate your talent and athleticism. Here are some of the better ways to get a good understanding of what division levels you should target.
Watch the competition at every division level
If you can, visit local colleges and universities to see live games or events. While you're there, really analyze the style of play, the speed of the game and the athleticism of the competitors and ask yourself: "Am I close to competing at this level?" And be realistic! If you need to improve drastically in order to get some playing time on a team, check out a game at a lower level program to see how you compare.
When you're watching a game, ask yourself these questions to help you figure out if this is the right level for you:
Could you compete with these athletes today? If not, are you on track to be at that level as a senior in high school?

Would you get playing time if you joined this team? Is playing time important to you?

Can you picture yourself competing on this team and for this school?
Review rosters of schools at different division levels
There's a lot of helpful information you can glean from a college sport's roster. Typically, you can find it by going the school's website, searching for the athletic program and then clicking on your specific sport—the roster will be easy to find on your sport's web page! Each athlete will most likely have a short bio that talks about their high school and collegiate accomplishments. Here are a few key things to look for:
Check out the body types of the athletes in your position. How do you stack up to their posted heights and weights?

Are you competing in the same tournaments and showcases as the current athletes?

Review their list of high school accolades (e.g., All-State, All-City, team MVP or captain), and consider how your current compilation of accolades compares.

For individual sports like track & field, swimming, etc., pay particular attention to the athletes' current stats. Compare that to your current numbers.
Keep an open mind as you're looking through school's rosters. If you never imagined yourself competing at a D3 school—but those are the athletes who most resemble you—it's worth it to continue investigating what that division has to offer. Hint: There are countless benefits to attending a D3 school.
Get evaluated by a third party
It's almost impossible to objectively evaluate yourself, especially on something as personal as your athletic talent. That's where third parties come into play. Experts can either evaluate you in person or via your highlight video. If you use video, make sure it's up to date.
You can ask your current high school and/or club coach to evaluate your talent level. Recruiting experts, like those at NCSA Next College Student Athlete, provide evaluations for athletes in 34 different sports. Another avenue to investigate are evaluation camps. They are, as the name indicates, camps for college hopefuls in which coaches help athletes gauge their talent and give them suggestions on how to improve.
When getting a third-party evaluation, here are a few questions to ask the evaluator:
What level do you think I could compete at right now?

How much would I need to improve to get to the next level?

What are my strengths? What weaknesses should I work on?
Compete against elite athletes
Some high schools and clubs compete against tough teams who notoriously turn out college athletes. For athletes who already compete against the elite, every game is an opportunity to level set and see how you compare to other athletes in your recruiting class. Some athletes, however, play for smaller teams and don't necessarily get a chance to compete against other college-bound athletes. In this case, it's crucial to find camps, showcases, summer leagues or club teams that provide an opportunity to play against the best high school athletes.
Getting a better understanding of your talent is a great place to start when figuring out your best college options. However, don't forget that a great match is about where you fit athletically, academically and socially. You might have the talent to compete at the Division 1 level, but that doesn't mean that will be the best fit for you academically and socially. Keep all three factors in mind as you build your target list of schools, visit campuses and do your research.
Want to see how athletes put together their college applications? Get access to profiles in our database! Our premium plans offer different levels of profile access and data insights that can help you with your application process. Search our undergraduate profile database to find specific profiles that can help you make an informed choice about where to apply!