Drafted your personal statement and ready to dive in to the supplemental essays? Here are the 2018-2019 Emory supplemental essay prompts: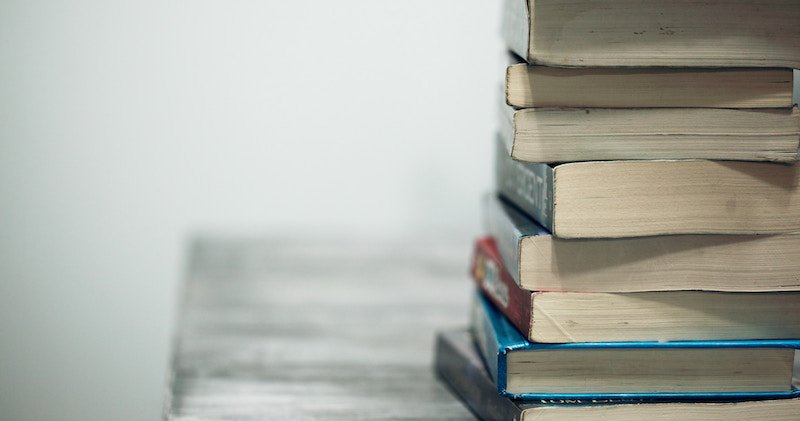 This might be my favorite set of supplemental essay prompts so far. Why? Because it's simple and straightforward. Emory wants to know who you are based on how you interact with others and what you're interested in. Plus, these are short answer questions that can help support the rest of your application and paint a holistic picture of who you are as a person.
Emory Supplemental Essay Prompts
Same as last year, there are 4 short answer essay prompts. In addition to the personal statement (or Common App essay), applicants must choose two (2 to answer. Each response has a 150 word limit.
1. What is your favorite fiction or non-fiction work (film, book, TV show, album, poem, or play)? Why?
2. What motivates you to learn?
3. What do you want to bring from your community to the Emory University community?
4. In the age of social media, what does engaging with integrity look like for you?
Emory Essay Tips
Essay Tip #1: Be genuine. The reason why I like these essay prompts is because it's hard to try and be fancy. You are almost forced to share something real about you, because of what the question is asking and because of the word limit. While you should think about how different parts of your application will come together, there's no point in choosing a book you've never read just because it seems intellectual.
Essay Tip #2: Be concise. 150 words isn't a lot and you still want to be able to respond with creative and engaging writing. You can still tell a story, or raise an intriguing questions—something that catches the reader's attention quickly.
Essay Tip #3: Be intentional. Why are you telling this story? Why are you answering this question? What will the reader find out about you that wouldn't have from reading the rest of your application? Be purposeful in how you answer the question.
Successful Emory Essay Examples #1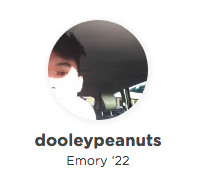 Essay excerpts from Dooleypeanuts
Neuroscience & Neurobiology Major
Emory University '22
Essay Prompt: What is your favorite fiction or non-fiction work (film, book, TV show, album, poem, or play)? Why?
"The process of defining or, in Linkin Park's case, redefining one's identity is riddled with self-doubt and angst. Hearing insensitive fans disparage them for "selling Out" pains me because I understand how unbelievably difficult it is to make a change of that magnitude, especially in the face of condemnation."
Essay Prompt: What motivates you to learn?
"That's pretty accurate rendition of my train of thought as I learned to dance for the first time. As I grooved a long awkwardly with Matt Steffanina's dance tutorial video, I quickly found that footwork and arm movements were only the very basics; you had to make exaggerated facial expressions, shake your hips, shimmy your shoulders, and somehow put everything together in the right order."
Want to read his supplemental essays and his personal statement? Unlock his Emory application file!
Essay Feedback:
What I love about Dooleypeanuts essays is it brings so much personality to his application. You get to know what he enjoys listening to and what he enjoys doing as a hobby. You also get to know that he's struggled with how the self-discover process. He didn't want to be pegged for only being doing well in one aspect of life. He wanted to do more, and it was difficult for him to be comfortable with who he is around so much criticism and stereotypes. While the second prompt doesn't give us additional insights about who he is, he successfully answers the prompts, demonstrating his intellectual curiosity and learning style.
Emory Successful Essay Examples 2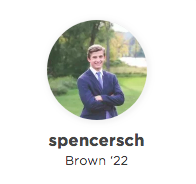 Essay excerpts from Spencersch
Applied as Political Science & Government Major
Brown University '22 (Applied & Accepted to Emory)
Essay Prompt: In the age of social media, what does engaging with integrity look like for you?
"In the age of Trump, it's now more imperative than ever that social media be used to evoke meaningful change, instead of spiteful slander. Recently, social media platforms such as Youtube and Twitter have begun to suppress the extremists and hate groups infiltrating the internet. There's a fine line, however, between moral responsibility and censorship. We must encourage the publication of meaningful, well-defended opinions while omitting outright libel from the internet."
Essay Prompt" What will you miss the most about your current community when you leave for college?
"I'd never describe Syracuse, NY as picturesque. We're hit hard with 124 inches of snow each winter, and I haven't seen a sunny day since mid-July. Syracuse claims the 13th worst poverty rates in the nation, and we're in the bottom five for cities with the worst economic growth."
Continue reading his Emory supplemental essays. Unlock his successful Emory application!
Essay Feedback:
Spencersch takes a much more serious approach than Dooleypeanuts, but achieves the same goal—telling the admissions officer who you are. Keep in mind he applied as a political science and government major, so his answers to these essay prompts further reiterates his interest in the field. He is also able to show an understanding of current affairs and share his moral compass. With his second supplemental essay, he softens up, shares a more sentimental side and what he'll miss most about home.
For supplemental essay examples, you can now search by supplemental essay topics on our search page. Or, you can check out our curated packages to find what you're looking! For further access, upgrade to our premium plans offer different levels of profile access and data insights that can help you get into your dream school.