Stressed out about your upcoming MCAT? Our friends at Magoosh will help you through MCAT Test Day!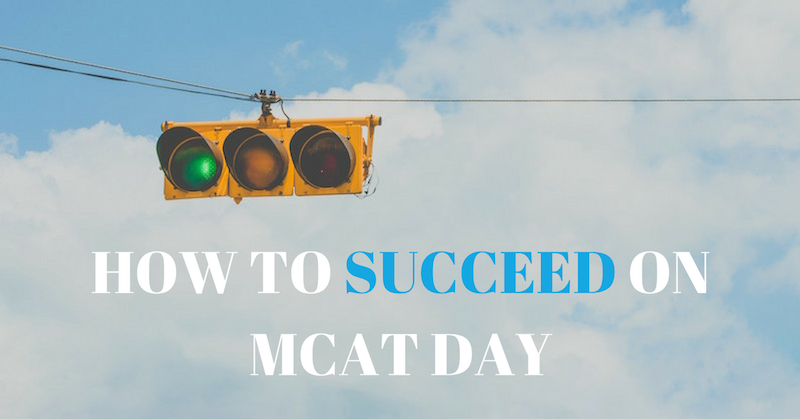 You've prepared for the MCAT for months, you've selected the right date for you—and it's fast approaching! Beyond taking as many practice tests as possible and becoming highly familiar with the content, what can you do to ensure that MCAT testing day is a breeze? Here are some quick tips for how to succeed on MCAT test day without breaking a sweat!
#1 Be Well Rested!
The MCAT exam is a whopping 7 hours and 30 minutes worth of exam. This means you should treat it the same way you'd gear up for a marathon (minus the massive carbohydrate loading): by getting plenty of rest. Don't lose sleep the night before your exam by studying last minute or by letting anxiety get the best of you. If you knew how to to study for the MCAT like a pro, and stuck to it in the months leading up to the test, there's no use sacrificing sleep for the possibility of cramming one or two details into your already over-worked brain. Eat healthfully, hydrate sufficiently, and spend the evening prior to the MCAT doing something relaxing and not test-related. Try to get at least 8 hours of sleep, more if possible. Think of it this way: you shouldn't sit for an exam longer than you slept going into it!
#2 Be Prepared for the Protocol
Because the Association of American Medical Colleges (AAMC) aims to be as ethical and confidential as possible, there are many, many test day rules you should be aware of. You can read a very comprehensive overview of everything related to the MCAT, including testing day protocol in the MCAT Essentials for Testing Year 2018 guidebook, but below are a few key guidelines and rules to be aware of:
At check-in
Make sure you arrive on time for your exam, since a late arrival will almost certainly forfeit your ability to take the test—and without a refund! At check-in you must show a photo ID, and typically a United States driver's license or passport will suffice. That said, your photo ID absolutely must demonstrate the following criteria:
ID must be in English

ID must be current (document must have an expiration date that has not passed)

ID must be government-issued

ID must include a photo that can be used to identify you

ID must include a signature, which you will be asked to duplicate

ID must not show any indication of tampering (e.g. be overly weathered, have holes punched, etc.)

ID must present your first and last name exactly as it appears on your MCAT registration
Note that these are the only forms of ID that will be accepted, bottom line. No expired or temporary IDs, library cards, student IDs, etc.
At pre-entry
In addition to showing ID, there are a number of other procedures you may be asked to go through, including reproducing your signature, having personal items examined, and/or having your palms scanned. Check out this super helpful video shared by the AAMC and created by Pearson VUE (which manages testing centers) for a look at all of the standard pre-testing protocols you should be prepared for.
In the testing room
Again, the guidebook linked above provides more in-depth testing room rules, but here are some of the most important ones you should be aware of:
The only items you may bring into the test room are: your ID and a pair of foam earplugs provided by the test center. As shown in the video, all other personal items, including jewelry and watches, must be placed in secure storage prior to the test (as directed by the test administrator). Necessary personal items such as eyeglasses are subject to an inspection by a test administrator.

You must raise your hand to take a break or leave the testing center. If you leave and re-enter the room, you may be subject to a metal detector scan.

You are required to the seat that is assigned to you.

You may not eat, drink, or smoke in the testing room.

You may not wear hats, scarves, or jewelry (outside of pre-approved religious garments).

You will be provided with a noteboard for note-taking during the exam, but you may not rip, tear, or conceal any parts of it at any time, and it must remain on your desk at all times.

Your photo ID must also remain on your desk at all times.

You may not use any electronic devices at any point after check-in for the exam, even on breaks.

You may be asked to turn your pockets inside-out to show that they are empty.

You may not remove your shoes at any time during the test.
It sounds like a lot to keep track of, but remember that the aim of these rules is to protect your personal security during the process.
#4 Read Your Examinee Agreement
The MCAT examinee agreement is required to take the exam, and you will have to indicate that you have read it thoroughly and agree to its terms on a Test Day Certification Statement you'll be given before answering any questions on the exam.
Basically, the examinee agreement is a contract between you and the AAMC that communicates your adherence to complete honesty and integrity on the exam—from being truthful in the personal information you provide, to not disclosing content on the exam (in other words, cheating). Conversely, the AAMC ensures ethical conduct on their end, in all matters surrounding the MCA. The 2018 MCAT examinee agreement and The AAMC's "Honoring Your Examinee Agreement" letter provide additional information on why the contract is so important, but in short, be prepared to read, sign, and stick to the terms.
#5 Nourish Yourself
Everyone knows to eat a substantive, healthy, balanced breakfast on exam day, but make sure to pack healthy food and beverages to have throughout the day as well. You get an (optional) ten minute break after sections 1 and 3 of the exam, and a thirty minute lunch break after section 2. It's important to note that you can't leave and reenter the test center, so pack a lunch or several snacks to keep your energy up throughout the day!
#6 Discuss the Exam Carefully
Once you've finished the exam, exercise caution in discussing it with anyone. The AAMC has released formal guidelines for discussing the exam, but really, per your examinee agreement, the best rule of thumb is not to discuss the particulars of the exam at all. You are more than welcome to discuss the general test-taking experience (for example, you could tell someone, "I feel really good about how I did on section 2!"), but you absolutely cannot discuss specific content after you've completed the exam.
Breath a Sigh of Relief When it's Over!
At the end of the day, pat yourself on the back for accomplishing a feat many people could never fathom even attempting! Know that you did your best, try not to obsess over your MCAT score until your score release day, and do something nice and relaxing for yourself.
Still in college? Create a profile and upload your successful college application materials to inspire and help future applicants. Plus, earn some extra money while you're at it.