Are you considering transferring? The transfer process is not one to be taken on a whim – it should be granted as much thought and effort as your original application, if not more. You'll need to convince the admissions committee why this new school is a better fit for you and that you have taken all the measures at your disposal to make the time at your current school a success.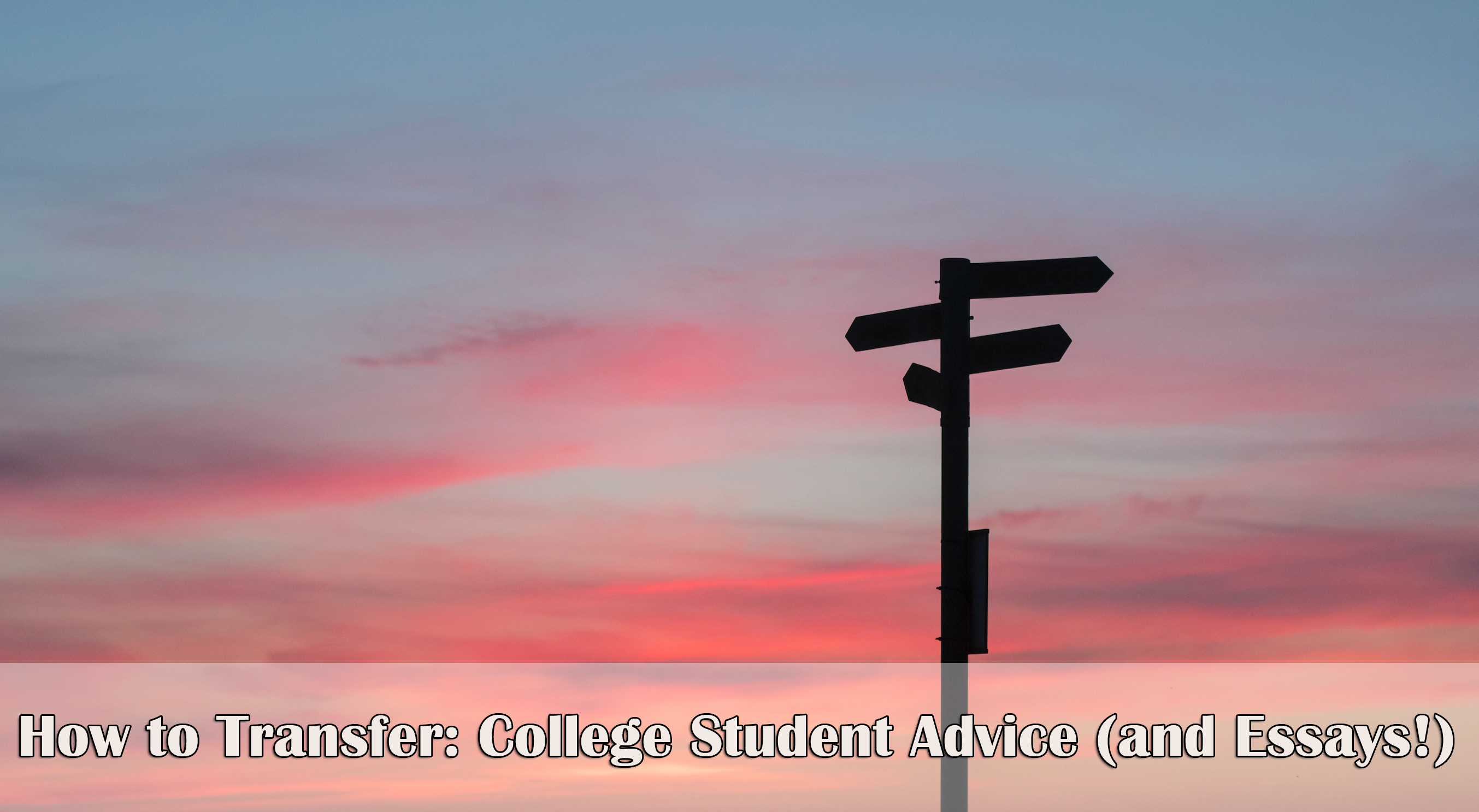 Checklist of potential reasons to transfer:
The major or area of study you're interested in is not offered at your school.

The campus culture is not what you thought it was going to be.

The extracurricular offerings on campus or surrounding college town do not help you explore an intended potential career.

Personal or family reasons – needing to be closer to family, financial hardship, etc.

You want to transfer from community college to pursue a 4-year degree.

Your own compelling reason! (But be prepared to explain why a school you originally thought would be a good fit is no longer.)
Student Advice and Essay Excerpts

bwill's Advice: The transfer process is definitely tougher than the freshman application process… The biggest thing the schools care about is seeing your reasons for wanting a different setting and/or educational opportunities, and why your current school can't accommodate those needs. They don't like it when you badmouth your current institution, so it's more a matter of them being able to infer things or you pointing out *differences*, but not necessarily calling your current school bad.
Essay Excerpt: With the spirit of Williams tutorials in mind, I would want the other student in the class with me to be the renowned French architect Le Corbusier. There are few fields of study that require as much rigorous attention to both detail and the bigger picture as architecture…. Read more.

khanzai94's Advice: My advice to any transfer would be to decide what you want. Not only in the courses but the environment, city, student body, and professors. I chose New York for the internship opportunities outside my door, the friends from across the world, and the ability to surround myself with the energy and passion of the city.
Essay Excerpt: As I entered UVA for my first year, I found that the school didn't fit my expectations as well as I had hoped. I am a Pakistani born American with an eye on the global sphere of politics and business. I'd like to be able to once again immerse myself in an environment that takes the essence of London with it's endless diversity and bustling activity and gives it to me in the form of a university.

william95's Advice: If you're looking to transfer, its best to do so for your sophomore year as programs are more flexible in terms of still graduating in 8 semesters. Knowing you want to transfer earlier is always better, as you can then set out to make a plan. No matter how much you don't like your current school (hopefully its not too much!), you will need to get involved there. Succeeding in transfer admissions, especially to schools you were rejected at before, involves excelling academically and extracurricular.
Essay Excerpt: After trying to get involved around campus and integrate myself into the community, I have discovered that some of my desires for my college experience are missing here. While I have been fortunate enough that my parents were able to send me to private Catholic schools for my entire K-12 education, I hoped that college would present me with a more diverse peer group than I had been exposed to in high school. Admittedly, it may have been my fault for expecting to find this at a Catholic college, but my time here has only strengthened the desire for increased diversity as I believe that the best learning comes from interacting with others who have different backgrounds or experiences.

Gracejjoy's Advice: I went to University of Miami with the wrong expectations and intentions. Don't get me wrong, it is a FABULOUS institution with supportive academic advisors, brilliant professor, a handful of motivated students and perfect weather… but after drinking too much, grappling with my mother's recent death and transitioning to living in the "fast" life in South Florida… I soon (and harshly) realized after a few too many unfortunate experiences that I was in an environment that was not conducive to furthering my education or my wellbeing.
Essay Excerpt: As my time at University of Miami moves forward, I have found many things that I enjoy, but I also feel that I am missing out on so many other great opportunities. No matter where I am, I feel confident that I can forge my own path and create my own success. I have and continue to use Miami and its resources, through which I have secured multiple internships and learning opportunities. I forged all of these opportunities for myself, none of which were supported by the school or the myriad organizations we have on campus. Since I created and pursued these opportunities all on my own, I am confident that I could create these opportunities for myself and more at another school with an established support network.

ucbtransfer's Advice: Concentrate on your GPA. I know so many extremely intelligent people that missed out on their dream school because they did not watch their GPA. Don't take the hardest professor for bragging rights. Just because that one super smart person did, doesn't mean you have to. So many of my friends took the hardest professors and got B/C's and missed out on on not only their reach schools but their application was rejected everywhere.
Essay Excerpt: Professor Dobeck is arguably the most favored professor within Sierra College's Computer Science department. Perhaps it's his upbeat personality or maybe his industry experience, but his waitlists fill up fastest and his office hours always have lines. I got into three of his classes but had little access to him beyond class time. In the past, I had heard rumors he had given select students the opportunity to collaborate with him and even NASA to work on projects that they launched into space.

Nathanchoe's Advice: Something I wish I would have done is write down exactly what I wanted to get across in my college essays. Having a main topic (government) and a main theme (I am a stubborn, hard-working student that does everything he can to do things right) would help me make sure that all of my essays reinforce my central, bottom-line message.
Essay Excerpt: "We don't have the time to go over that," my economics professor told me. "We have so much left to cover!" I felt defeated. I wasn't trying to hinder the progress of the class; I just wanted more information. I patiently waited until the end of the class and approached the teacher with my question. "Don't worry about that, Nathan," he replied. "Nothing like that will be on the test."
—————
For more transfer student profiles, check out our recommended transfer packages, including Ivy League Transfers and Transfers who found a better fit.

Good luck to all transfer applicants! We hope you find the right fit school for you or can find value in the challenge of remaining at the school you're at!