Dartmouth College is one of the 8 Ivy League universities and is the smallest one of them all. Ranked the "best value school" of the Ivies, Dartmouth is a great fit for students interested in a liberal arts college feel paired with Ivy League prestige.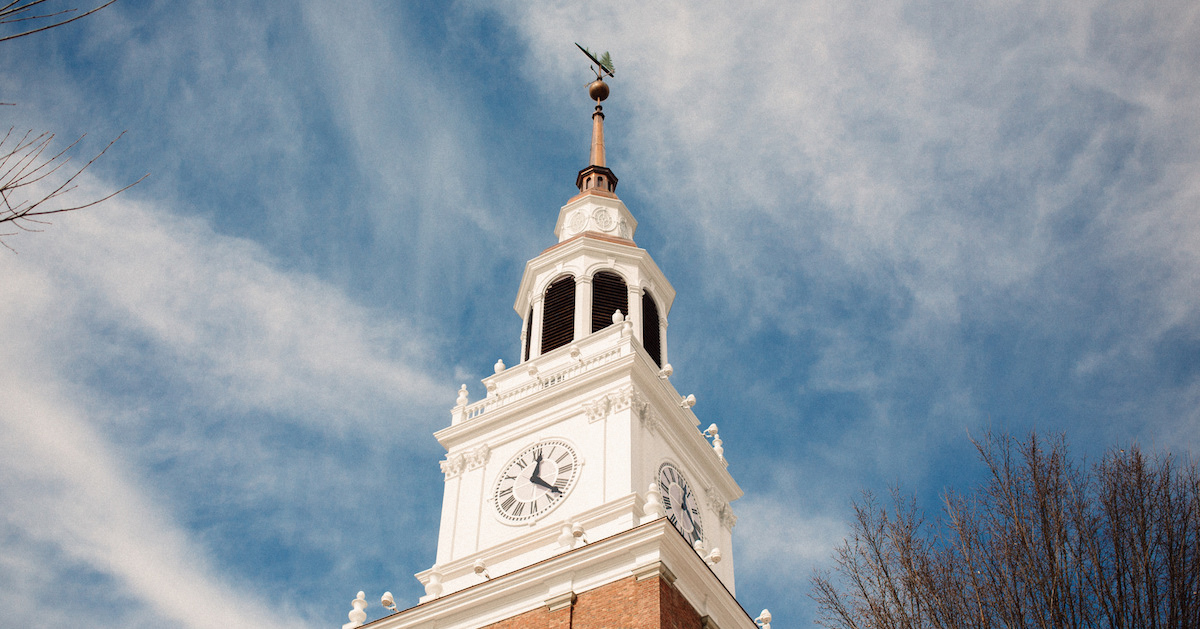 Located in Hanover, NH, Dartmouth College is a unique Ivy League school because of its size, location and academic programs. Despite Dartmouth's campus is in a rural area with a small college town, the university's academic programs and resources are just as strong as other Ivy League schools.
At first glance, Dartmouth mirrors a lot of other small liberal arts colleges. While Dartmouth does celebrate and encourage the liberal arts education, they also have the faculty and facility to pursue research. Many other liberal arts colleges that do not offer undergraduate engineering programs partner with Dartmouth for the 3-2 engineering dual degree program.
Interested in joining Dartmouth's student body? In addition to the Common Application personal statement, Dartmouth's application also requires 2 additional supplemental essays:
1. Please respond in 100 words or less:
Prompt: While arguing a Dartmouth-related case before the U.S. Supreme Court in 1818, Daniel Webster, Class of 1801, uttered this memorable line: "It is, Sir…a small college. And yet, there are those who love it!" As you seek admission to the Class of 2022, what aspects of the College's program, community, or campus environment attract your interest?
TIP: This essay prompt essentially asks you: Why Dartmouth? With a 100 word limit, you have to be concise about what about Dartmouth's academic programs, student body, or campus culture makes you want to enroll, and why? If there's one strong aspect that makes Dartmouth your dream school, focus on that. If there are many different qualities, try to weave them together to make your response more compelling.
2. Please choose one of the following prompts and respond in 250-300 words:
A. In Love Medicine, author Louise Erdrich '76 writes, "Society is like this card game here, cousin. We got dealt our hand before we were even born, and as we grow we have to play as best as we can." Describe your "hand" and reflect on how you have played it.
TIP: This prompt gives you the opportunity to share your family background and upbringing, and how that has influenced who you have become today. Did you have to fight for opportunities? Were you aware of that everyone had a different "hand"? Did you take advantage of the chances you got?
You can talk about a specific moment, or about what you observed as a child. Whatever you choose, the key is to demonstrate your own self-awareness, thought process and how that relates to a bigger context.
B. From songs and film to formulae and computer code, human expression and discovery take many forms. How do you express your creativity? What ideas or values do you explore and celebrate when your imagination wanders?
TIP: This essay prompt is perfect for students who are artistically inclined. Not necessarily for those who intend to be art or film majors, but for those who have a different passion (science or engineering), and also have creative energy.
This supplement gives you the opportunity to showcase your different talents and interests! You may be applying to study engineering and focused your personal statement on how you developed that interest. Take this time to then explain why you committed so much of your extracurriculars and time to drama or music club.
And vice versa! If you intend to be a humanities major, you can also share how coding lets your imagination wonder, creating something out of just 0 and 1s.
C. During the 2016 Olympic Games, American runner Abbey D'Agostino '14 collided with another athlete in the first round of the 5,000-meter event. Both fell to the track. Although injured, Abbey's first instinct was to help the other fallen athlete so they could continue the race together. Their selflessness was widely praised as the embodiment of the Olympic ideal of sportsmanship. Share a moment when kindness guided your actions.
TIP: Hopefully, there are many you can choose from! And it's okay if there isn't, move on to another topic. Whatever you do, don't make it up. The little things that make a kind gesture or a good deed moving and interesting won't come across if you do.
Based on the prompt, it's a lot more compelling to write about a moment that you did instinctively. While you can write about a volunteering or community service event, it doesn't quite follow the theme the prompt is suggesting.
D. Twenty years ago, the world met Harry Potter and his companions. One of the more memorable lines from the J.K. Rowling series was spoken by Albus Dumbledore: "Happiness can be found, even in the darkest of times, if one only remembers to turn on the light." What ideas or experiences bring you joy?
TIP: What brings a smile to your face no matter what? This prompt is a way for the admissions office to see who you are and how well you'd fit into Dartmouth's student body. So share something that you enjoyed doing - whether it's traveling, doing a puzzle or baking!
E. "I have no special talent," Albert Einstein once observed. "I am only passionately curious." Celebrate your intellectual curiosity.
TIP: The essay prompt that makes you ask "Why?". Don't just put in a bunch of "why" questions. Truly demonstrate your intellectual curiosity: why do you go looking for answers? How do you go about doing it? What happens once you've found the answer?
F. "Dreams are lovely. But they are just dreams," television producer Shonda Rhimes '91 told graduating seniors during her 2014 Commencement address. "It's hard work that makes things happen. It's hard work that creates change." What inspires your hard work? What matters to you and how do you "make things happen" to create change?
TIP: Use this essay prompt to share your work ethic. What does "hard work" mean to you? This may seem like an easy prompt to respond to, but it can be tricky to show, and not just say, how hardworking you are. Have concrete examples that can help highlight your work ethic and motivation. Did you ever think about giving up? What made you decide that's not an option?
——-
I hope these tips are helpful as you brainstorm which essay prompt to respond to! Remember to look at your college application as a whole. What else have you not shown or talked about in your application? Based on that answer, choose the essay prompt that will allow you to showcase a different side of you.
Interested in seeing full successful Dartmouth application files? We've curated a package of Dartmouth profiles just for you:

Our premium plans offer different level of profile access and data insights that can help you get into your dream school. Unlock any of our packages or search our undergraduate profile database to find specific profiles that can help you make an informed choice about where to apply!