Are you ready for the summer? Get excited to kickstart your college applications with AdmitSee and ScholarPrep.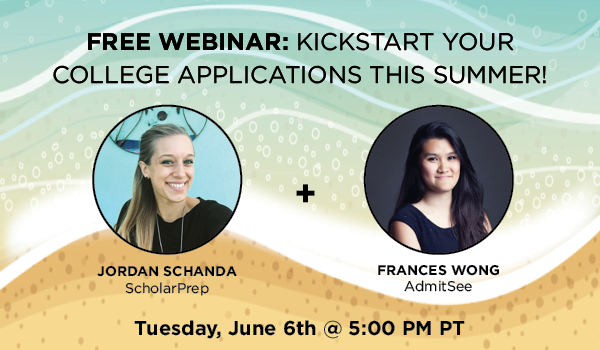 We know, we know. Junior year is just wrapping up and you're looking forward to get a short break. Before you do, we want you to have a plan and be prepared for the application process. That's why we've invited Jordan Schanda, founder of ScholarPrep, to share her application tips and expertise in an exclusive webinar: Kickstart Your College Applications This Summer.
When: Tuesday, June 6th at 5PM Pacific (8PM Eastern)
What: We're going to show you…
How to create impressive college and scholarship applications that will set you apart from the crowd.

How to avoid the obstacles most students face at application time.

How to take advantage of the extra time you will have over the summer.

How to inject some fun into the college preparation process (it really is possible)!

A special promotion bundle we're offering exclusively to participants.
How: Register Here!
Don't miss out on the first event this summer! See you there.