Every student interested in applying to a US college has to take standardized testing. Here are answers to the most frequently asked questions about the SAT and the ACT.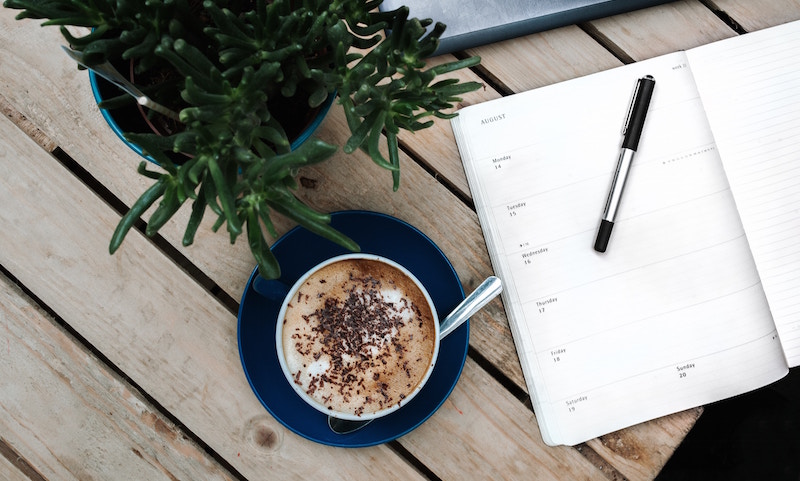 Standardized testing is a necessary component of the application process. Parents worry about when they should get their children to start preparing for it, and students are stressed about the additional workload they have on top of their APs and extracurriculars. While every student is a little different, there is a plan that can get you ready for the SAT or the ACT.
Here are the top 10 FAQs we get about standardized testing:
1. Do we have to take both SAT and the ACT?
No, you don't! Most universities only require one of the two standardized test if at all. There is a list of US universities that do not require any standardized testing, or are considered optional. If there is any doubt, the best thing you can do is do your research and look up the requirements of each of the universities you're interested in applying to.
2. Which one should I take? SAT or the ACT?
This is the most frequently asked question. For the most part, there's not much difference between the two. It's a personal preference. On average, students have down that they can score well in both the SAT, and in the ACT. There isn't an "easier" test you can choose. It all comes down to how you study for each of the tests.
If you want to be as precise as possible, we have highlighted the difference between the SAT and the ACT. It might help you make your decision. Whatever you end up choosing, stick with it.
3. When should I start studying?
Look at your calendar. You need about 100 hours to reach your ideal target score for the ACT or the SAT. Where do you find that a chunk of 100 hours? This where good planning comes in handy. The best time to study for it is during the summer, ideally the summer before junior year. You do not have as many commitments, and you have a open schedule to work with. Any earlier and you might not have completed the coursework that you'll be tested on.
4. When should I take my test?
Again, this is where planning comes in. If you just started high school, you have the flexibility to decide when you want to get your SAT or ACT done. Get ahead start and take it during the fall of your junior year, or the fall of your senior year. For all students, the best case scenario is to take it once, get your ideal score, and not have to think about it again. But, more frequently than not, you may have to take it a second or third time. By scheduling your first test date early, you'll give yourself more opportunity and time to make up for a better score.
Finally, check what all of your standardized testing requirements are. Do you need to take the SAT subject tests? How many do you need? Take that into account. If you are taking the SAT instead of the ACT, please note you cannot take the SAT and the SAT subject test on the same date. There are SAT test dates where SAT subject tests are not offered.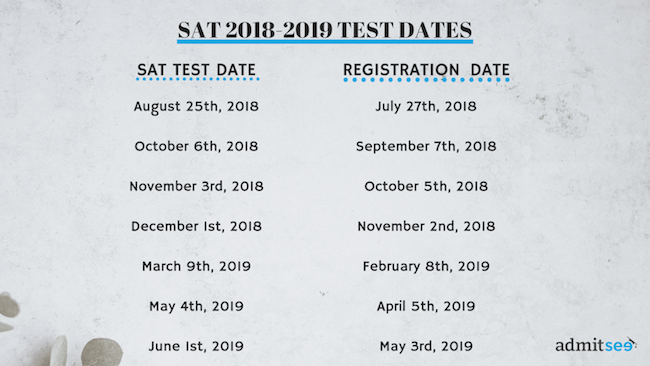 5. I didn't do well on the SAT. Should I switch to the ACT? (Or vice versa.)
Do not switch. Stick to what you chose. Switching back and forth not only cuts into the time you could have otherwise been using to improve your score, but you're also wasting your experience from taking one of the two tests. Both the SAT and the ACT have a strategy of their own, and a test-taking rhythm you'll develop as you study and take the tests. Focus on what the test you've been studying on, and work on how to improve that score.
6. How can I improve my score?
Take a full length practice test to get a baseline score to help you get a sense of where you are, and to measure how much you're improving. Once you have a baseline score, identify your areas of weakness. Review the questions you got wrong or skipped and categorize your mistake. Did you not understand the concept fully? Did you run out of time? Was it a silly mistake? Or do you not know why you got it wrong? By doing so, you can then see what areas you need to focus on.
Do not just keep doing practice questions. While it can be good practice, it's not an efficient way for you to study and to really pick up your score.
7. How do I help my children stay on track?
Motivate them and keep them in the right mindset. Help them plan and schedule the test date. Get them to start researching schools and get interested in the process. Once they are engaged, they know what they need to do in order to go to the schools they want to apply to. Additionally, it's always helpful to have someone else (not you!) to be their coach. Not necessarily someone that teaches them the material, but someone who is guiding them along the process so they have some accountability.
8. How do I choose which SAT/ACT prep to use?
This is a tough question. Every student has a different learning style. Some students need more one-on-one lessons, others can pick it up during a test prep group class. There are also a lot of online resources students can use to improve their score. Many of these sites offer a free trial, so you can get a sneak peak to see if it's a good fit for you.
Our recommended test prep partner is Magoosh. With 2000+ video lessons and 1000+ practice tests, Magoosh's online curriculum will help you learn the material and keep you on track for your scheduled SAT or ACT test date. Plus, get 10% off AdmitSee's recommended test prep, Magoosh, with the promo code AdmitSee10.
9. How many times should I take the SAT/ACT?
Plan to take it 3 times. Again, ideally you only have to take it once, but give yourself the option to improve your score if you need to. Depending on the university you are applying to, some universities look at the superscore, the highest score in each section over time, while others consider the highest score.
10. How much does my standardized test score affect my college application?
Unfortunately, there is no magic number. Every university share the average accepted student range score, and that should be the ideal score for you to target. Having said that, it doesn't mean that if you are 200 points out of range, you won't get accepted. Standardized testing is only portion of the college application.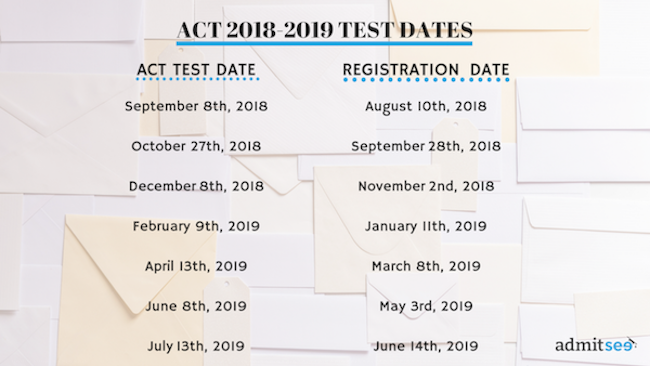 ---
Hope that answers most of your questions about the standardized testing! Again, remember your test scores are important, but they aren't everything. Use our data insights to use our SAT/ACT vs. GPA chart to discover students behind each data point to see how the rest of their application help them get accepted to their dream school!