Want to go to college in the Big Apple? If combining New York City living with Ivy League prestige appeals to you, Columbia University should definitely go on your list.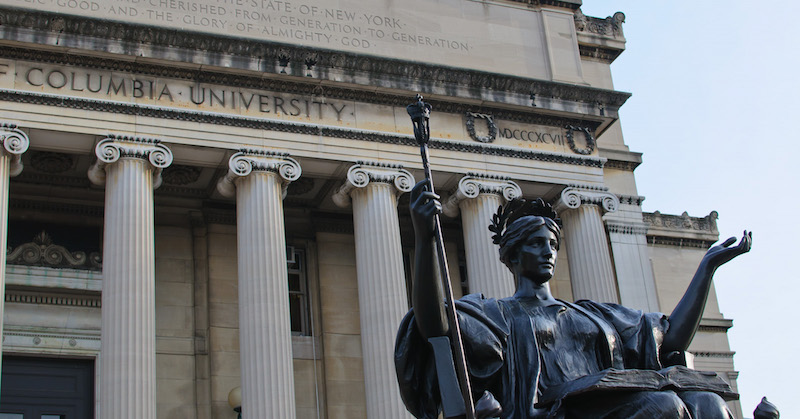 Located on the Upper West side of Manhattan, Columbia University is one of the 8 Ivy League universities and one of the most selective universities in the United States. Columbia prides itself on the core curriculum undergraduate students are required to follow during their undergraduate careers.
The core curriculum is designed to educate all undergraduate students using the same texts and issues. Its goal is to elevate thinking and analysis and to stimulate challenging conversations and dialogue in small seminars that are unique to the Core. In addition, Columbia University's undergraduate engineering program also puts the school on the top of many prospective students' college list.
If you're applying to Columbia University this year, note that Columbia's application also includes a few additional school-specific questions that give students an opportunity to highlight unique individuality beyond their transcripts and test scores.
Prompt 1
In 150 words or fewer, please list a few words or phrases that describe your ideal college community.
TIP: If you're applying to Columbia, the natural assumption is you want to get accepted. Instinctively, you'd want your answer to match Columbia's student body, so make sure your ideal college community truly matches Columbia's. As long as you've done your research, this supplemental essay shouldn't be a problem. Don't elaborate on how great Columbia's college community is if it does not match what you are looking for.
Prompt 2
For the four list questions that follow, we ask that you list each individual response using commas or semicolons; the items do not have to be numbered or in any specific order. No narrative or explanatory text is needed. It is not necessary to italicize or underline titles of books or other publications. Author names may be included, but are not required. You do not need to fill the entire space or use the maximum number of words; there is no minimum word count in this section, so please respond to the extent that you feel is appropriate.
Please list the following (150 words or fewer for each question):
the titles of the required readings from courses during the school year or summer that you enjoyed most in the past year;

the titles of books read for pleasure that you enjoyed most in the past year;

the titles of print or electronic publications you read regularly;

and the titles of the films, concerts, shows, exhibits, lectures and other entertainments you enjoyed most in the past year.
TIP: This list of short answer questions is a way for the admissions office to get a glimpse of the type of reading and film you enjoy. Don't think too hard about them and just answer truthfully.
Why Columbia Supplements
Please answer the following short answer questions (300 words or fewer for each question).
Prompt 3
Please tell us what you value most about Columbia and why.
TIP: All "Why Us" university supplemental questions are the same. They want to know what drew you to apply to their university, and why? How does it help you pursue your desired field? How does their community, resources and faculty match your needs and best learning environment? Finally, what can you do in return?
Prompt 4
If you are applying to Columbia College, tell us what from your current and past experiences (either academic or personal) attracts you specifically to the field or fields of study that you noted in the Member Questions section. If you are currently undecided, please write about any field or fields in which you may have an interest at this time.
TIP: Columbia splits their Why Us supplemental essay into two short answer questions, so take advantage of that. Use this prompt to write specifically about what you'll be studying and why Columbia's the best place to pursue that major. Then use prompt 3 to write about other aspects of Columbia you like: location, the core curriculum, extracurriculars, research opportunities, etc.
Prompt 5
If you are applying to The Fu Foundation School of Engineering and Applied Science, please tell us what from your current and past experiences (either academic or personal) attracts you specifically to the field or fields of study that you noted in the Member Questions section.
TIP: Again, same tips as above. With engineering and applied science, this response is usually more technical. You can take the time to talk about any research you've done in the past, engineering projects that first got you interested in the major. Share academic or personal experiences that demonstrate your passion for your desired field, and how the faculty and resources at Columbia will help you reach your potential.
———
We hope these tips are helpful as you work on your Columbia supplemental essays! Remember to look at your college application as a whole. What else have you not shown or discussed in your application? Based on that answer, choose the essay prompt that will allow you to divulge a different aspect of who you are.
Interested in seeing full successful Columbia application files? We've put together a package of Columbia profiles just for you:

Our premium plans offer different levels of profile access and data insights that can help you get into your dream school. Unlock any of our packages or search our undergraduate profile database to find specific profiles that can help you make an informed choice about where to apply!