Last week, we interviewed Janice Caine of Custom College Visits (CCV), a company that helps personalize and focus your college visit experience based on factors most important to you. The company was born from Caine's daughter's own college search experience. Here is what she had to say about what you should keep in mind when visiting schools, why it's helpful to have an expert plan your college tour itinerary, and how school visits can play a role in your admissions decision.
What's the first question you ask a student who is putting together a list of prospective schools?
Why do you want to go to college?
What's the number one thing you tell students to keep in mind when visiting schools?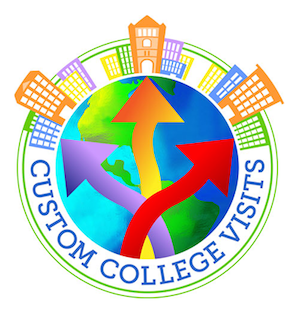 Keep a record of your visits. When you are visiting a lot of schools and/or if there will be a bit of time before you apply, you are bound to forget some of the details. By keeping a record of what you have seen, you can refer back to the information at a later date.
(You can request a copy of CCV's College Visit Student Journal or College Visit Parent Checklist by contacting them here.)
Do you recommend students tour schools before they apply or after when they're narrowing down their top choices?
While we know that the chance of students visiting every school on their list is next to impossible, we do recommend that they visit as many as they can prior to applying. Visits help students to become clear on what they're looking for both academically and with regard to their social and extra-curricular interests. College visits also make it easier for students to answer some of the essay questions on the applications. In one way or another, almost every college asks either "How will you contribute to our community," or Why do you want to attend _____ University?" It is much easier for a student to answer these questions if they have seen the campus, talked with current students and/or faculty members, met with admissions representatives, attended classes, etc. They are hopefully applying to the schools on their list because there were factors on each campus that sparked or stimulated their interest—and they will be able to write about how these factors (along with relevant details of their background and/or personality traits) will enable them to contribute to the college community. In short, they will be more confident in their ability to answer the essay questions.
What does CCV offer that those planning a visit on their own may overlook?
We start with a student survey to get to know each student, then we have a consultation, either by phone, Skype or in-person. Based upon their academic, lifestyle and other interests we work with students and their families to determine what meetings and other arrangements are best to schedule on each college campus. We then determine the sequence of the visits. We take the time to research each school's calendar and take into account what can be arranged at each college, then put together an itinerary. We provide in detail where they will go, how to get there, what/who they will see. We then work with them to coordinate all of the travel and hotel details, whether they choose to work with our travel partner or choose to make the arrangements on their own.
When people plan their itineraries, they might not understand how much time to allot to get from campus to campus or to how much time they will need to spend on campus to do the all of the things they would like to do. Also, parents planning these trips for the first time might not know to look at academic calendars, and might end up visiting on a day when classes are not in session. Building a complete itinerary takes much research, many phone calls and experience with travel planning.
Were there any mistakes/regrets you made when going through the process yourself that you'd caution parents/students to be wary of?
Yes. I paid $2000 for [my daughter] to go on a group tour to visit colleges on the east coast with her school. She did not get a lot out of it.
How much weight do schools actually put on college visits when making admissions decisions?
It's hard to offer a concrete answer to this question. There are many schools that do not keep track of visits to campus or when they hold local or regional information sessions. Yet, there are others that, to a certain extent, do gauge a student's interest. In fact, some schools ask on their applications whether or not a student has visited campus—sometimes asking in detail about what activities they did while they were there. These schools also ask students to check in upon arrival on campus. Can it help during the admissions process? Perhaps a bit. Perhaps if the admissions committee is deciding between two candidates and one has shown a stronger interest…
Author's Note: When I was applying to schools, I didn't think to visit any of them until after I had already gotten my acceptance letters. Looking back, my decision of which schools to apply to (and how to respond to the "why us" essay) would have been well served if I had been more informed and, frankly, more prepared. I recommend looking into visiting schools, if possible, before applying to narrow down which ones you're interested in so you don't waste your time on schools you may end up not wanting to attend at all.
For more information about Custom College Visits and what they have to offer, visit http://www.customcollegevisits.com/. Use the code "CUSTOM" when you create an AdmitSee profile to get a $20 signup bonus! Register here!