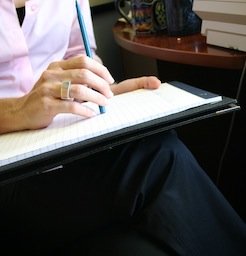 Typically I am strongest in math and science subjects; those grades usually speak for themselves - I usually receive A's in those subjects and I took my AP's in the science, math and history courses.
I decided to ask the teachers from my weakest subjects. I anticipated that the colleges would see my transcript and this was an opportunity to turn a negative into a positive. I asked my Latin and English teachers. My freshman year Latin grade was my lowest grade in high school. In senior year I received an A in Latin. I was able to demonstrate that I could face a challenge and succeed. The other letter of recommendation came from an English teacher, again one of my weakest subjects. But I was able to finish in senior year with an A-. While they were initially my weakest subjects, I was able to illustrate my ability to work hard and efficiently to reach a goal. (Even if you don't finish with an "A" range grade as long as you show significant improvement, I would recommend this strategy)
Both teachers were very happy to write a letter on my behalf and I discussed with them the issues I mentioned earlier and they both focused on the growth demonstrated from my hard work. I think seeing my determination to do better was very important to these teachers.
I asked them 8 weeks before I needed the letters. I wanted to make sure that I gave them enough time and was mindful and respectful of their time. They did not have to rush; they appreciated the extra time and prepared a strong letter.
They did not let me see the letters, nor did I not ask them. I wanted them to feel that if I asked them to write on my behalf that I trusted them to write favorable letters. When you ask someone to write a recommendation letter, you should at the very lease trust that they will write a letter highlighting your most positive characteristics.
- Drew (to receive a $10 credit use the referral code DREWB when signing up)