Last weekend colleges sent out their Early Decision and Early Action decisions. Here are some tips and suggestions for those who were rejected, deferred and accepted!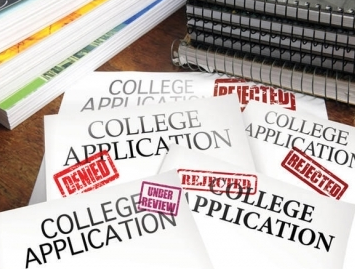 Got rejected? If so, it's completely reasonable to be upset! You've put so much hard work into getting good grades in high school, giving up weekends to study for the SAT, and right about now, you probably feel like your life is ruined. You have every right to feel that way; in fact, you should be disappointed, because if you aren't, it means you didn't really care all that much about the school you applied to.
While you're in the abyss of disappointment, we're here to let you in on a little secret: Everything will be alright. Not getting in doesn't necessarily mean you're not qualified; it may mean that this school really might not be the one for you. Colleges choose their students like we choose them—apart from the academic credentials, colleges also look for students who they believe will thrive in their institution.
Another secret? The regular decision deadline is just around the corner, and everyone is working hard on their applications while you're upset about getting rejected. It's a lot easier said than done, but getting up after falling down is part of what it takes to succeed in college and in the real world.
Make sure you reflect on your Early Action/Decision application. Was there a side of you that you didn't show off in your application? Read some of these AdmitSee Profiles and talk to a mentor to figure out what you could have done better.
P.S. No one from the AdmitSee Team got accepted Early Action, but we all ended up at great universities that we all came to enjoy and love!