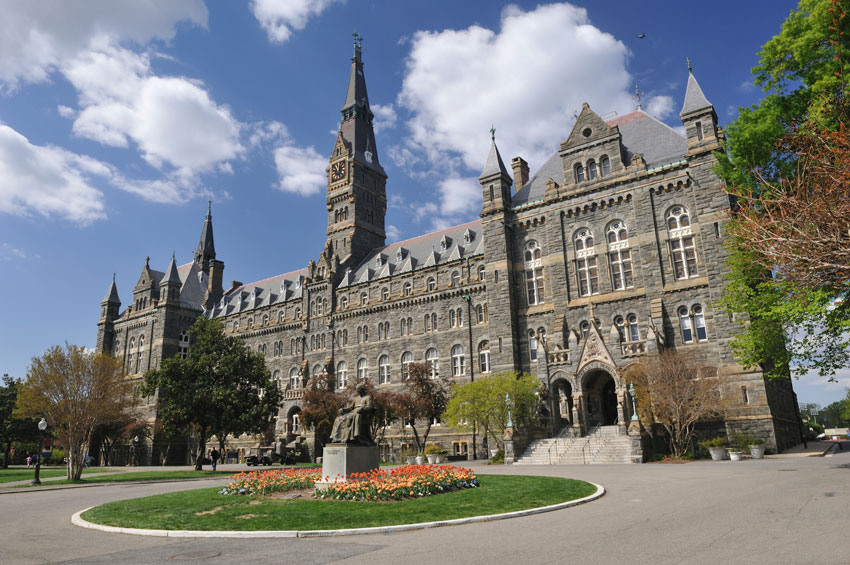 Today, we're lucky to have another Q&A from our friend at Campus Sherpa, Cofounder Alex Mitchell. He talks about life running a startup in college, his past jobs, and his new favorite chair.
Where did you go to high school? College?
I attended Sacred Heart Prep, Atherton and am currently a sophomore at Georgetown University.
How long ago did you found Campus Sherpa?
Campus Sherpa was founded in September 2014, so we've just passed our first birthday.
How many people currently work at Campus Sherpa?
Currently, our executive team is made up of 7 students here at Georgetown. Then we have over 400 student tour guides (our Sherpa community) who range among 70 schools across the U.S.
What did you want to be when you grew up?
I was all over the place. I wanted to be the president for longer than is socially acceptable. Then I fluctuated between wanting to become Johnny Carson or Stephen Colbert. It's still up in the air.
Can you recount the exact moment you came up with the idea for your startup?
I wasn't the one who came up with the idea. It was my cofounder David Patou, but I remember the minute he told me about it. I was just coming off a failed app that had been brutally beaten to market too young. I was in the post-start-up pits when David approached me in Sellinger Lounge (a popular coffee spot on campus) and said the seven words I did not want to hear ever again: "I have an idea for a company." At the time, I thought I was done with the startup world. I exhaled and asked him to go on. He told me about an idea for a service which directly connected high school students with college students who have the similar interests for a one-on-one tour. In his words, "an uber for college tours." My first thought was rather expletive-ridden. I realized that he was really on to something. I immediately hopped on board and asked to split the company 50/50. We've been working together ever since.
What's your favorite piece of feedback / thanks you get from users?
My favorite piece of thanks we've gotten did not actually go directly to us, it went to a Sherpa of ours. At Campus Sherpa, we have a strict "no-tipping" policy, and, while our Sherpas understand this policy very clearly, some clients are more… um… deliberate with their efforts. One of our Sherpas at Columbia University had just finished a tour when her guest family offered her a $50 tip. She politely declined but they insisted. She continued to resist until eventually they demanded that they do something in return. Eager to calm the mother's pleading, our Sherpa casually mentioned that she would be happy to get a coffee with the family to chat a bit more about campus. The family agreed but instead of taking her to nearby Joe's Coffee, they routed her to a 5-star restaurant on the upper-west side and paid for her entire meal. She reported herself, and, just in her case, we relented on our no-tip policy.
Do you have a personal motto? Favorite quote?
"95% of getting something done is just getting it done," is a quote my brother always used to throw around. I didn't understand it until I got involved with startups. There are so many ideas out there, the ability to self-motivate and execute is incredibly important. You may be sitting on the next million-dollar idea, but unless you take the jump to actually get going, you'll never know.
Did you intern anywhere during college? If you could change those internships, what would you do differently?
Campus Sherpa has been a full-time job here in college. However, I did very briefly have an internship this past summer. I was a news desk intern at a local TV station in San Francisco; they very graciously agreed to take me on despite my late application. But summer work on Sherpa had just began to ramp up about three days before my first day. Realizing I couldn't pursue both, I then quit the internship on my second day. While I have always been curious about what I would have gained from that internship, it did afford me the right to tell everyone that I quit my job to pursue my startup. Overall, not a bad deal.
What was the worst job you ever had and what did you learn from it?
The worst job I have ever had was as a phone banker in a recent presidential campaign. It is one of the most challenging, underappreciated roles you can have in as a volunteer. However, I learned the importance of extremely high-quality customer service. When phone banking, you have less than a minute to appease the person on the other end of the line. Thus, I learned to be as understanding, personable, and helpful as possible. Always agree. Always apologize. Always leave the customer (or caller) feeling better than when they came. I don't think Campus Sherpa would be as customer-centric had it not been for this experience.
If you had a younger sibling graduating from college this year, what's one piece of advice you would give them in choosing a career?
Gosh, I would love this advice. I'll check back in two years.
How many times do you hit snooze in the morning?
3. I know I have to be up by 9, so I plan accordingly.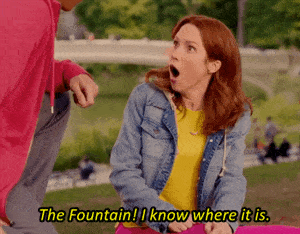 Describe a typical Monday.
Given my college schedule, Mondays are a bit challenging. This is why we've brought on such an expansive team here at Georgetown. So everyone can be productive everyday, passing off items when school gets a bit tough. I get up at 9 am sharp, turn on NPR in the shower (it's how people on the floor have come to recognize me) and am out by 9:15. I religiously schedule my day, so if I'm not out by 9:15, we'll have real problems. By 9:20 I'm combing through Sherpa emails eating cereal. We usually have some updates over night, whether from our developer, potential clients, or our lawyer. I make notes on some and reply to a few others. By 9:50 I head to class. I am in class from 10 am to 3 pm on Mondays, a relatively heavy day for me. During class take care of some of our graphics work or review any documents for the company. I get the chance to move through some busywork during the rest of the class day. By 3:30, I realize I've forgotten to eat lunch. Late lunch off campus, likely sushi at Dean & Deluca on M Street, Wisey's on 36th, or Epicurean off Reservoir. Remaining emails go outbound before 4 pm. At that point, I usually have some partners I need to reach out to, and that can last about an hour or so. Other Mondays, that's a good one-hour break to work out or just spend time with friends. By 6, I may have one phone call with a college counselor, IEC, or press if we're working on a larger product roll out. Improv practice begins at 7 pm (everyone needs a release). That takes me straight through until 9:30 pm, at which point we skype with our developer. Skype until 10:30, then classwork until about midnight. Final email check around then. After that, rinse and repeat.
Describe your perfect weekend to get some downtime.
I have never been a fan of completely unscheduled weekends. The best weekends for downtime involve maybe 4 or 5 hours of scheduled "miscellaneous" work time. No pressure, just catch up over cappuccino at a local café with wifi. After work, a walk through the Georgetown neighborhood with friends. Then, hopefully a show (Washington D.C. is great for the starving-student). Cap that off with a work out, and then an evening just hanging out in a friend's apartment overlooking D.C. Do the same on Sunday.
What are you reading right now?
I just finished Daniel Goleman's Emotional Intelligence and have begun to work my way into Judd Apatow's Sick in the Head.
Any blogs / podcasts you recommend?
It might not be the most startup-ey podcast, but you can never go wrong with StoryCorps, especially when your company is about helping people share their experiences.
If you could edit your past, what would you change?
I may have spent more time taking classes on computer science in high school. Luckily we have a fantastic developer on our staff, but I think a CEO can always learn more.
Did you take any classes in college that changed your career plans? What? How?
The most significant class that I've taken thus far has been my course on introductory computer science. It taught me that I will never have a career on the backend of tech.
What's the last thing you splurged on?
A book on architects, Ray and Charles Eames, and their spectacular arm chair.
What do you consider the world's best invention?
The internet. No surprise here.
Choose 3 people to have dinner with (dead or alive).
-Steve Jobs
-John F. Kennedy
-Del Close
What smartphone app would you have a hard time giving up?
My iCalendar app. My friends could only imagine the chaos.
What's one activity / habit you wish you had time to pick up?
I would like to be able to cook. There is a certain meditative quality to preparing food and I imagine it's a fantastic way to unwind.
If you were to restart your business, what would you do differently?
I would have focused more heavily on creating a virtual tour component for the business. We finally have that service ready, but it is so simple and so easy, we should have seen it sooner.
Who has the most influence in your life?
Right now, it's my cofounder, my roommate, and my parents. In that order.
What's the worst piece of advice you ever received?
"Just wait, business will come to you."
When are you happiest?
When I meet a Sherpa on his or her campus by sheer coincidence. It's always incredibly gratifying.
Tell us a joke
And the Lord said unto John, "Come forth and receive eternal life."
But John came fifth, and won a toaster.
For more information about booking a tour with Campus Sherpa, head to their website to find out how and where you can find them. If you're starting your college search and are wondering where to apply, search our database to find out where students like you got into college. Talk with mentors and find out how to get in!