AdmitSee's $5,000 spring semester scholarship saw over 17,000 responses from high school and college students nationwide. It was bittersweet to relive some of these frustrations that we've all been through (mostly bitter), but also refreshing to know that our mission to help students through the application process is a valuable one!
Overall, the breakdown was quite similar to last semester's set of responses: 5,386 students talked about the financial burden of applying to college, such as tuition, fees and other costs; 3,710 people cited the written component of the application; 2,038 found test scores to be the biggest hurdle; and 2,238 wrote about their parents as a source of frustration.
The most staggering – but least surprising – factor was the general competitive nature of applying to college. At least 87% of responses touched on some aspect of the "stress," "pressure" or "worry" associated with their school choice and the impact on their lives.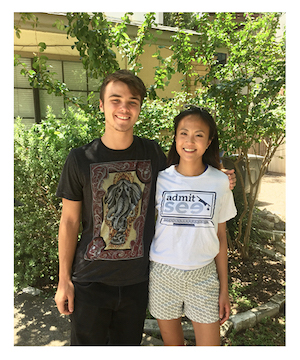 Our most recent winner is 17-year-old Jake Nunis. Hailing from Austin, Texas, his scholarship entry discusses how the school you choose can define the person you will become. The rising senior, who plays bass guitar, hopes to attend the Berklee School of Music in Boston, MA. We had the chance to interview Jake in person. When asked what he's most looking forward to in college, he said, "A fresh start, something new. I always like to keep changing, being in a different town with different people in a completely new atmosphere."
Here is the winning entry!
Spring Semester winner - Jake N. from Austin, TX
"The most frustrating thing about applying to college is deciding who I will become. A choice in college is more than just the school you will attend in the fall. It's the people you will be surrounded by for the next 4 years. It's the courses you will take that will shape not only your education, but the way you think for the rest of your life. It's the friends you'll have for the rest of your life. It just might be the person you fall in love with. To define yourself in that way, is the hardest part."
Some more favorites that struck a chord with us:
Like most people, Denis B. finds the essay portion of the application the most frustrating. He hopes to one day attend UT Austin, USC or UC Berkeley.
"Essays. Just the sound of that two-syllable word sends shutters down my spine. "Talk about yourself." That quote causes a deep groan to come from my chest, but "essay" and "talking about myself" in the same sentence is downright frustrating. Almost every college will have an essay that requires an essay on an experience or about one's personality. The frustrating part of these essays are that they are VAGUE. One can write millions of different essays with that one tiny prompt. My brain likes to find ONE answer to a question (which is why I'm not majoring in English)."
Kathryn K. from Eastview, KY finds it difficult to choose a major or a career path so early on in life, and hopes to be able to find herself at Western Kentucky University:
"Although there are many aspects of the college application process that are extremely stressful and aggravating, the pressure to know exactly what career you would like to have for the rest of your life is overwhelming. When most students graduate high school, they are still finding and creating themselves, so it is illogical to force them to choose a single talent or interest and "stick with it" when they are comprised of many characteristics and hobbies. Instead, schools should allow students time to develop their personalities and pursue their passions, thereby allowing a flourishing career."
Georgia R. from Baltimore, MD finds it suffocating that "college applicant" suddenly became her defining identity.
"The most frustrating thing about applying to college is that suddenly it is apparently the most interesting thing about me. The only thing people can talk to me about, from my closest family to my most distant acquaintances, is college. Where do you want to go to college? Where have you applied? Are you excited? Why this college? Have you thought about that college? If you had to choose right now, where would you go? Have you visited anywhere? Have you decided yet? I hate that I have become my college search and not much more."
What is the takeaway here? Nobody has this figured out, and the college application process is not a cakewalk for anyone. The key is to not let the process overwhelm you. Take it one step at a time, set deadlines and milestones, and stick with the plan. Keep an eye out on our blog in the upcoming months too – we'll be posting other favorite scholarship excerpts and sharing tips on how to combat some of these common hurdles.
Thank you to everyone who submitted a scholarship application. If you've since been accepted to college, make sure you update your AdmitSee college profile with your essays and your application experience. If you have advice about applying to other scholarships, share them in your profile! You'll get paid every time someone unlocks your profile or for mentoring an applicant. On AdmitSee, we pay it forward!