Many students assume they have to go directly from high school to enrolling in college. That's the traditional route, but is it for you?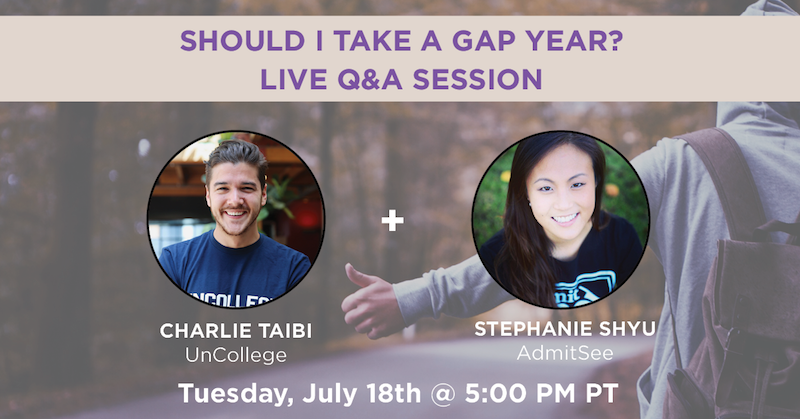 Get the scoop from UnCollege's Charlie Taibi who'll be sharing his experience and knowledge about taking a gap year. Join us on Tuesday, July 18th at 5PM Pacific (8Pm Eastern)!
What is a gap year?
A gap year is a time between years of schooling often devoted to self-exploration, like traveling or personal enrichment, and professional development, including working, interning, and networking. Mostly, it is a chance for you to define what you want out of your learning and your life, and help you develop the empowerment, tools, and self-advocacy to get it. Gap years can benefit your academic performance, boost career prospects and readiness, and are incredible opportunities to discover your interests and develop skills.
Who will you learn from?
Charlie is a former educator and current CEO of Gap Year Global (GYG), which runs the UnCollege Gap Year Program. Before GYG, Charlie ran an entrepreneurship school in Silicon Valley and his work was documented on the ABC Family television show StartupU. Charlie believes gap years will become the foundation for every high school graduates' higher education experience.
Stephanie Shyu, AdmitSee's founder, will also be joining Charlie to provide you with insight on applying to college after taking a year off, or for students who are considering their enrollment for a year. A former SAT and AP tutor, Stephanie's passion for education was sparked early when she founded an educational charity over a decade ago to help fund education access for low-income, rural female students. After graduating from Duke University, Stephanie served as an alumni interviewer while working at a New York City financial news startup.
When: Tuesday, July 18th at 5PM Pacific (8PM Eastern)
What: It'll be a casual Q&A sessions, so have your questions ready for Steph and Charlie to answer!
How: Register here.