The college search process can be straightforward and simple for some, but it can be a self-discovery journey for others.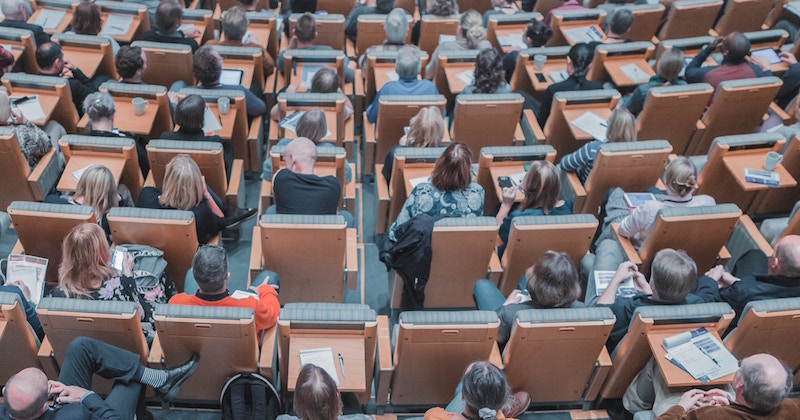 There are so many guides and lists out there to help high school students begin looking for colleges that might be a good fit for them. AdmitSee share those as well! While those checklists provide helpful pointers, no one really shares what their college search experience is like. Too often we hear "Duke is my dream school", followed by the story of how they got accepted to Duke.
For majority of high school students out there, they don't find their dream school until the latter half of the college application process, after they've done the research. Whether you're completely lost or have some vague idea, we hope you find reassurance in the experiences of students before you. You may feel lost, but it might mean you're on the right track.
1. Knowing What You Want: Size & Location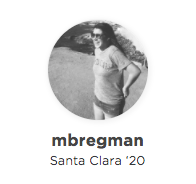 Student Advice from Mbregman, Santa Clara University '20
"As someone from San Diego, I knew I wanted to (preferably) stay in California but get out of San Diego. Chapman, which is in Orange and about 2 hours away by car, is the closest I was willing to go. However, I did apply to schools out of state but they would have had to be my dream school or perfect. I also wanted a small-medium sized school with small class sizes so I could get to know my professors. I didn't want to just be a number. Once again, the school would have had to be perfect for me to go there if it wasn't small."
Check out her full Santa Clara application file to learn more!
2. Keep an Open Mind: Backup to Top Choice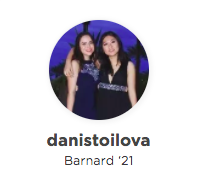 Student Advice from Danistoilova, Barnard College '21
"I had not initially chosen to apply to Barnard, in fact at the beginning of my college application process I saw it simply as a safety school or as a backup option, but as time went by and I learned more about the institution it quickly made its way to the top of the list. Barnard is unlike any other school, it provides women with the ability to have a small liberal arts education in New York City while still being exposed to all of the resources of Columbia University. The Barnard experience is unique from all other schools in terms of the opportunities that it provides and the way that students are treated."
Unlock her full Barnard application file to find out more about her application journey.
3. Start Somewhere: D1 Sports & Urban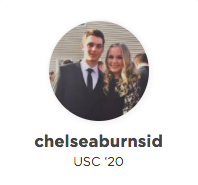 Student Advice from Chelseaburnsid, University of Southern California '20
"I didn't have a lot of preferences when I was looking for schools. I didn't care if it was a big school or small school, if it was close or far, etc. I used the CollegeBoard School Finder and wound up picking "no preference" for most questions. I knew only three things: a school with a reputable communications program, D1 sports, and that was somewhat close to a city. It didn't narrow down much but it was a start. I wound up applying to like 10 schools, most of which were "safety" schools where I knew I would get scholarship money.
I'm the third of 3 kids so my family didn't have a ton of money for my tuition because we were already paying my siblings' student loans. That being said, I almost didn't apply to USC because it was a private school with a hefty tuition and it was a match/reach for me, meaning I probably wouldn't get much money from them, if any at all."
Keep reading his advice by unlocking her full USC application file!
4. Don't Focus On Prestige: Do Your Own Research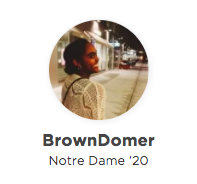 Student Advice from BrownDomer, University of Notre Dame '20
"I did extensive research to find schools that had a good Biology program, allowed undergraduates to carry out research, and of course, had good financial aid systems for international students. When you're looking for a school to apply to, don't apply solely based on the prestige of the school. If you want to be a Political science major, you would be better off at Yale or an LAC than at MIT. Try to image yourself at the schools you're looking to apply to. Can you see yourself thriving in the environment of that school? Take into consideration the weather, college size, location etc.. when you're making your choice because these are the things that you will be coming into contact with on a daily basis. The name of a school means little to nothing when you; re actually going there, it means more for those on the outside. If you aren't someone that appreciates a large cool setting, then you would be much happier at an LAC than, say, Stanford. Make wise decisions that you would be happy with throughout all 4 years."
View her full successful Notre Dame application file to learn more.
5. Find Out What You Like as You Go!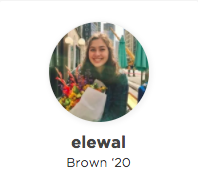 Student Advice from Elewal, Brown University '20
"After taking my tests, the first school I visited was Brown (it was on our way to Boston where I would look at MIT and Tufts). When I got to Brown's campus, I fell in love. [...] I discovered, after looking at many schools, that I didn't know what I wanted. I realized the range classes offered at "engineering schools" like RPI, WPI, and MIT was not what I was looking for. I wanted schools that gave me the ability to study humanities as well. I also thought that I wanted to go to a small liberal arts school. I visited Vassar, Wesleyan, Middlebury, and Amherst. After looking at all of these schools, however, I only applied to Wesleyan. Though I didn't want a large school, these schools were too small, barely bigger than the size of my high school."
Unlock her full successful Brown application file to read all her advice!
Want more student advice? Use our Advice Search feature to get your application questions answered!
For further access, our premium plans offer different levels of profile access and data insights that can help you get into your dream school. Unlock any of our packages or search our undergraduate profile database to find specific profiles that can help you make an informed choice about where to apply! We have 60,000+ successful college application files uploaded by college students. See how they got in, and how you can too!