The thought of speaking to a college professor or coach can be quite intimidating, but that shouldn't stop you from reaching out, especially since it can be quite helpful in your college search.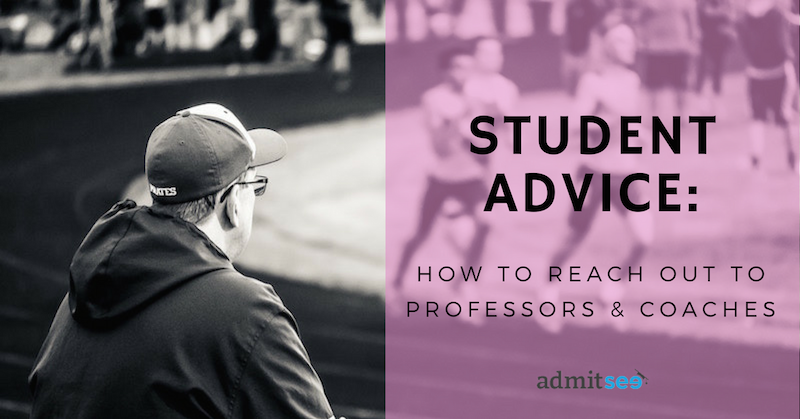 Ever feel like they just won't respond? Why waste time talking to a high school student? If you're having these thoughts and doubts, cast them away now. There's no need to feel inferior simply because you're younger and may not have the same knowledge college students do. College professors and coaches are educators and for the most part are all excited to see younger students take an interest in learning more and improving themselves.
Plus, what's the worst thing that can happen? They simply don't respond to your email. No harm, no foul. If you never reach out though, then you'll never get the answer you were looking for in the first place. Don't believe me? Hear it from these college students who reached out to professors and coaches during their college application process:
1. Student Athlete: Recruit vs. Walk On
Student Advice from Danielc, Princeton University '19
"Don't be afraid! Even though I was too slow to swim at many top tier schools, many of these coaches replied to my emails, politely stating that they couldn't offer me a recruited spot on their roster (most said I could walk-on if I was accepted) and wished me luck for the rest of my season. The Division three coaches were more than happy to talk to me about a future at their school, even though I wasn't quite among their top recruits. Keep in mind that these coaches and professors are excited to talk to you and meet you because you're potential the future of their school, and THAT'S exciting!"
2. Academics & Athletics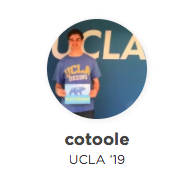 Student Advice from Cotoole University of California - Los Angeles '19
"I reached out to a couple of physics professors at the schools I applied to. They were very helpful and delighted to be contacted specifically by a prospective student. They answered all the questions I had and directed me to websites or literature with more information. For reaching out to coaches, I started off by emailing both the head coach and my specific position coach. I told them that I was interested in playing for them, what position I played, where I went to school, my height and weight, my highlight link, and my test scores. Test scores are important to college coaches since it is an indicator of your future success in school. If you have decent test scores and and decent athletic ability, you will be put on the mailing list at the very least and will probably get an email back."
View his full UCLA profile to learn more from his application journey!
3. Student Athlete Dilemma: D1 Sports or Top Tier School?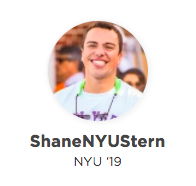 Student Advice from ShaneNYUStern, New York University '19
"I came to the realization that I was not a strong candidate for the Ivies and knew that outside of that, many top-tier schools are Division 3. Swimming for the number one team in the nation 9 times a week and countless hours, I debated if this was the right thing to do. But I knew in the end that ultimately my education was the most important factor. I was heavily recruited by many D1 and D3 schools, but I was realizing that D3 offers many amazing schools with equally competitive programs such as Carnegie Mellon, MIT, John Hopkins, Tufts, Williams, and UChicago."
Unlock his full NYU application file to learn more about his recruitment and application process.
4. Key Enrollment Decision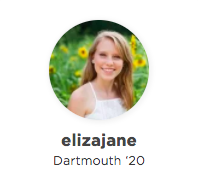 Student Advice from Elizajane, Dartmouth College '20
"I highly recommend this. I probably would not have chosen the school I did if I had not reached out to a Dartmouth professor about the public policy minor. It's kind of scary, but I always tell myself that the worst they can say is no. I emailed my information to a lot of cross country coaches who never got back to me, but, hey, it happens. You'll be glad that you at least tried."
Check out her full successful Dartmouth application file!
5. Send Out Cold Emails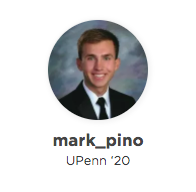 Student Advice from Mark_pino, University of Pennsylvania '20
"I sent emails out to all of the Music directors from the schools I considered applying to in July before my Senior Year. [...] I was hesitant at first to do it, but decided to just go for it. I searched on college websites for the contact info of the head of the music department or Wind Ensemble director and sent an email saying something along the lines of I'm an incoming senior from Mainland Regional high school.
Some professors were warmer than others. For instance the director from Princeton was like Here's a link of the programs we offer. Submit a supplemental and I look forward to seeing your application. The director from Columbia, on the other hand, showed extreme interest. He invited me to come up to NYC to sit in on a Columbia Wind Ensemble rehearsal, offered to send my essays to one of his friends who used to sit on the admissions panel and go over them to perfect my application, and put my application in the recruited pile."
Unlock his full UPenn application file to find out how his conversation with the Penn Wind Ensemble went!
Want more student advice? Use our Advice Search feature to get your application questions answered!
For further access, our premium plans offer different levels of profile access and data insights that can help you get into your dream school. Unlock any of our packages or search our undergraduate profile database to find specific profiles that can help you make an informed choice about where to apply! We have 60,000+ successful college application files uploaded by college students. See how they got in, and how you can too!