Thinking about applying or enrolling at Dartmouth College? Look beyond Dartmouth's Ivy League reputation and see what current Dartmouth students have to say about going to school in Hanover.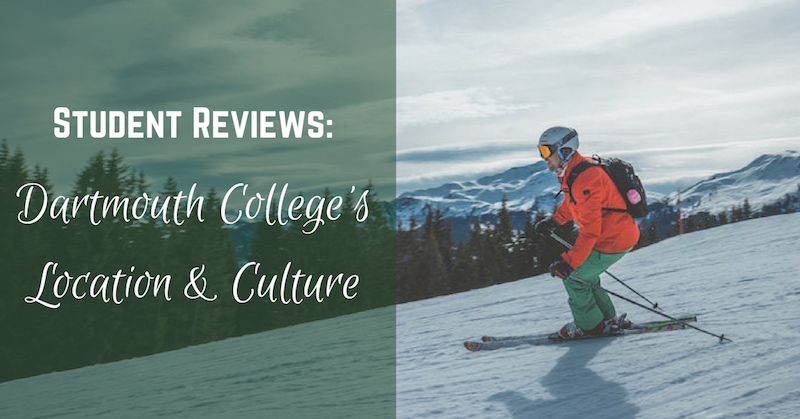 1. Dartmouth's Campus & Culture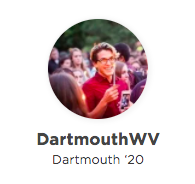 Student advice from DartmouthWV
Dartmouth College Class of 2020
"Many people are put off about Dartmouth because of its location. That could not be a bigger mistake. Sure, we may attend school an hour and a half from the nearest Target and Chipotle may seem like a distant memory during the depths of classes but Dartmouth wouldn't be Dartmouth without it. Dartmouth's seeming isolation has forced us to create a unique culture that can't be found anywhere else. We have our big traditions –first-year trips, the homecoming bonfire, Winter Carnival– that stand out, but everywhere you look Dartmouth culture is there. Our weird, continued usage of email for personal, friendly communication, weird traditional challenges passed down from class to class, whatever. Dartmouth is unlike anything else, and that's because of where we are."
Unlock his full Dartmouth application to see his full application story!
2. Dartmouth's Curriculum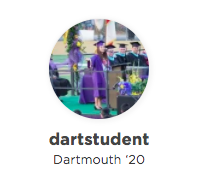 Student advice from dartstudent
'Dartmouth College Class of 2020
Dartmouth is a well-known private university, but it also has the elements of a liberal arts education. The class sizes are much smaller, on average, than the other Ivies or other private institutions. I personally would like to study many different things in college without having to worry about getting all my credits, and Dartmouth's curriculum allows for flexibility, much like a liberal arts school. Its students are also known to be diverse and friendly. Lastly, its campus and outdoorsy traditions really sealed the deal when I visited after admissions decisions came out."
Unlock her full Dartmouth profile to read her application journey.
3. Unique Experience You Won't Get Again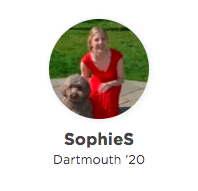 Student advice from SophieS
Dartmouth College Class of 2020
"Dartmouth is located in Hanover, NH, which is a small but great college town. I love the fact that I'm going to school in New Hampshire because it's a beautiful area, but I probably won't be able to live up there right after college because most job opportunities will probably be more in suburban or urban areas. I figured that there's no better time than college to pick myself up and move to New Hampshire for four years, because I may not get to do that ever again depending on what my career plan turns out to be. I also don't mind the cold so that's an important factor because it's very cold in Hanover."
View her successful Dartmouth application profile to learn more!
4. Dartmouth's Nature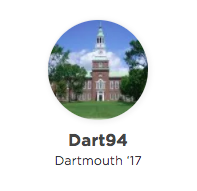 Student advice from Dart94
Dartmouth College Class of 2017
"Dartmouth is an absolutely amazing school. The campus is beautiful, the people are motivated, interesting, and humble, and the focus on undergraduate education is un-paralleled. If you love the outdoors then Dartmouth is the place for you – there are countless ways to stay active and enjoy New Hampshire. The Dartmouth Outing Club is a great organization and runs all sorts of clubs including a mountaineering club, ski patrol, woodsman's club etc.While it doesn't seem like something you would initially be looking at, whether you like the people who attend a school you are planning on applying to is huge! The people at Dartmouth are some of the most outgoing, friendly, motivated, helpful, and caring people I have ever met and this is something that is truly unique about Dartmouth. While you will hear of people sabotaging other people's work or reusing to share study guides at other colleges that couldn't be farther from the case at Dartmouth. Everyone here is always more than happy to help each other, send notes from a class, get together to study, tutor, or share study guides.Dartmouth is also #1 ranked school for focus on undergraduates and this is quite deserved. Unlike most other schools, there are fewer graduate students than undergrads which limits the opportunities available to the undergrads. At Dartmouth, however, there are tons of opportunities to get to know professors, work with them in their labs, intern, do work-study, and publish research papers with faculty!"
Unlock his Dartmouth profile to learn more about his application process!
4. Pros & Cons: A Little Bit of Everything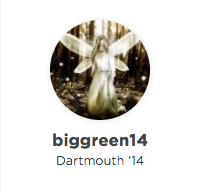 Student advice from biggreen14
Dartmouth College Class of 2014
"1. What I like about Dartmouth:
- Size: The college is small enough for you to really get to know your professors and classmates. There are tons of student organizations for everyone to find their niche (you can even found your own on the college's dime!).
- The unique academic calendar ("D-plan"): Dartmouth operates on a quarter calendar. There are four terms per year: fall, winter, spring, summer—each 10 weeks long. For the most parts, you get to pick what terms to take classes and what terms to take off (for example, many people take junior winter off to do internships or volunteer). So there is a lot of flexibility and on the whole more opportunities to take advantage of.
- A wide range of study-abroad programs: You can do up to three off-campus programs during your Dartmouth career. I did two: a Language Study-Abroad Program in Lyon (France) and an Economics Exchange Program to Milan (Italy). Most people I know go on at least one.
2. About Hanover:
- The good: The campus and surrounding area are absolutely lovely, especially during fall and spring. The town is quiet and people friendly.There are lots of outdoor activities available: hiking, canoeing, skiing etc. The college also has an outing club that organizes pre-orientation trips for first-year students.I grew up in an urban area, so Hanover was definitely a nice getaway.
- The bad:There are some obvious drawbacks about living in a small college town. There is no central shopping center, and the nearest Walmart is 30 minutes away. On the bright side, there are free buses that take you around the Upper Valley area. Boston is about a three-hour drive away."
Unlock her Dartmouth application for more advice and insight into Dartmouth!
Want more student advice? Use our Advice Search feature to get your application questions answered!
For further access, our premium plans offer different levels of profile access and data insights that can help you get into your dream school. Unlock any of our packages or search our undergraduate profile database to find specific profiles that can help you make an informed choice about where to apply! We have 60,000+ successful college application files uploaded by college students. See how they got in, and how you can too!