Want to be in Durham for college? It might not be New York City, but this small town has a lot to offer. Find out what Duke students have to say about Duke's location and culture.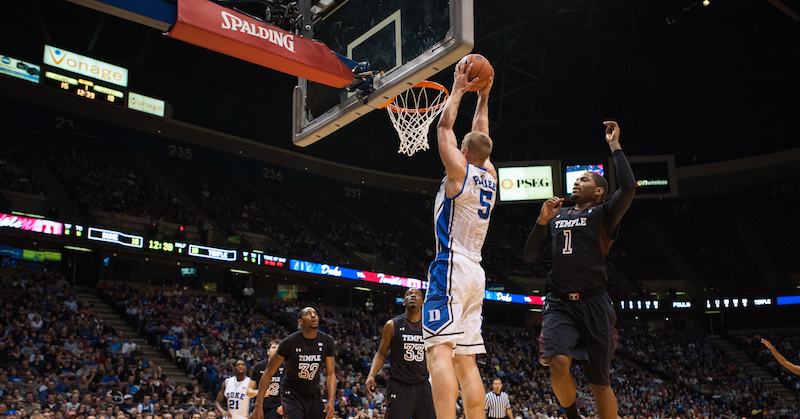 1. A Different View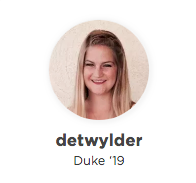 Student Advice from Detwylder
Duke University '19
"Many people may say that Durham is not exactly a college town. It is a small town, and I won't disagree with that, but it has exactly what I was looking for. Duke's campus is stunning, and if you haven't visited, I would strongly encourage you to do so. I like how Duke is located in a less urban area. Growing up in San Diego, I was always surrounded by big buildings (and the ocean). But I wanted to get away and see some of the other parts of the country. I wanted to see the big forests and the east coast in particular. Duke is the college of the town. And a lot of Durham revolves around Duke. But what many people don't realize is that Durham is not isolated, it is located within 10 miles of Chapel Hill, and it also isn't far away from Raleigh at all. In my view the location is perfect, it gives the enclosed feeling, but you're not stuck in a bubble- you have the freedom to explore the surroundings and the beautiful landscape. (Shoutout to the Duke Gardens) :)"
Unlock her Duke application file to learn more about her story!
2. Vibrant Town
Student Advice from Dukeboy2018
Duke University '18
"Durham - despite what you might hear from people and particularly alumni from before 2005 - is turning into a vibrant new town. The food is incredible as I'm sure you'll hear, and exploring downtown Durham as a freshman is one of the best parts about living on the separate East Campus. It's not too Southern, but it's definitely friendly and unique. There are parts farther from campus that are still not the nicest area, but that's true in any city, and the amount of progress Durham has made over the last 10 years has made Duke such a more inviting and appealing environment."
Unlock his Duke college profile to learn more about his application journey.
3. All Four Seasons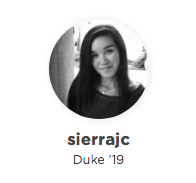 Student Advice from sierrajc
Duke University '19
"Duke is located in Durham, North Carolina. Durham is an amazing place with so much culture and so much good food. It is located about 10 minutes away from Chapel Hill, which is a nice college town with lots of things to do. It is also located in Research Triangle Park, so there are so many opportunities to get involved with businesses and research. The mall is about 10 minutes away and the beach is 4 hours away. Duke's campus is beautiful with acres and acres of forest surrounding it. There are so many animals around and the gothic architecture is just amazing. The weather is great, a perfect place to be on the east coast. There are 4 seasons and it's so pretty in the fall. When I first visited Duke, I simply felt at home. Everyone was so cheerful and friendly and I loved the cooperative atmosphere (it wasn't competitive at all). Everyone had so much school spirit and they were all so passionate and driven. I loved the Southern hospitality, genuine kindness feel of the campus. It was simply my place to be."
View her Duke application file to learn more about her application journey.
4. Campus Culture & Student Spirit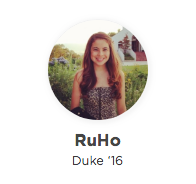 Student Advice from ruho
Duke University '16
"The weather! Compared to the Northeast, it's so much more warmer during fall and the spring and makes it bearable to go to class! I have a lot of friends who say they have a hard time getting themselves to go to class particularly in the winter just because it's so cold! Also college students' moods are greatly affected by the mood (people tend to be happier when it's sunny) so weather for me is a big reason I love my school. Also, I love the spirit at Duke! I don't know if you've heard but we're kind of good at basketball, so going to those games and cheering for our team, as well as being bitter towards UNC (our rival school) is a huge fun part of the culture at Duke. Furthermore, you would think that college students are very competitive in their grades against their peers but the students at Duke LOVE helping each other out so the collaborative nature is really great. There's also a diverse range of students coming from all sorts of places around the world which makes meeting new people very interesting. Most of all however, my favorite part about Duke is that many people are very passionate about something which makes it a very inspirational place to be. There are leaders and bright minds everywhere."
Unlock her successful Duke application to learn from her insights!
5. Work Hard, Play Hard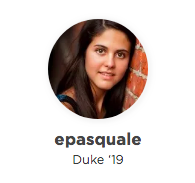 Student Advice from epasquale
Duke University '19
Duke has a very inclusive culture where students genuinely care about each others' success and well-being, and are very supportive. Also, I found that most of Duke's students are fun-loving and don't just study 24/7– more of a work-hard, play-hard attitude. Even though Durham isn't the biggest or most bustling city, it still is quite nice and has quite a bit going on that will keep you busy.
Unlock her Duke University profile to read her essays and advice!
Want more student advice? Use our Advice Search feature to get your application questions answered!
For further access, our premium plans offer different levels of profile access and data insights that can help you get into your dream school. Unlock any of our packages or search our undergraduate profile database to find specific profiles that can help you make an informed choice about where to apply! We have 60,000+ successful college application files uploaded by college students. See how they got in, and how you can too!