Before students struggle to pay for college itself, they have to face the grueling process of college applications. There are so many external resources to help craft the best application for high school juniors and seniors, but sometimes the cost of all of it is way too much. That's why AdmitSee, Magoosh, Campus Sherpa and Prompt are here to help!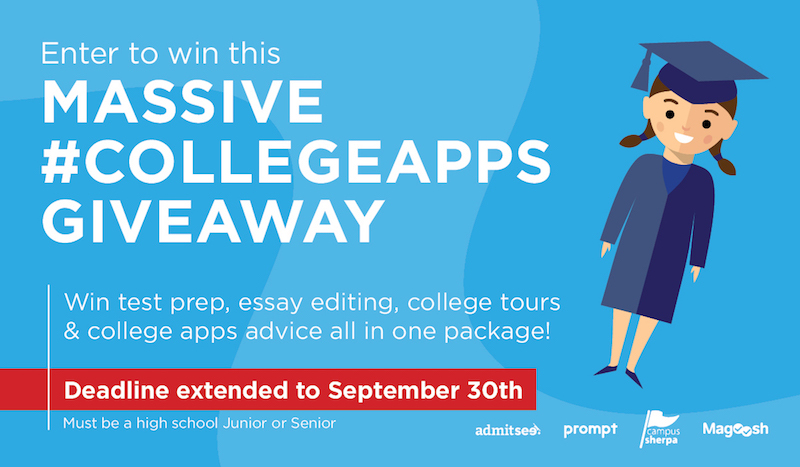 AdmitSee has teamed up with 3 different partners to bring you the biggest EdTech giveaway you've ever seen. By entering, you stand a chance to win all the resources you'll need to get you through the college application process. Here are the 3 partners we are working with to bring you the best support:
Magoosh is a test prep startup that offers affordable and accessible online test prep for the SAT and the ACT. Their prep plans include video lessons, practice questions, online support from expert tutors, fun apps, and study schedules.
Looking for a personal college tour from a real college student? Campus Sherpa provides personalized, one-on-one college tours built around a prospective student's interests. We find the perfect match to speak to every student's on-campus passions.
Prompt helps you rock your college admissions essays with professor-quality feedback from real people in 1 hour. Last year, Prompt students got into nearly every top-50 university and earned millions in scholarships. Best part? You get your first review for free.
The lucky winner will receive a 1 year AdmitSee subscription, 6 month Magoosh subscription, 6 one-on-one College Tours and $100 in essay feedback from Prompt.
Submit your entry here and take the stress out of your application process. You have until September 30th to sign up and enter!