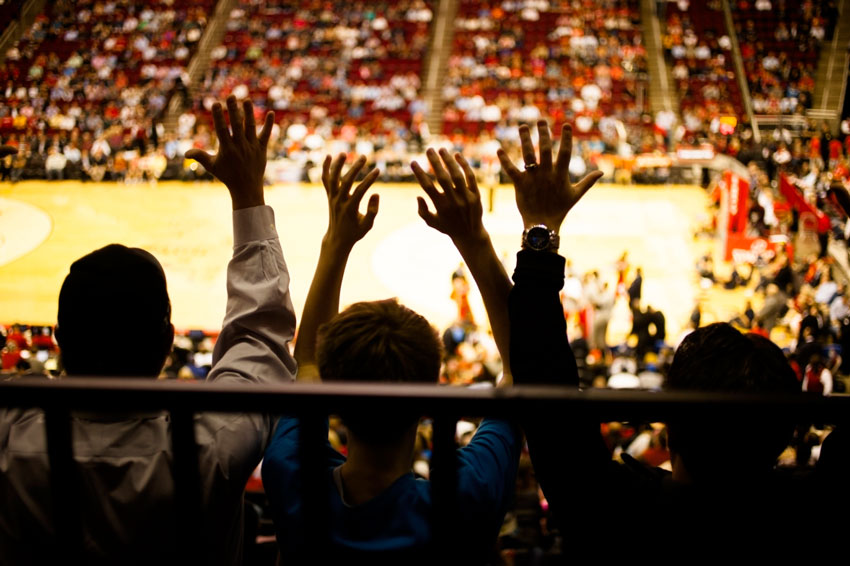 This year, college basketball has proven exactly what we already knew: predictions and preseason rankings are meaningless, even just a few weeks into the season. Now that we're right in the thick of conference play let's take a look at this year so far in college basketball.
Iowa: The State of Upsets
Remember last year, when Kentucky was the top ranked team for just about the entirety of the season? Well, it's only Week 11, and five number one teams have already been taken down, with three of those losses coming in the state of Iowa. Perhaps the most interesting detail of this stat is that all three losses in Iowa came to different teams, starting with University of Northern Iowa upsetting University of North Carolina back in November. University of Iowa then knocked off Michigan State, followed by last week's thriller featuring Iowa State defeating Oklahoma, despite a valiant 27-point effort by Sooner star Buddy Hield. Maybe it's the corn or maybe there's something in the water, but so far this year one thing is for sure: Iowa is not that place any number one team wants to be.
Team Exceeding Expectations:
Xavier Musketeers (AP No. 5): After starting the season unranked with a few Top 25 votes, the Musketeers got off to the hottest start in program history at 16-1, before falling to tough conference foe Georgetown on Tuesday. With big wins over then ranked Michigan, crosstown rival University of Cincinnati, and a blowout victory over Butler, Xavier has reestablished their position as one of the top programs in the country. Their success comes, thanks in large part, to coach Chris Mack's ability to develop young players into stars. Last week's Big East Player of the Week, sophomore Trevon Bluiett (15.9 ppg 7 rebounds), and Big East Freshman of the Week Edmund Sumner, have both stepped up big time. With the addition of redshirt juniors Myles Davis and Jalen Reynolds, the Muskies look to make a return to the Sweet 16 and beyond.
Most Disappointing Team So Far:
Gonzaga (unranked): Every year, it seems as though the Zags just can't pull it together, and after losing star guards Kevin Pangos and playmaker David Stockton, this season is no different. Forwards Kyle Wiltjer and Domantas Sabonis are the only bright spots on the team so far, averaging 22 and 18 points respectively. But without a complete backcourt to dish it to the scorers, Gonzaga will continue to struggle. While the West Coast Conference is, year in and year out, Gonzaga's conference to lose, they are going to need senior guards Josh Perkins and Eric McClellan to bring these team together if they want to make a serious run in March.
Early Player of the Year Conversation:
Ben Simmons, LSU: Considered by most to be the top pick in next year's NBA draft before playing a single college game, the LSU freshman is averaging a double-double with 19.4 ppg, 12.8 rpg, and 5.1 assists per game. Simmons is about as complete of a college basketball player analysts have seen in years - at 6'10", 225 lbs, he is tall enough to grab boards and create his own shot, yet athletic enough to dribble and drive his way through the lane for an easy two points. Although LSU has only gone 11-7 this year, Simmons was a big part in upsetting then No.9 Kentucky. He shot 100% from the field (14 points) and grabbed 10 rebounds to lead to Tigers their biggest win yet.
Buddy Hield, University of Oklahoma: If you've watched Oklahoma play this year, then you know that this guy is the real deal. Averaging 26 ppg, Hield is a major reason why the Sooners have shot up to No.1 in the AP rankings. Earlier this month, we saw an instant classic triple overtime thriller between then No. 1 Kansas and No. 2 Oklahoma, in which Hield put up an insane 46 points on 8-15 from beyond the arc. His agility, awareness, and overall skill puts him as a favorite for more than just the Big 12 Player of the Year.
Final Four Predictions:
As I started the article, nothing is guaranteed and predictions will often fall flat. But that being said, there are a few teams that are early favorites to play in Houston come late March:
University of North Carolina: With experienced head coach Roy Williams and PG Marcus Paige coming back strong from an injury, the Tar Heels have the experience and leadership required for a Final Four Team. ACC title contenders Virginia & Duke won't roll over easily, though, as there is a long path out of the conference and into March.
University of Oklahoma: If senior Buddy Hield can continue to be one of the top scorers in the NCAA, the Sooners are going to be the team no one wants to play come March. Senior big man Ryan Spangler contributes almost 11 points and 10 rebounds per game; the inside combination of Spangler and Hield has lit up opponents the first 11 weeks. The Sooners look like they're in great shape for the tournament.
Michigan State: Despite dropping their last three of their last four games, the Spartans are facing the adversity every tournament team needs, and they're facing it early. After an injury took out star Denzel Valentine for a couple weeks, the Spartans were forced to work with what they had, and still won 3 out of 4. Although they are only 1-3 since his return I trust that a coach as experienced as Tom Izzo will be able to put this team that was once ranked No. 1 back into title contender shape.
Xavier University: Since 2001, the Musketeers have failed to reach March Madness only twice. Coach Chris Mack has really done something special with this team this year: they have only been outrebounded once all season and seem to play as a complete team no matter what lineup is on the court. With seven players averaging at least 20 minutes per game and nine players that average at least 10 minutes, the Musketeers hope that their depth and experience can push them all the way to the Final Four.