A few months back, The New York Times covered how the college application came to be and how today's version drastically differs from what it was originally. Shockingly, college applications were created to weed out undesirable candidates—namely Jews.
Throughout the eighteenth and nineteenth centuries, admission to private universities was based on Latin and Greek entrance exams taken in preparatory schools. Meanwhile, state universities accepted pretty much anyone with a pulse. In the early 1900s, private universities started opening their doors to public high schools, but "administrators noted with dismay that selecting based on academic merit alone dangerously increased the percentage of Jewish students."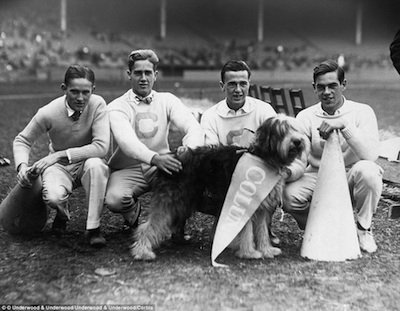 So in 1919, Columbia created the first modern college application, which requested a photograph, religious affiliation, and mother's full maiden name. They used this "character"-based application to maintain the status quo. Harvard and Yale followed suit with their own applications, and added the college interview. Princeton (which was called the College of New Jersey until 1896) also added a college application, but avoided the Jewish question.
The Common Application, launched in 1975, is derived from these early college applications. Ironically, what began as a way to prevent diversity, now serves to guarantee it. There's still a section for race and religion, but it's optional: "please indicate how you identify yourself" (and while it's tempting to select all the boxes, it's probably not a good idea).
The longest, and perhaps most difficult, section of the Common App is devoted to the personal statement. It used to be a 'topic of your choice' free-for-all; students could write about any topic they desired. But according to Common App director Scott Anderson,"unless students are very skilled writers, they're hindered by the lack of focus." So they created five essay topics to choose from:

During the 2013-2014 application cycle, the Common App came got a lot of negative press for technical problems with their website. Users reported deleted essays, formatting glitches, payment processing errors, letters of recommendation glitches, etc. (as if applying to college isn't frustrating enough). Some schools were so fed up, they reverted to paper applications.
It seems the website is now running smoothly, so students can focus on what matters: putting their accomplishments and personalities forward to admissions committees. According to college counselor Lee Bierer, one of the most difficult hurdles is the process of essay brainstorming. "Most of them have not been taught to write using 'I.' And if you look at the Common App essay-prompts this year, that's what they're all about: where students have come from, what's unique about them."
At AdmitSee, we're aware of how daunting the task of writing an essay about yourself can be. For some essay inspiration, head over to our essays tab; we have THOUSANDS of real, verified students' successful application essays! You can search the keyword bar to find essays on any and every topic you're considering! If you're a college student or graduate, make sure to sign up here to earn money by uploading your college application materials.