Work like a dog all summer long, or chill out and unwind? Should modern day college students enjoy a stress-free summer, or is their future already demanding they work overtime?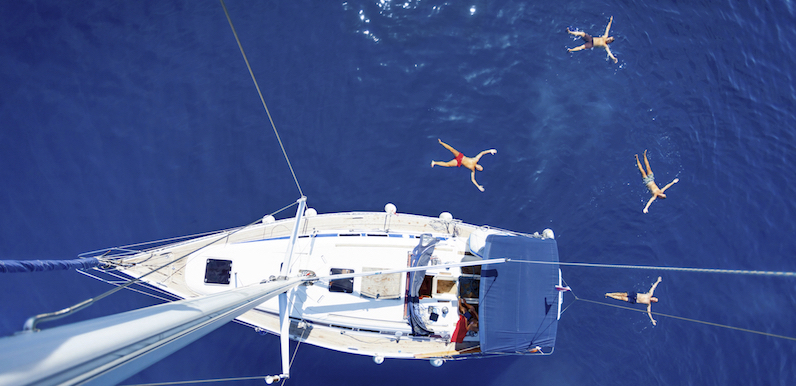 It's the end of the school year. You've just turned in your last final. Summer is finally here, all one hundred and twenty days of it, and it's up to you to decide how you're going to spend it. Should you continue to hustle or take a break and unwind? Before you launch into an internship or purchase a membership at your local swim club, take a look at both sides of the argument. Here are some reasons in favor and against having a summer vacation free of professional commitments.
The Arguments Against Taking A Summer Vacation
You're Already Behind Financially
Student loans. Car payments. Data plans. You may not be paying these bills right now, but once you graduate and step out into the real world, your savings account will most likely take a hefty monthly hit. In fact, an article in US News reports that from the years 2004 to 2014 there was a 56% increase in the average amount of student loan debt individuals had at graduation. Working full time over the summer, whether it's at a local supermarket stocking shelves or at a paid internship in your field, will help you put some coin in your pocket for later on when your grace period ends and it's time for you to start writing checks…When the paychecks come in, you can even practice managing an income. This way, when you land a full time job after graduation you'll already have some experience in the ways of staying solvent.
You Need To Be Better
Writing papers and posting on discussion boards might earn you that A in English 101, but it's not going to cut it in the work world. You need to gain experience working effectively in a real world setting or building a portfolio that employers will take seriously. In an article with Forbes, Sam Kirk, the founder of Youth About Business, explains that "the number one weakness Corporate America said they faced with incoming talent was the 'inability to effectively communicate' on a professional level." Using your summer to participate in a professional internship or job in your field will force you to learn how (and how not!) to communicate with your peers in order to get things done. It'll also give you practical experience navigating a working relationship with your supervisor. These are the soft skills that will make you stand out among all the other eager applicants looking for jobs right out of college.
You Need To Seize The Day
Most college curriculums cap you at a certain number of credits per semester. Because of this, you might not get to take that course in Astrology or Economics if it doesn't neatly fit into your major. The summer is your chance to participate in all the classes you want to take but don't have time for in your schedule. Taking MOOCs and classes outside of your major will help broaden your interests and expand your field of knowledge. If you don't already go to a liberal arts school, you can hack your own liberal arts education by taking summer courses. In a Forbes article, Jessica Kleiman, co-author of Be Your Own Best Publicist: How to Use PR Techniques to Get Noticed, Hired & Rewarded at Work encourages students to seek out the subjects that interest them and learn as much about those areas as possible in order to broaden their employment possibilities. Indeed it's true that today's hiring managers are after the "employable skills" of critical thinking, problem solving, and the ability to keep learning, even after graduation.
The Arguments In Favor Of Taking A Summer Vacation
You Need To Be Present To Be Happy
Yes, you're in your twenties and, yes, that means it's time to get serious about your plans for the future. But, if you spend all your time planning and working and building for your future, you can easily lose track of the present moment. In addition to the benefits of mindfulness popularized by leaders in religion, spirituality, and philosophy, there is hard science to back up the connection between being in the moment and being happy. In a study covered by The Guardian, Harvard psychologists found that individuals were happier when engaging in the current moment (by having a conversation, exercising, etc.) than they were when allowing their minds to wander (when working, resting, or going on the computer). While you have the time, you deserve to spend the summer focusing on finding happiness in each day instead of worrying about what tasks the next day will bring.
You Need To See The World (And Summer Is The Perfect Time To Do It!)
It can be difficult to take off on an amazing summer adventure when you're holding down a full-time job. That's why, college students, your summer vacations are the perfect time to get out and see the world or visit friends and family who aren't close by. And, if you decide to go, you won't be alone. According to the United Nations World Travel Organization, young people and students make up 20% of all tourists traveling the globe. Buzzwords like wanderlust have exploded into our vernacular. The romantic ideas of backpacking through Europe or hiking through the mountains still draw many to the airport each day. If you spend your semesters cooped up on campus, you deserve to spend a commitment-free summer satisfying your curiosity before it's too late.
You Know Taking A Break Might Make You More Successful In The Long Run
No one should have to be "on" all the time. In fact, studies in psychology show that distancing yourself from your work every so often can actually benefit your overall success. According to William Hogben the brain needs some time to recover after strong bouts of mental productivity. In an article published by Forbes, the CEO of FutureProof Retail says, "strong days are often followed by weak days when we're recovering from the efforts of the day before….Taking a break allows the subconscious to work in peace for a bit." If the average student works diligently on academics from August to May, they should have the chance to explore fun, leisure activities during their four months of freedom, letting their subconscious take the reins while their scholarly focus relaxes. Learn to paddle board. Play Twister with your friends. Binge-watch your favorite movies from the 80s. Turning off your ambitions for a bit will help you get in touch with the things you're truly passionate about.
So, which side are you on in The Great Summer Debate? Are you going to take some time off before stepping out into the real world, or do you already have some serious catching up to do?
For more information on how to optimize your summer, check out UnCollege's True Hackademic's Reading List.