"What did you get on the SAT?" Five years ago, the answer to that question may have been the deciding factor for getting into college. However, with the ACT's rise in popularity and the SAT's new changes, that no longer seems to be the case.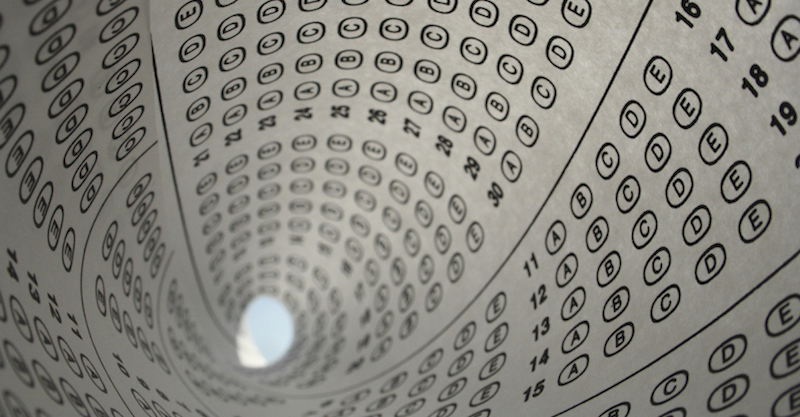 Just last week, Columbia University announced that they will be dropping the SAT subject test requirement, as well as the writing portions of the SAT and ACT. Though this testing policy is pretty common across most U.S. universities, Columbia is the first Ivy League to forego considering SAT subject tests as part of its admissions evaluation and the second after the University of Pennsylvania to not the writing section. It seems the Ivy League may finally be reducing their rigorous test requirements, leaving only Cornell, Harvard and Brown who still require the SAT/ACT, including the writing section, along with SAT subject tests.
You may be surprised to find that only 13 schools in the U.S. actually require any SAT subject tests. If that's the case, why are people so concerned with Columbia's new policy?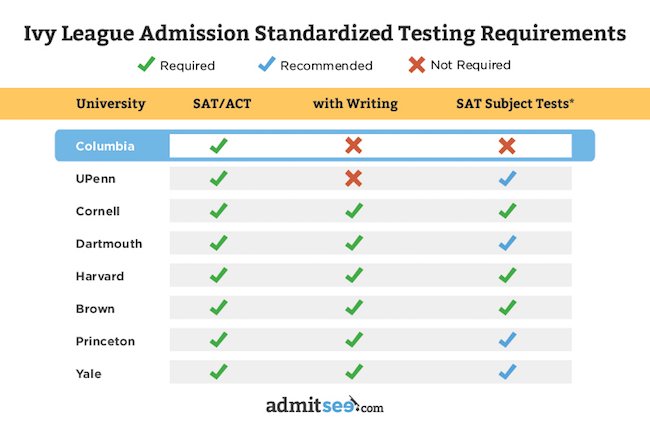 We asked Joanna Graham, the Director of Academics at Veritas Prep, who has 15 years of experience in standardized testing and test preparation to weigh in. "While the decision to drop SAT subject test requirements isn't a new one (the University of California system dropped them in 2011), the prominence attached to the decision coming from Columbia might turn a few heads. SAT subject tests have long had a mixed reputation," said Graham, "While many students love them as an opportunity to showcase subject matter expertise in a specific academic area, they've also been criticized as a test for the wealthy and privileged."
The debate of whether the admissions process favors students with more privileged backgrounds is forever ongoing, and the SAT has been caught in the center of it. To this point, Graham added, "By eliminating the requirement, it levels the playing field for students coming from low-income areas and schools that don't offer honor courses (that would be commensurate with the content on these tests)."
Chris Lele, Magoosh's SAT Curriculum Manager, who has also worked for 10 years in standardized test coaching, is a little bit skeptical about this change, especially when it comes to dropping the writing portion of the SAT. "I think it's tempting to want to view Columbia's recent decision as the first step in phasing out the SAT in the Ivies. I wouldn't jump to this conclusion, however. For one thing, the SAT essay, at least the previous essay, was one marred in controversy," said Lele, "I'm not sure exactly what affected Columbia's decision, but I'm not sure how much of it actually had to do with the content of the new essay."
This testing policy change will take effect and affect Fall 2016 applicants. How can you account for this change if Columbia is on your college list? Will it impact your chances as an applicant? The immediate reaction from students has been positive, as there's now one fewer test to take and more money is saved as a result.
Columbia dropped the SAT subject test and writing requirement for admissions??? Yasssss push thru for inclusion

— Corrine (@Corrinecee) June 9, 2016
...because test scores do not define you! https://t.co/F3IRNb4p63

— Barsa (@missbarsa) June 11, 2016
The most important impact this change will have may not be obvious to you. Graham elaborates, "University admissions committees have fewer data points upon which to evaluate you which means every other aspect of your application just became that much more important." She continues, "In short, maintain your status quo and put together your best application package possible. And if you've already taken SAT subject tests and scored well, don't be afraid to offer an extra data point to distinguish yourself."
Choosing where to go to college is an incredibly important decision. Make an informed choice by talking to current students on our mentorship platform. Access 60,000+ successful college application files uploaded by college students (they get paid when you view them). AdmitSee is a community of students helping students. Our goal is to bring much-needed transparency to higher education.
Sources: Columbia Spectator