If you're into college basketball, then at some point, you've definitely wondered what it means to be a student at Xavier University. Well, wonder no more, because GoMuskies16 shares with us today what it means to be a student at Xavier!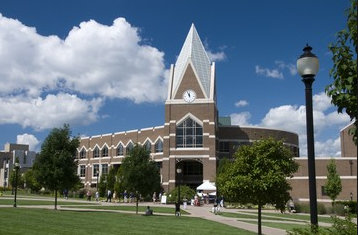 Founded: 1831
Location: Cincinnati, OH
Religious Affiliation: Roman Catholic (Jesuit)
Size: Medium
Undergraduate Students: 4,633
Campus Setting: Campus is located 5 minutes outside of downtown Cincinnati in an urban neighborhood.
Major traditions
Attend Xavier basketball games
Since Xavier University does not have a football team like many big schools, our campus becomes very alive for basketball games. Our arena, the Cintas Center, usually sells out for home games at its full capacity of 10,250 fans including a very lively student section. The $46 million arena opened in June of 2000 and is one of the nicest college basketball arenas in the country. It is located right in the middle of campus, very close to the dorms so students can get tickets easily and walk to games in minutes.

If you are a die-hard fan and want to get front row seats, you better be prepared to go early! Students flock to these games all trying to get the best seats in the house. Before the game starts, there are fireworks and balls of flames in the sky, while the lineups are being announced. The moment the music starts playing and the fireworks start shooting out, you can almost feel like a part of the action. In the Big East conference road wins are very hard to come by, so being part of the student section to support our team is an integral part of being an Xavier student. It is a big part of why our home record is nearly perfect year in and year out.
Read on and find out what other traditions there are!