Applying to Tufts? Here are this year's supplemental essay prompts for Tufts University.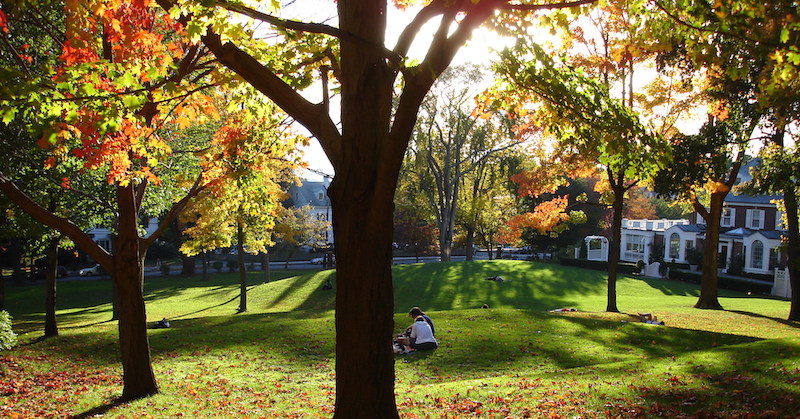 1. Which aspects of Tufts' curriculum or undergraduate experience prompt your application? In short: "Why Tufts?" (50–100 words)
TIP: This is the most common type of supplemental essay prompt universities will ask of their applicants. What's challenging about the Why Tuft's supplemental essay is the word limit. You have to be very concise about what you like about the school. Whether it's about a specific academic program or campus culture, use concrete examples to demonstrate how you feel and how much you know about the school.
2. There is a Quaker saying: "Let your life speak." Describe the environment in which you were raised – your family, home, neighborhood, or community – and how it influenced the person you are today. (200–250 words)
TIP: This essay prompt is wants to know more about your community. Whether it's the physical location or your support group, how did that help you grow? Were there any restrictions or limitations that triggered you to initiate a movement? Or that forced you to venture out? Again, going back to the 5 big supplemental essay tips, it's important for you to keep in mind the bigger picture. If you have a few different ideas on how to respond to this prompt, choose the one that you have yet to elaborate on in your application.
3. Now we'd like to know a little bit more about you. Please respond to one of the following six questions (200-250 words). Students applying to the School of Arts and Sciences or the School of Engineering should select from prompts A-E. Students applying to the SMFA at Tufts' BFA program or the Five-Year BFA + BA/BS Combined Degree program must answer prompt F:
A. It's cool to be smart. Tell us about the subjects or ideas that excite your intellectual curiosity.
TIP: If you talked about a specific academic program in the "Why Tufts" supplemental essay, then this would be a good area for you to elaborate on why you are interested in this field of study. How long have you been interested in it? Did you have a role model or someone that got you interested in this field? How have you taken an initiative in high school to follow these interests?
B. In a time when we're always plugged in (and sometimes tuned out), tell us about a time when you listened, truly listened, to a person or a cause. How did that moment change you?
TIP: This reminds me of an old Common App essay prompt: a moment that changed you. This can be a challenging prompt, so if nothing immediately jumps out at you when you first read the prompt, I'd recommend you choose another.
If you do want to choose this prompt, perhaps it's easier to brainstorm based on a person or a cause you care about. Why was that conversation important to you? Did it change your perspective? If not, were you able to empathize with the other person.
If you were heavily involved in volunteering, this would be a good prompt to launch into your dedication to the organizations you were part of. Recall any little conversations with people you worked with or for, and how that renewed your dedication.
C. Celebrate the role of sports in your life.
TIP: The perfect prompt for all those student athletes out there! Sports and training is a commitment during high school. You have to set aside so much time to train and compete that it may have defined your high school career. What did you learn from being an athlete? How did it translate to your life outside of sports?
Remember, this prompt isn't just student athletes. If you're interested in sports, you can also utilize this essay prompt to demonstrate your varied interests. This might even be an important prompt for students who didn't play sports in high school, but enjoyed it as a hobby. How are sports important to you as an interest?
D. Whether you've built blanket forts or circuit boards, produced community theater or mixed media art installations, tell us: what have you invented, engineered, created, or designed? Or what do you hope to?
TIP: If you did any independent project inside or outside of school, this will be a great place to elaborate on your project. Or perhaps something you worked on over the summer! The point is to demonstrate your creative thinking, building ability and entrepreneurial spirit. Even if the project was unsuccessful, share the thought process and experience of the project. What happened, and what could you have done differently?
E. What makes you happy? Why?
TIP: This seems so straightforward, but it is secretly a tough supplemental essay prompt to respond to. It is very open ended and you can talk about anything you want. It also requires a lot of reflection on yourself. Whatever you do choose to write about, make sure you're able to provide insight into what you value. That's the true point of the essay: to get an intimate glimpse of who you are.
F. Artist Bruce Nauman once said: "One of the factors that still keeps me in the studio is that every so often I have to more or less start all over." Everyone deals with failure differently; for most artists failure is an opportunity to start something new. Tell us about a time when you have failed and how that has influenced your art practice.
TIP: This is specific to students applying to the SMFA at Tufts' BFA program or the Five-Year BFA + BA/BS Combined Degree program. This is a very common application essay question, but don't take it lightly. While it's easy recount a time you have failed, it's not always so easy to let readers in on your thought process and emotional journey.
The failure experience is important, but it's only to help you frame your essay. The focal point of your response is how it influenced in. What did you learn from what? What did you do differently? Were you surprised you failed? Did you take a different direction or did you embrace it into your future work? It's helpful to write out the full experience and then cut and edit by drawing out the emotions and insight you had from the experience you had.
​Hope this was helpful to students applying to Tufts University this fall! Here are more general tips on writing the supplemental essays. For supplemental essay examples, you can now search by supplemental essay topics on our search page. Or, you can check out our curated packages to find what you're looking! For further access, upgrade to our premium plans offer different levels of profile access and data insights that can help you get into your dream school.