Getting in to your dream college may be the hardest part of the college admissions process. But, you have tough decisions to make as a student, too, once you get on campus! With so many on and off-campus options, it can be overwhelming for new students. UCLA sophomore Josh shares how he spends a typical weekend on campus and around town in Los Angeles!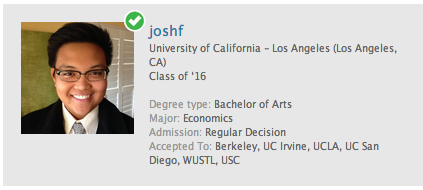 I'm horrible and take it for granted all the time, but UCLA has an excellent location. Museums, restaurants, movie theaters, and bus systems that could take you almost anywhere in Los Angeles all surround the UCLA campus. Many students go home on weekends so the dorms tend to be much quieter. Other than that, most people hang around, but there is never really an "average" weekend. Of course some students prefer laid-back weekends in bed with their faithful and familiar friend, Netflix, but most students are out and about. Although there can be activities on campus, most people leave to explore everything LA has to offer. That's just UCLA's active student body. People sleep in then carpool or take the bus to go hiking, check out a trendy restaurant, chill at the beach, go shopping, or see a show. LA's accessibility is just too enticing to refuse.
But me? I am more on the introverted side, so I cherish my peaceful alone time with Netflix or a book. On weekend afternoons I usually catch up on television shows and movies I missed, or I just hang out with friends I didn't get to see during the week. On weekdays if I have free time, I do the same. UCLA can be a little overwhelming for the introvert because you can be around people all the time everywhere. There are so many students,visitors, and faculty all on a pretty compact campus. It never feels squeezed or crowded, but it's definitely an undertaking to find a private, quiet place.
If I ever need that time to recharge during free time between classes I go to these spots and relax. That's my favorite way to spend free time because when you lead a busy life, relaxation holds much more meaning.
Read more about Josh on his AdmitSee Profile!