University of Chicago is known to allow students to really showcase their creativity and personalities in their UChicago application through the school's Extended Essay questions. Interested in applying? The 2017-2018 essay prompts are out now!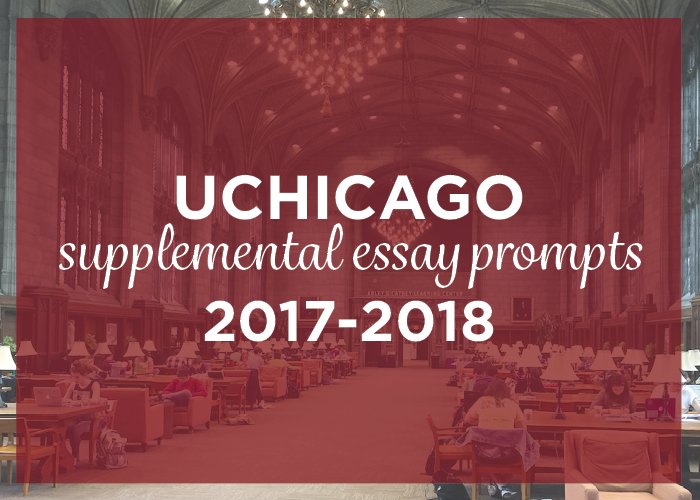 UChicago's application requires 3 essays: the personal statement, Why UChicago supplement and a response to one of the following prompts:
Essay Prompt #1:
"The aim of argument, or of discussion, should not be victory, but progress." – Joseph Joubert
Sometimes, people talk a lot about popular subjects to assure 'victory' in conversation or understanding, and leave behind topics of less popularity, but great personal or intellectual importance. What do you think is important but under-discussed?
-Anonymous Suggestion
Essay Prompt #2:
Due to a series of clerical errors, there is exactly one typo (an extra letter, a removed letter, or an altered letter) in the name of every department at the University of Chicago. Oops!
Describe your new intended major. Why are you interested in it and what courses or areas of focus within it might you want to explore? Potential options include Commuter Science, Bromance Languages and Literatures, Pundamentals: Issues and Texts, Ant History… a full list of unmodified majors ready for your editor's eye is available here.
-Inspired by Josh Kaufman, Class of 2018
Essay Prompt #3:
Earth. Fire. Wind. Water. Heart! Captain Planet supposes that the world is made up of these five elements. We're familiar with the previously-noted set and with actual elements like hydrogen, oxygen, and carbon, but select and explain another small group of things (say, under five) that you believe compose our world.
-Inspired by Dani Plung, Class of 2017
Essay Prompt #4:
The late New York Times photographer Bill Cunningham once said "Fashion is the armor to survive the reality of everyday life. I don't think you could do away with it. It would be like doing away with civilization." Tell us about your "armor."
-Inspired by Adam Berger, Class of 2020
Essay Prompt #5:
Fans of the movie Sharknado say that they enjoy it because "it's so bad, it's good." Certain automobile owners prefer classic cars because they "have more character." And recently, vinyl record sales have skyrocketed because it is perceived that they have a warmer, fuller sound. Discuss something that you love not in spite of but rather due to its quirks or imperfections.
-Inspired by Alex Serbanescu, Class of 2021
Essay Prompt #6:
In the spirit of adventurous inquiry, pose your own question or choose one of our past prompts. Be original, creative, thought provoking. Draw on your best qualities as a writer, thinker, visionary, social critic, sage, citizen of the world, or future citizen of the University of Chicago; take a little risk, and have fun.
——-
Have a few ideas, but not sure how to approach these essay prompts? Get some inspiration from past successful UChicago applicants. Here's 5 UChicago Supplemental Essay Examples to help you get started. Or you can unlock our UChicago Starter package with 5 student profiles of students accepted to UChicago:

Want more? Our premium plans offer different level of profile access and data insights that can help you get into your dream school. Unlock any of our packages or search our undergraduate profile database to find specific profiles that can help you make an informed choice about where to apply!
Sources: UChicago