Interested in applying to the University of Notre Dame? Check out their supplemental essay prompts for this application season!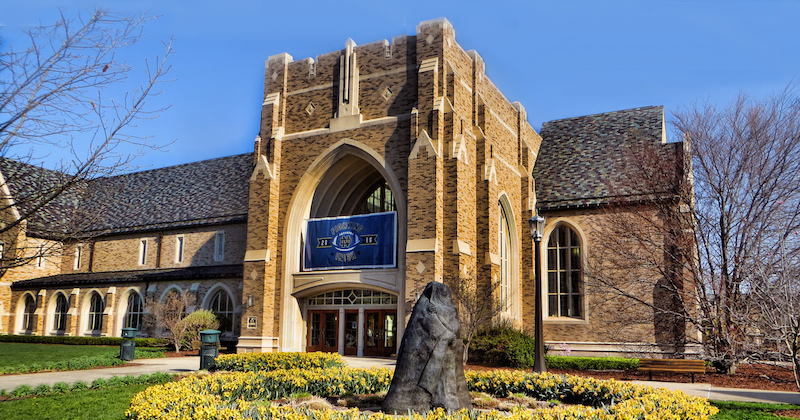 University of Notre Dame is a catholic university located just adjacent to South Bend, Indiana. It is a mid-sized university with an undergraduate enrollment of approximately 8,500 students in a suburban neighborhood.
While there are many religiously affiliated universities in the U.S., Notre Dame is one of the more traditionally catholic universities. Many of the catholic teachings and traditions are embedded into Notre Dame's curriculum and student life on campus. Having said that, there are many students who are not religious or hold different religious beliefs. That diversity is also one of the many reasons students wish to become one of the Fighting Irish!
University of Notre Dame has strong, well-rounded academic programs to offer prospective students. They are especially well-known for their undergraduate business programs and more recently, their engineering programs. Interested in applying? Here are the application requirements:
In addition to the Common Application, the University of Notre Dame requires an additional 3 supplemental essays. For all three, in honor of our University's 175th anniversary, the recommended word count is approximately 175 words per essay. Max. 200 words.
Writing Supplement 1
Essay Prompt: What excites you about the University of Notre Dame that makes it stand out from other institutions?
Writing Supplement 2
Please provide responses to TWO (2) of the following questions:
Essay Prompt 1:
The University of Notre Dame is a Holy Cross institution whose educational philosophy has been formed around five core principles inspired by Blessed Basil Moreau, C.S.C., the founder of the Congregation of Holy Cross. These principles, or pillars, of a Holy Cross education are Mind, Heart, Zeal, Family, and Hope, and they continue to shape our students today. Which pillar or pillars resonate most with you? Why?
Essay Prompt 2:
For whom are you responsible?
Essay Prompt 3:
What is one thing that you know for a fact? Why are you certain?
Essay Prompt 4:
Tell us about something significant that recently occurred in your community. Why does it matter to you?
——
Interested in reading successful essay examples that got students accepted into the University of Notre Dame? Unlock all of them in one go with our curated package.

Our premium plans offer different level of profile access and data insights that can help you get into your dream school. Unlock any of our packages or search our undergraduate profile database to find specific profiles that can help you make an informed choice about where to apply!