University of Pennsylvania released their early admissions results on December 13th, shocking everyone with its record-breaking low acceptance rate of 18.5% this year.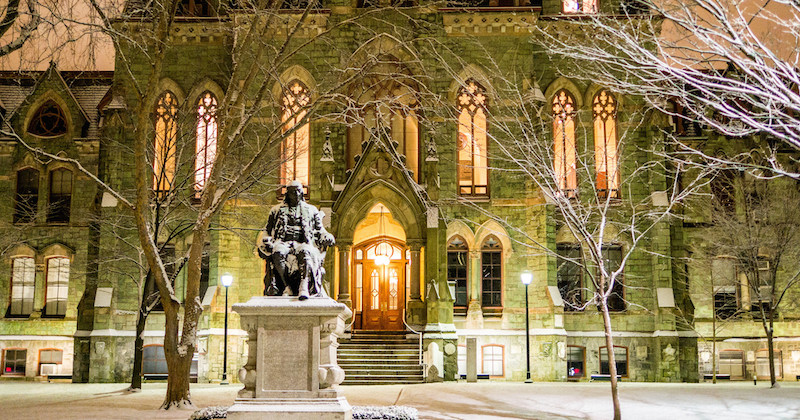 University of Pennsylvania received a record-breaking 7,074 early decision applications for the Class of 2022, a 15% increase from the number of applicants last year. Of the 7,074 applicants, 1,312 were admitted to Penn's Class of 2022, resulting in a 18.5% acceptance rate. The dramatic drop is a result of the increase in the early decision application pool, which has grown 38% since the Class of 2018 four years ago.
Penn takes advantage of their Early Decision program, a binding application for accepted students, to fill the 2,445 available spots in each incoming class. To benefit yield percentage and give dedicated students an advantage, Penn typically accepts 50% of its total class in the Early Decision round. This year is no exception as they accepted 1,312 early applicants, similar to last year's 1,354 early admitted applicants last year.
Of those who applied this year, 1,131 were legacy applicants, meaning they had a parent or grandparent who had attended Penn. 328 students of early legacy applicants were accepted, and make up 25% of the early admitted students.
The ethnic breakdown of the early admitted students have not been released, however, it is reported that 43% of accepted identify as students of color and 1 in 8 admitted students are non-US citizens or permanent residents.
Penn did not release the number of students who were deferred or denied admissions. Congratulations to all students accepted to Penn Class of 2022! Create a profile and upload your successful college application materials to inspire and help future applicants. Plus, earn some extra money while you're at it!
Got deferred or rejected? Reset and focus on your regular decision applications. Our premium plans offer different levels of profile access and data insights that can help you get into your dream school.
Unlock any of our packages or search our undergraduate profile database to find specific profiles that can help you make an informed choice about where to apply! We have 60,000+ successful college application files uploaded by college students. See how they got in, and how you can too!