Every high school student has to go through the tough process of filling out college applications. The dreaded exams, essays, and details required make the admissions process a grueling one. And there's always one question that students find is the hardest: "Why us?" We asked some students from UPenn to tell us their best strategies to tackle that difficult question: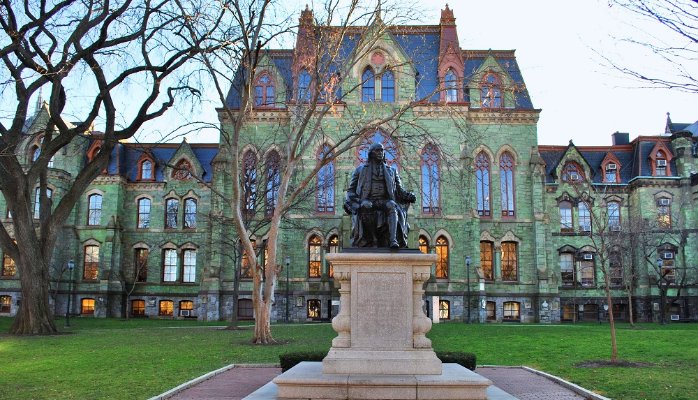 penn120: "Everyone applying to a liberal arts college is going to be thinking the same, relatively broad thing: I like the balance of courses and I don't know what I want to do yet so I want to take a variety of classes. You have to make the essay school-specific. What can you say about the school (that isn't cliche) that really applies to you? Think about why you are applying to the school in the first place, and brainstorm, choosing a few ideas that you can elaborate on in an essay. Your essay should not be about why the college is a "good school," but why it would be a good fit for you, and moreover, why you would be a good fit for it. Say what you are going to bring to the community, whether it be through activities, study abroad programs, research, etc. Do your research on the school and point out specific programs that interest you."
Mizo: "For many "Why" essays, I had a template that greatly simplified the college application process. Basically, the first two paragraphs of my essay discussed my passion and how I, in and out of school, took initiative to explore my passion. My last paragraph tied back to the college I was applying for, as I discussed what offerings the college had that would allow me to delve deeper into my passions—which classes I would take, which professors I would love to learn from, which clubs I would participate in, etc. This template allowed me to answer the question, demonstrate specific knowledge on the school, and show parts of myself I may not have had the opportunity to address in the rest of the application."

whartonschool19: "Penn is a very diverse campus, both in regards to the student body and the offered academic programs. When writing about Penn, many prospective students tend to generalize what interests about them; they focus too much space on describing the city of Philadelphia, the actual location and setting of the campus, the types of students that attend the college, and how "the great academic standing of Penn will help me be successful in the future." Try to avoid using these types of topics to discuss your interest. To successfully write the "Why Penn" essay, look your intended major and look back at your high school career to see what types of activities, classes, and extracurriculars you were involved. Try to see how these aspects highlight your interests and goals and look for specific programs and opportunities Penn offers that will help you further explore these these interests and help you develop them."
PennBen: "Research your chosen school (SAS, SEAS, Wharton, or Nursing) or program in detail in order to gain a sense of the opportunities that the school/program offers. Show that you're driven and organized by communicating your genuine passion and connecting it to your personal experience and well-thought-out future plans. "Genuine" is the key word in this instance, since most of the people reading your essay will have read hundreds if not thousands of other essays and will be extremely adept at sniffing out anything that doesn't "sound right." Penn students are generally ambitious and innovative, so it helps if your reasons for applying relate to your experiences or future plans."

lilk16sen: "Unique research about a school, if you can mention something the school prides themselves on and feels it's part of what separates themselves from other schools it will help you dramatically. It isn't too hard to find as it is usually featured prominently on all websites and pamphlets the school will use."
GoQuakers: "There are tons of clubs and organizations at UPenn that you can mention in your essay. I personally wrote about my interest in the Wharton Undergraduate Media and Entertainment Club and Wharton Women. I know that a fantastic campus organization to target if you're a writer is the Kelly Writers House. You can also discuss the amazing faculty and diversity of the student body. Whatever the case, DON'T be general. Paint the admissions officers a picture of how you will fit in at UPenn."
Applying to UPenn? See essays, scores, and advice from real students who were accepted. Our UPenn packages feature some of our favorite essays that got accepted to this iconic Ivy League school.