College tours are vitally important when deciding where to apply and, ultimately, to attend. But what if you could get an inside look into how and where students spend their time without even leaving your living room? The AdmitSee "Inside Look" series does just that. Mindy, a student at the University of Pennsylvania's Wharton School, shares how she uses her free time and her favorite study spots on UPenn's campus.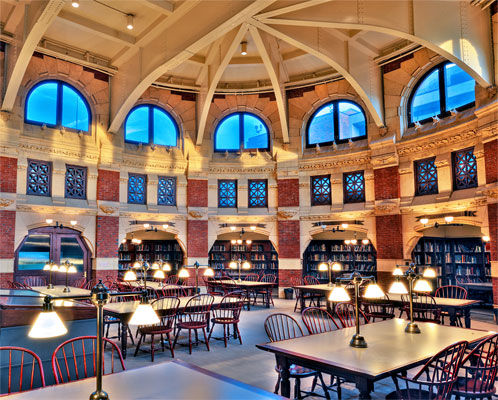 On Penn's campus, there are numerous study spaces that provide an abundant variety of environments, suitable for your different needs. When trying to cram for a midterm or pound out that last paragraph before an assignment deadline, I need a quiet space where I can sit down by myself and concentrate—Fisher Fine Arts Library is perfect for these times. Ceilings are high, desks are spacious, and moreover, people are diligent and silent—any small sound multiplies, resounding off the gothic finishes. However, other days I prefer to book a study room in Huntsman Hall, a less intimidating space where I am able to talk to my friends simultaneously as I flip through slides. For most situations though, I like to be in the 6th floor of Van Pelt Library. It has just newly been gutted and redesigned, touting a modern, yet still comfortable feel. The environment is extremely refreshing and spacious, surrounded by windows and divided by glass paneling. It is quiet, but not too severe, and with nice seats and couches everywhere, studying is brought to a classier level.
Meeting with friends and hanging out, in my experience, has generally been, if not studying together or just talking in my room, then catching up over good food. There are some nice hot spots nearby, ranging from the more casual Chipotle or Sweetgreen to the relatively higher-end Pod and White Dog Cafe. Personally, to save myself from the time and energy of walking, I like to stay on campus for lunch when I need a place quick and easy to run to and from class—and recently Frontera has become the new trendy place to dine. Located right off Locust Walk, it is convenient for most every student and probably serves the best Mexican food in the area. After getting our guacamole and chips, my friends and I just sit at the adjacent tables or walk outside to the small patio area to update one another about our lives.