Heading off to the University of Southern California? You should already have your roommate and dorm set up, but let's give you a quick overview of the rest of freshman campus.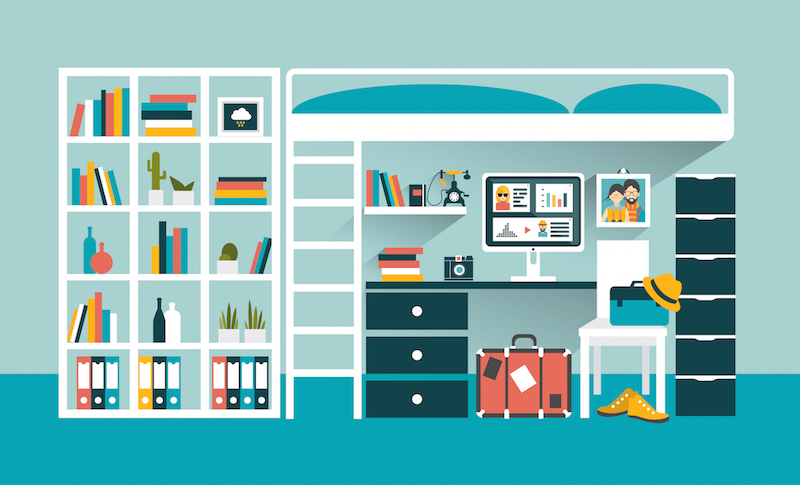 USC's system of matching roommates and assigning housing for incoming freshmen is a bit complicated. After applying to USC—but before getting accepted or denied admission— high school seniors receive an email from the school asking them to create a profile and register on a special site created just for roommate matching and housing distribution purposes. The actual process of deciding these things doesn't happen for months after this initial email goes out, of course: the school has to wait to see exactly which applicants will comprise the next fall's incoming class first, which takes place after May 1st, the typical deadline for students to decide on a college. But at that time, the students who registered online first are given top priority when it comes to which building they're placed in, whereas those who waited to receive an admissions decision before registering are later in the queue, and sometimes get stuck with building they didn't even list as one of their preferred options.
Although there are exceptions, most freshmen live in one of the following buildings, and the pros/cons of each are as follows:
New/North
New and North are actually two connected complexes, this enormous dorm is the "party dorm" of campus—and for a reason! Most residents go Greek, and it's usually pretty loud and rowdy (not to mention constantly dirty) even on weekdays. Few people who live in New/North study in their rooms: it's just not possible with the open-door, social atmosphere. While this does make getting schoolwork done a challenge, this dorm does have plenty of advantages: it's easy to make friends, a lot of fun, and in a prime location, located just above the dining hall and 24/7 on-campus Starbucks, and less than five minutes' walk from the library and most of the classroom buildings on campus.
Pardee
Despite the name, Pardee Tower has less of a party atmosphere than New/North, due in part to the fact that each floor is single-sex. Pardee is a fairly popular housing choice because it's social enough to make friends (people usually get pretty close to their hallmates) while being quiet enough to get work done.
Marks Tower and Trojan Hall
These two buildings, along with New/North and Pardee, comprise the "south side" of freshman housing, which are all typical dorms: that is, there are long corridors with rooms on either side, communal bathrooms, and minimalistic rooms, with no living area or kitchen to speak of. But these buildings are always the last to fill up, because they are the oldest, least spacious, least social, and in the worst location. Those who register for housing late get stuck with Marks or Trojan.
Webb and Fluor Tower
These buildings are different from the preceding ones in that they have apartment-style housing. Each apartment has four double-occupancy bedrooms, and the 8 residents who live there share a kitchen, living room, and two bathrooms. This makes for a different vibe than traditional dorms, but some prefer that— it just depends on the kinds of social atmosphere you prefer. Both towers are located adjacent to a dining hall and the gym.
Parkside and IRC
These are also apartment-style complexes, but aren't in a good location unless you're an engineering student (as they're near the engineering wing). IRC is international student housing, although some domestic students do live there. These apartments are known for being nice and spacious—they have hardwood floors and air conditioning! — and very quiet.
That's the lowdown on freshman housing! With regards to roommate matching, there is a standard questionnaire distributed to all freshmen, which is used to match each student with a random roommate who has similar living habits/interests, etc. The other option, which many students use, is to find a compatible roommate on their own (using social media groups, independent roommate matching sites, and other means), who they can then request to be matched with on the housing website mentioned above.
Are you looking to apply to USC? Choosing where to go to college is an incredibly important decision. Make an informed choice by talking to current students on our mentorship platform. Access 60,000+ successful college application files uploaded by college students (they get paid when you view them). AdmitSee is a community of students helping students. Our goal is to bring much-needed transparency to higher education.