Let's continue this 8 part series to find the best Ivy League college fit for you! Up next is Brown University.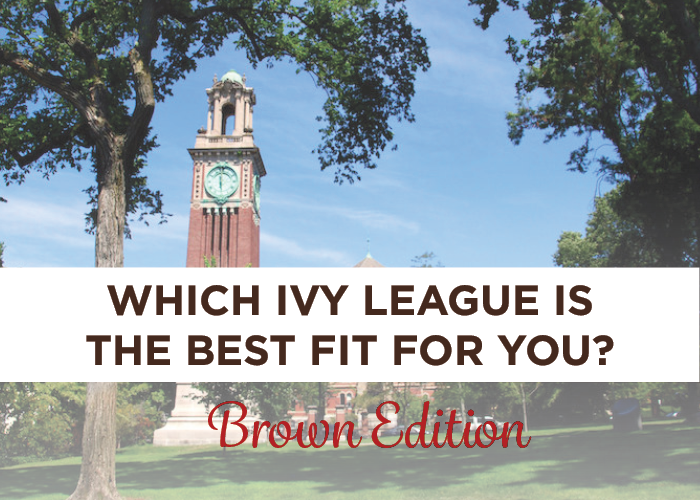 Brown University
Quick Cheat Sheet
Size: You'll recognize people in your class, but you won't know them all.
Cost: Tuition $53,419. Room, Board & Expenses: $14,020. Second-most expensive of the Ivies in Tuition; Cheapest for Room, Board & Expenses.
Financial Aid: Follows the need-based and need-blind application process. International students are evaluated in need-aware basis.
Location: You don't get a big city like NYC, but it certainly not a rural area. Easy to travel ar
Campus: Enclosed campus, walkable
Weather: Again, long winters.
Notable Academic Programs: Open Curriculum
Student Life: Liberal. Focused on on-campus activities and parties. Some greek life.
Overview:
If you're going to apply to Columbia, then you shouldn't apply to Brown. The two Ivy League universities have very different core requirements, and Brown's open curriculum is much more suitable for students who don't require as much structure.
Students are only asked to complete 30 courses in 8 semesters, with a focus on a specific concentration (a.k.a major). If you don't know what you're interested in studying, or interested in too many subjects, do consider applying to Brown.
Located in Providence, RI, Brown is located right next to the Rhode Island School of Design. While students don't always mingle, there's certainly that opportunity. Greek life isn't very prominent on campus, so student clubs are the ones to host activities and parties on campus.
Do you have any other questions about Brown? Comment below and let us know! We'll answer any questions you may have and update the post with suggestions. If you are set on applying to Brown University, make sure to search through profiles of students accepted to see essays, stats, and advice. See how they got in, and how you can too!
Stay tuned for more! Up next is Cornell University!