So, which Ivy League is the best fit for you?! With this last edition, you'll be able to compare and see which universities best match your learning style and social life. So, last but not the least, here's University of Pennsylvania!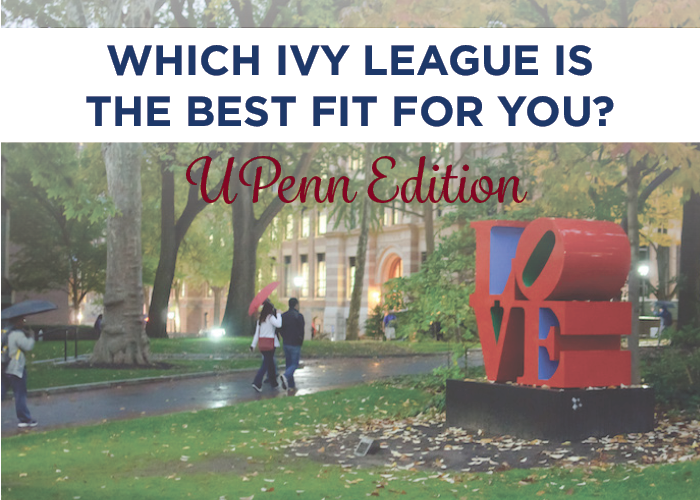 University of Pennsylvania
Quick Cheat Sheet
Size: You'll recognize most people, but you won't know everyone.
Cost: Tuition $51,464. Room, Board & Fees: $17,876. Lands in the middle for both tuition and board out of all the Ivies. Not the most expensive, but also not the cheapest.
Financial Aid: Follows the need-based and need-blind application process. International students are evaluated under a need-aware policy.
Location: Philly! Located within a major city. Lots to explore, but still have a campus.
Campus: Good size for walking around campus
Weather: You'll get all 4 seasons, but they are not as harsh as some of the other Ivy League schools.
Academic Programs: Economics, Finance
Student Life: Greek life. Social scene on and off campus. College sports are attended, but not center of social life.

Overview
Colloquially referred to as the "Social Ivy", University of Pennsylvania has the reputation of having the most active student body, in both the academic and social scene.
To start, UPenn offers a range of top undergraduate programs and has one of the best undergraduate business program at Wharton with specific concentrations like real estate, retail and e-commerce. Additionally, UPenn also has an extremely selective Huntsman Program, where students will receive 2 degrees, international studies (B.A.) and business (B.S.), in 4 years. So if Economics or Business is one of the fields you want to study, consider UPenn! If you are more interested in Engineering, then Columbia or Princeton will be a better fit.
After Columbia, UPenn is the only other university in the Ivy League that is located in a big city. Philadelphia may not be as talked about as NYC, but the city has a lot of culture and opportunities for college students to take advantage of. UPenn is still in the Northeastern Region, so you're going to get the tough winters, but nothing as harsh as Cornell or Dartmouth.
Do you have any other questions about UPenn? Comment below and let us know! We'll answer any questions you may have and update the post with suggestions. If you are set on applying to University of Pennsylvania, make sure to search through profiles of students accepted to see essays, stats, and advice. See how they got in, and how you can too!