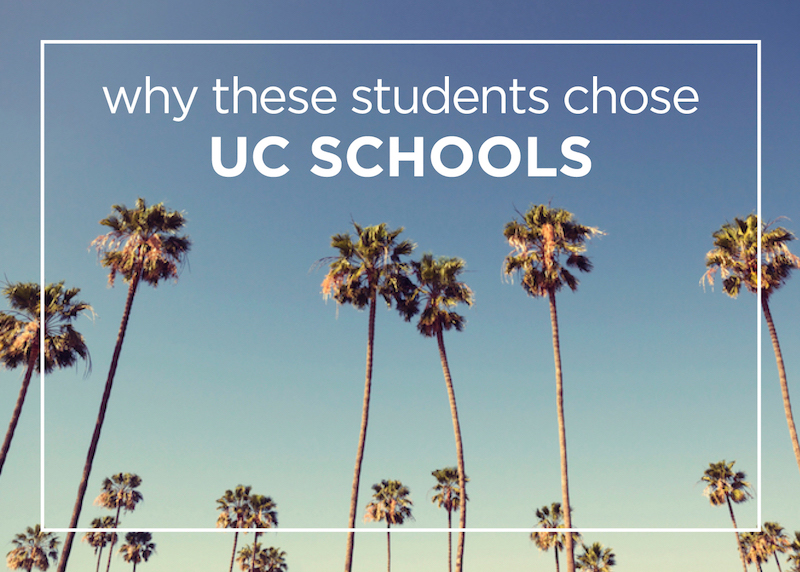 Location is one of the most important factors students take into account when researching and applying to college. Most people already know about sunny California, but each of the UC schools offers something special. Hear what drew these students to attend the schools they are at:
aliciashahz (UCSC '17): This school is the absolute best. The location as well as the natural beauty surrounding the campus had already made half of my decision to come here. The other half revolved around the great academics and ranking of several programs in this school. I am an economics major, and UC Santa Cruz is one of the top schools in the nation for this field of study. Companies literally recruit students right out of college because the program is so great. Along with this, the professors are the absolute best and I have never met one who was unwilling to help me to their fullest potential. The beauty of the campus, the success of its programs, as well as the wonderful academic staff makes my experience here so entirely worth it.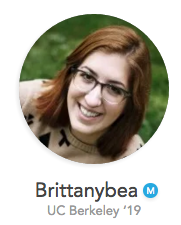 Brittanybea: Berkeley is an incredible, bustling city with a fascinating and well-known modern history. In addition, the campus is in a very central location in the city, so it is easy to go out and have a good time just by walking (plus, the bus system/BART makes longer distance travel really easy). Being close to cities like Oakland and San Francisco is also great - the Bay Area has so many opportunities for education, employment, and entertainment.
MirandaBlake2015 (UC Santa Barbara '19): I love that my school is by the beach because the beach is one of my favorite places on the planet. I love that it's in California because it's close to snowcapped mountains and sun-bathing beaches. It's also not to far from home, so I can be near my little sister and other family members. The culture at my school is very laid back and outdoorsy. Everywhere you look, you see people outside, maybe playing beach volleyball or riding their bike. It's also highly academic, rating among the top marine biology schools in California, among other things.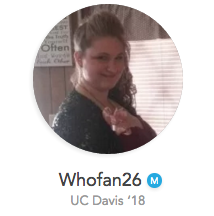 Whofan26: Animals, animals, animals! Well, agriculture anyways. Everyone in Davis has a connection to agriculture one way or another, and everything in Northern California is so much greener (literally) compared to SoCal. Davis is also extremely environmentally green, and while Downtown Davis is a literal small town, even nearby state capital Sacramento has a small town feel to it—almost nothing but small businesses that close by 6pm and complete inactivity on Sundays.
10156039161580453FB (UC Irvine '16): Well I would say Irvine is pretty much in the middle of so many great places. You have LA up north, San Diego and Mexico down south. Disneyland is only 20 minutes away (yes im a disney pass holder). When you turn 21, Vegas can be a 5 hour drive weekend getaway/celebration. Newport beach is also absolutely amazing (as a current resident), a lot UCI students live there, go there (for the beach and for the bars). And Irvine itself is very well-planned organized, clean no bums, safe. Its the product of civil engineers land development planning (I took a design class for this)
UCDScarlet (UC Davis '18): The city of Davis is a college town, and I'm not going to lie—if you want an "exciting" college experience, it's not what you're going to get at Davis! There isn't a lot to do—there's a party scene (which I'm not really involved with, so I can't tell you about that), and some theaters and pretty good food. However, Davis is one of those places where you'd see a phenomenon and exclaim "only in Davis!". As an animal science major, I am so grateful to be able to see cows and horses everyday. I also love being able to bike around the city and embrace the weirdness of everything around me. It's such a special place and you will certainly have a very different, although sometimes boring, experience here.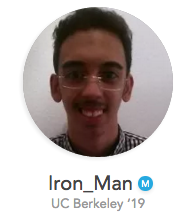 Iron_Man : UC Berkeley is by the Bay area, overlooking the San Francisco bay. It's warm in Northern California, the fog is cool, and the rain provides a nice counter to the heat in the southwest US. Thanks to the big city just a few miles away from campus, the culture is diverse. However, you will learn to love Boba. Look it up before you blaspheme that you do not know what it is on campus. It's good though. Seriously.
Whether you're just starting your search or you're looking for help applying, it's never too early to make the college application process easier. Search to find students like you or contact a mentor for help with the admissions process so you can narrow down your choices and get a head start.