Located in sunny Gainesville, University of Florida is the third largest university in Florida by student population. Do you know why UF's colors matches the Gatorade's?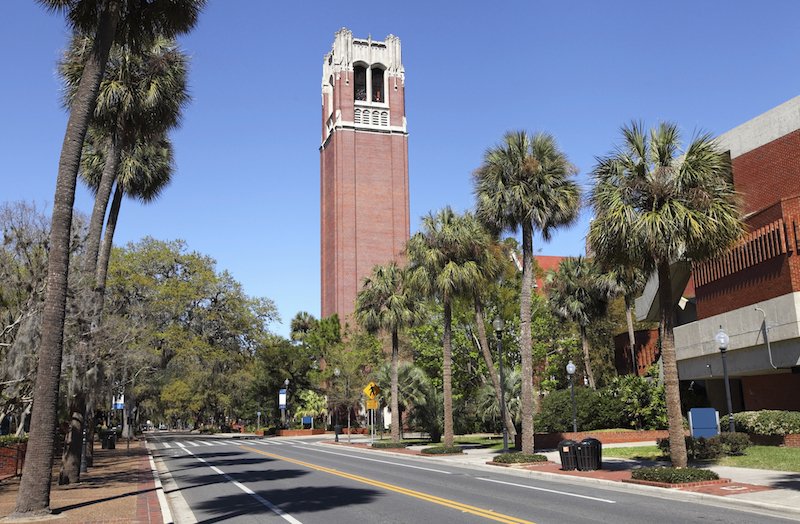 1. There's a house on campus specifically for bats, part of the Florida Bat Conservancy.
2. The Independent Florida Alligator, the daily student newspaper at the University of Florida, is the largest student-run newspaper in the United States.
3. Gatorade was formulated in 1965 by a team of scientists at the University of Florida College of Medicine.
4. Notable alumni include Heisman Trophy winner Tim Tebow, Senator Marco Rubio, TV personality Erin Andrews and several astronauts.
5. Florida is one of only two Division I FBS universities to win multiple national championships in each of the two most popular NCAA sports: football (1996, 2006, 2008) and men's basketball (2006, 2007).
6. The University of Florida is ranked second overall in the United States for the number of bachelor's degrees awarded to African-Americans and third overall for Hispanics.
7. One of the largest collections of butterfly and moth specimens in the world is housed at the University of Florida McGuire Center, rivaling that of the Natural History Museum in London.
8. There are two lakes located on the University of Florida campus
9. The Gator was chosen as the mascot after a local merchant started selling pennants with an alligator on them. It became popular with local students and thus the Gator was born.
10. According to the U.S. News and World Report, the University of Florida has the third best Biological/Agricultural Engineering program in the country.
Are you looking to apply to University of Florida or just starting to build out your college list? Make sure to search through profiles of students accepted to see essays, stats, and advice. See how they got in, and how you can too!