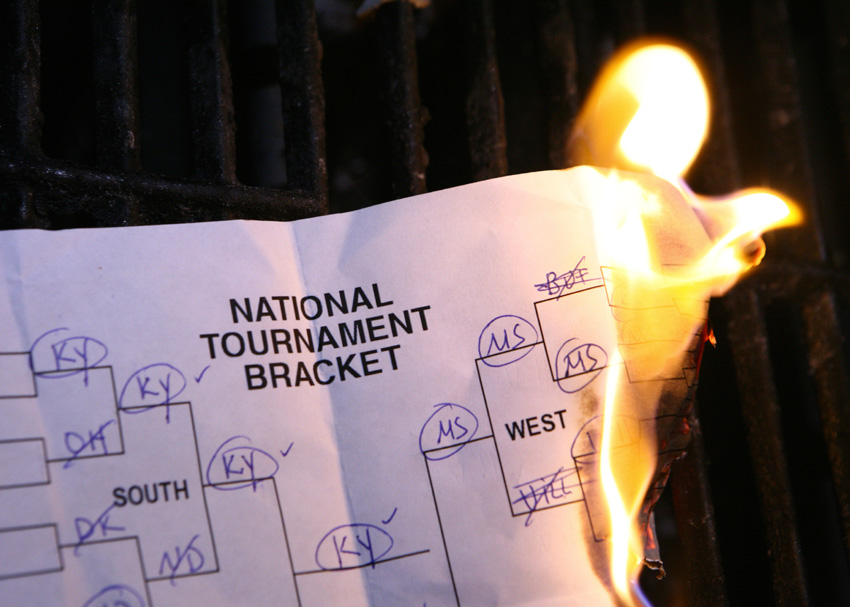 To quote ESPN Senior Writer Pablo Torre, "A single-elimination basketball tournament is a pretty bad way to assess which team is the best and a pretty foolproof way to entertain us". As a writer and a basketball fan, I cannot agree more with this statement, and I wouldn't have the tournament any other way. All over the country, fans weep over their team's early and unlikely exit from the NCAA Tournament. If you happen to be a fan of underdogs or find yourself a fan of Middle Tennessee, then your March is much better than expected. Whatever side you find yourself on, the one thing we can all agree on is that, yet again, the tournament has been loads of fun. From buzzer-beater game winning shots to miraculous upsets, let's look back at the first two rounds of this year's tournament.
You get an upset! You get an upset! You get an upset!
From the traditional #11 over #6 upsets to the rare #15 over #2, brackets were busted left and right on the first day of the tournament. The biggest upset this year, and perhaps one of the biggest in recent memory (shout out to #15 Florida Gulf Coast over #2 Georgetown), took place in the Midwest region. #2 Michigan State, who was a national champion favorite by experts and fans alike, fell to #15 Middle Tennessee in a game that the Spartans never had the lead. Of all top seeded teams to lose in the first round, Michigan State seemed least likely, as head coach Tom Izzo has consistently been one of the best postseason coaches throughout his career. Who knows whether MSU simply overlooked the Blue Raiders, but once the final buzzer sounded, it was clear that Middle Tennessee played a better game and deserved to win.
Another great upset from the first weekend was Ivy League champion #12 Yale prevailing over #5 Baylor. Yale's appearance this year was just the fourth in school history and first since 1962, and their first round victory over Baylor was the program's first ever NCAA Tournament win. Although Duke knocked them off in the second round, Yale made a statement win by showing everyone that Ivy League teams can play ball. Other first round surprises included #13 Hawaii pulling out a big win against an injury-depleted #4 Cal team. #12 Little Rock also pulled out an upset win over #5 Purdue. Even #14 Stephen F. Austin pulled off an amazing upset over #3 West Virginia, a team that was picked by many as an Elite 8 favorite.
Heartbreak Finishes
There's just something about losing on a last second shot in March that really deflates you as a fan, probably because you know it'll be on every highlight reel from now until this time next year. If you happen to be a fan of Temple, Texas, USC, Stephen F. Austin, or Xavier, then you know exactly how it feels. Both Temple and Stephen F. Austin lost on last second tip-ins, which was especially rough for SF Austin, since they were about 1 second away from being the third #14 in tournament history to win a second round game.
Still, the two most heartbreaking finishes of the year go to Northern Iowa. They knocked off Texas with a half-court buzzer beater to advance to the second round, only to blow a 12 point lead with 44 seconds left, and ultimately lose, to Texas A&M. From hero to zero, University of Northern Iowa perfectly encapsulated just about every emotion a college basketball fan can feel in the month of March, and it took them only 48 hours to do so.
And for those who stayed up to watch the conclusion of the Xavier vs. Wisconsin game, it's likely you still haven't fully recovered. Hats off to Wisconsin, as that unreal finish seems like it only takes place in March. But from my Xavier bias … I'll keep the words to myself. To reiterate Pablo Torre, there's no doubt in my mind that teams like Michigan State and Xavier are better than some of the 16 teams remaining, but I'll be damned if it hasn't been some of the most entertaining basketball this year.